A beautiful tapestry of hope shines through the grim COVID-19 pandemic.
Since April when Singapore went into the circuit breaker, Singapore has been seeing large daily numbers of COVID-19 infections amongst the foreign workers living in dormitories. As it stands, the total tally has surpassed 36,000 infections. As swiftly as the coronavirus infiltrated into Singapore, out from this crisis birthed unprecedented response from the Singapore community; people from all walks of life stepping forward to join the ranks of the COVID-19 front-line army. Chipping in however they can, people have been pouring out their support in all sorts of ways.
"Only in the darkness can you see the stars."
Literally lending their hands, young and old, male and female have taken to the needle and thread to sew masks for the migrant workers. Businesses have donated cleaning detergents, mozzie sprays, medicated oils, hand sanitisers and masks. Individual groups have rallied together to raise funds for purchase of essential face masks and food snacks to provide some comfort to the workers who are stuck in their rooms. Non-profit organisations are sharing their resources and experience, helping each other out to provide help more efficiently and effectively in a collaborated approach.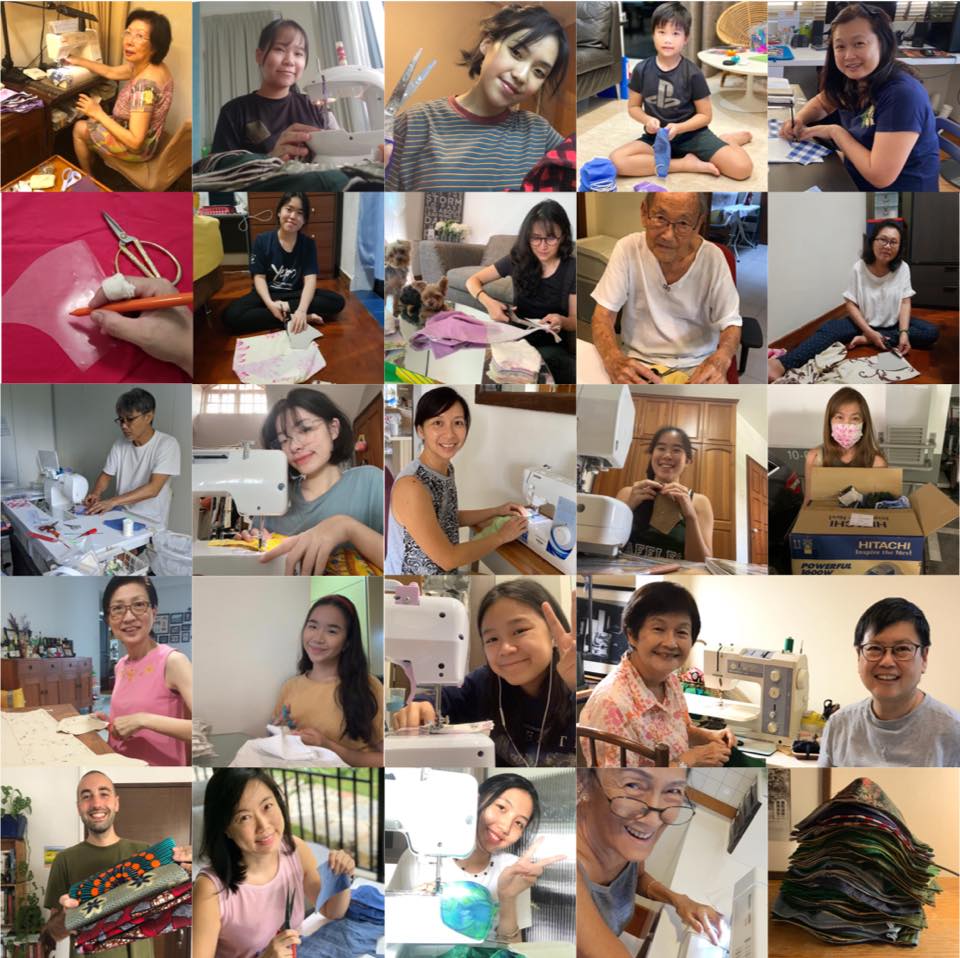 The Alliance of Guest Workers Outreach (AGWO) has been providing cooked meals to the migrant workers. Working tirelessly around the clock, AGWO volunteers have been packing in the wee hours so that the food is ready and served hot to the workers right from the time the sun rises. Along with AGWO, HAGAR has been helping to fund some of these daily meals for workers living in factory converted dormitories (FCDs) so that there is enough food for these workers who have less access to support. To date, HAGAR has supplied more than 18,000 meals.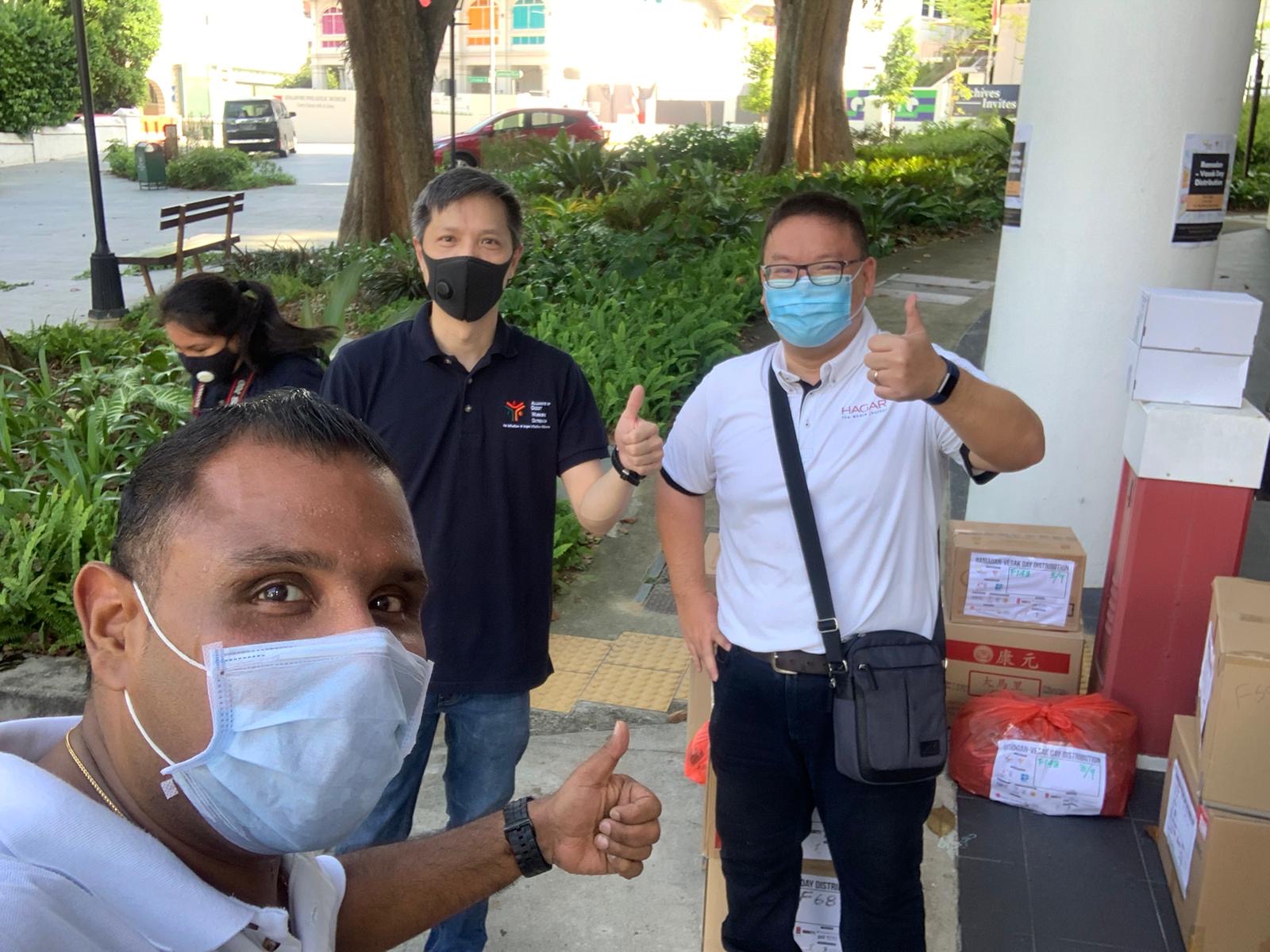 Benefitting from HealthServe's experience in conducting counselling via online means, HAGAR started running tele-counselling services, providing emotional support to distressed female migrant workers, a group that has unfortunately been overlooked in the nation-wide crisis response. We are deeply grateful for the invaluable advice from the HealthServe team and sharing of experiences that has helped us to overcome the same technical and logistical challenges they had faced and get this service going faster. Currently, we are managing a high volume of sign-ups for the tele-counselling service from foreign domestic workers. Majority of these workers have lost their jobs or income due to COVID-19 and are currently housed in dedicated women shelters. The tele-counselling sessions are conducted with the help from HAGAR volunteer counsellors, social workers, psychologists and translators, who have been backing the ongoing work of HAGAR even before the COVID-19 times.
With the outpouring of support and donations of essential items such as face masks and hand sanitisers and other basic daily supplies, organisations like MiG Counselling Care & Consultancy Ltd and Migrant X Me started channelling their resources and contacts to HAGAR to receive the vital supplies needed for migrant workers whom we are assisting in various purpose-built dormitories, FCDs, shophouses and other premises. Responding to the initial shortage of surgical masks as a result of production halts overseas, Tamar Village, Sowing Room and Hands of Hope Asia took upon themselves the monumental task of producing more than 3,000 reusable face masks within a short two weeks! Hearing the call, volunteers from as young as 10 years old to others as old as 87 years old jumped on the bandwagon, sewing reusable cloth masks to meet the demand and short timeline.
In rallying support from the public, individuals, church groups and companies organised creative online fundraising campaigns, encouraging donations from the Singapore community to help the migrant workers affected by the COVID-19 pandemic. At HAGAR, we are completely humbled by the efforts that came through from so many kind-hearted folks.
From the worst of the coronavirus crisis, we experienced the best in humanity. While this present crisis amongst foreign workers living in dormitories could be seen as avoidable if better housing and treatment was given to workers in the first place, we are thankful for the camaraderie displayed across all segments in society in this time of crisis response. Putting aside all our individual and organisational identities, it is clear in everyone's minds that what matters most at this time is to give a helping hand to fellow brothers in the community, regardless of race, ethnicity or religion.
On behalf of all the migrant workers and their families – THANK YOU for uniting as One Singapore, showing the true Majulah spirit and displaying the best of humanity. SGunited, together we can overcome!
The latest updates of HAGAR's COVID-19 response are available here – https://hagar.org.sg/covid-19-response-singapore