Yes, it happens in Singapore
Singapore is a popular transit point and destination hub for trafficking activities, where women and girls are trafficked into the country for sexual or labour exploitation. Exploiting Singapore's attractive economic conditions, criminal syndicates deceive vulnerable victims with false job offers, promising them a better life for their families. Today, there are approximately 1.37 million foreign workers in Singapore supplementing the country's manpower needs, out of which, close to 1 million low-wage migrant workers are amongst the most vulnerable.
In search of better economic opportunities, these migrant workers willingly emigrate from Asia, typically Bangladesh, Myanmar, India, Vietnam and Philippines to work in hospitality, construction, domestic service, performing arts, manufacturing and service industries in Singapore.
Because their work visas are employer-controlled, when they are coerced into providing sexual services or job conditions are changed beyond reasonable limits, workers have little recourse but to either return home or live with the unfair terms. It is not uncommon for these vulnerabilities to be exacerbated by personal circumstances, such as debt that they may have taken on in order to work in Singapore. Their lack of literacy and language further isolates them as they are often unable to access help easily when exploited.
Human trafficking is hiding in plain sight. And you can be part of the force that exposes this crime, by recognising the signs of victimisation and alerting the authorities.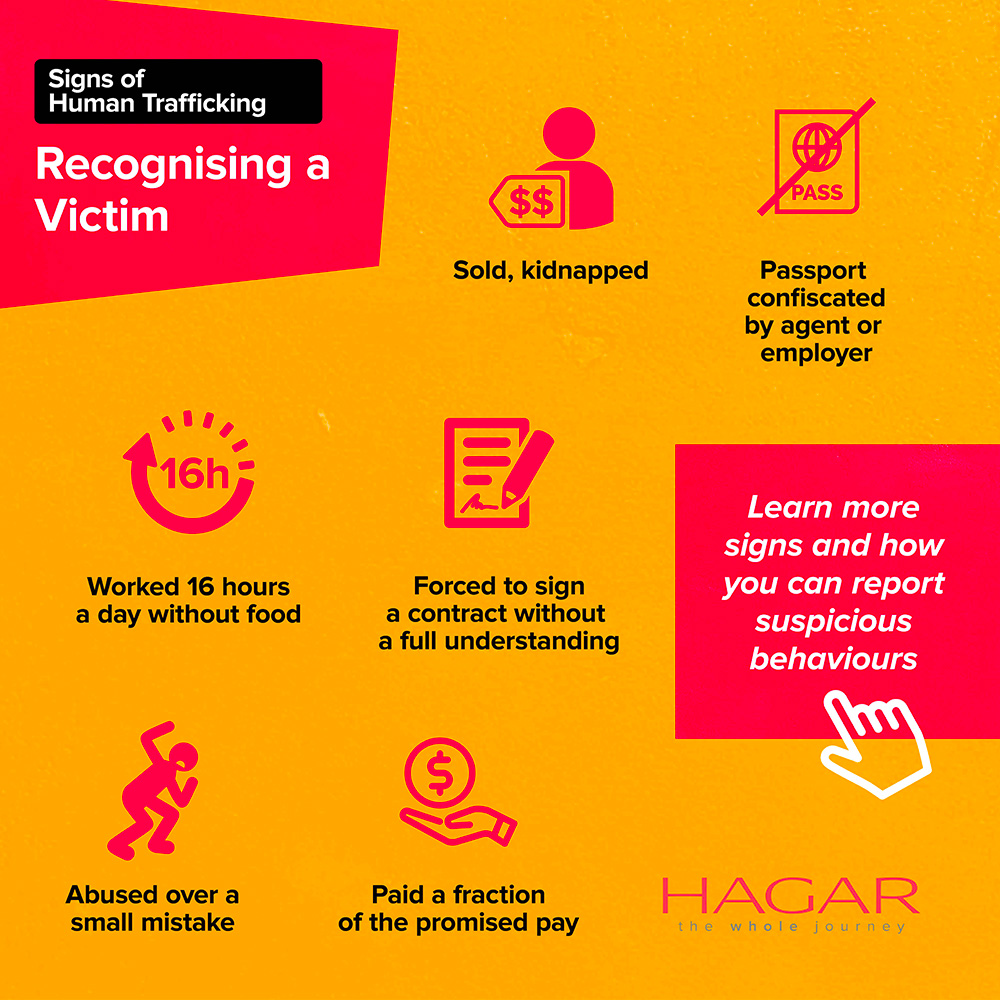 What has been done so far?
In 2010, the Singapore government formed the Inter-Agency Taskforce on Trafficking in Persons that comprised representatives from nine ministries. Co-chaired by the Ministry of Home Affairs (MHA) and the Ministry of Manpower (MOM), the National Plan of Action was developed, putting in place a comprehensive framework to address human trafficking issues. Since 2014, HAGAR has been working closely with the government to strengthen public awareness and enforcement capacity, and provide victim care to women and girls trafficked into Singapore.
To report a potential trafficking situation in Singapore, please contact the local authorities at:
Police hotline 6435 0000 or email SPF_Report_Trafficking@spf.gov.sg
Ministry of Manpower 6438 5122 or email mom_fmmd@mom.gov.sg
*All information provided will be kept confidential.
Timeline of Key Events
2010: The Trafficking in Persons (TIP) Report published by the U.S. Department of State placed Singapore on a human trafficking Tier 2 watch list; a category for countries that have a significant number of trafficking victims and which failed to show efforts to combat the situation. Within the same year, the Singapore government formed the Inter-Agency Taskforce on Trafficking in Persons, to coordinate efforts in tackling trafficking that focuses on 4 key aspects – Prevention, Prosecution, Protection and Partnership.
2012: The Taskforce launched the National Plan of Action (NPA) against Trafficking in Persons (2012-2015), focusing on addressing the immediate legislative and operational gaps in combating TIP. A total of 31 specific initiatives under the NPA were reviewed and completed.
2014: The Prevention of Human Trafficking Act (PHTA) was passed in Parliament, to address the problem upstream by deterring traffickers through carrying stiff penalties and increased enforcement. These preventive measures are strategically designed to prosecute offenders, protect victims, and to encourage the reporting of trafficking activities. Since the enactment of the Prevention of Human Trafficking Act in 2015, there have been several prosecutions against offenders on counts of sexual and labour trafficking.
2015: Recognising the lack of holistic recovery care and empowerment support services available to trafficking survivors in Singapore, HAGAR started the Trauma Recovery and Resettlement Programme, providing direct services to restore their well-being, and improve their literacy and skills to help reduce the risk of re-exploitation.
2019: Celebrating HAGAR's 25th year anniversary globally, the Hagar Freedom Gala was held to commemorate the transformed lives of more than 19,000 survivors who have overcome their trauma. The end of 2019 also saw the first landmark Labour Trafficking conviction in Singapore where a couple was found guilty of trafficking 3 Bangladeshi women to Singapore and forcing them into labour and paid sex.
2020: Singapore achieved Tier 1 ranking in the Trafficking in Persons 2020 Report for increased efforts to tackle human trafficking.
Help us transform lives
Join HAGAR to empower survivors of trafficking and abuse to start a new life.
Help us transform lives
Join HAGAR to empower survivors of trafficking and abuse to start a new life.
Help us transform lives
Join HAGAR to empower survivors of trafficking and abuse to start a new life.