Operating from nine countries and impacting lives in more than 15 countries around the world, HAGAR leads a global network of programme and support offices working to restore the lives of individuals enslaved by human trafficking, slavery and abuse.
Our support office in Singapore, Hong Kong, Australia, New Zealand, United States and the United Kingdom, enable the provision of direct recovery services to victims in Cambodia, Vietnam, Afghanistan, and Singapore and others in the Asian region through advocacy, fundraising, and strategic partnerships with the local governments, businesses, academic institutions and the civil society. Singapore sits in a special place; a hybrid office within the HAGAR network whose core mandate includes responsibilities straddling between raising awareness and advocacy, fundraising and providing restorative care to trafficking survivors in Singapore.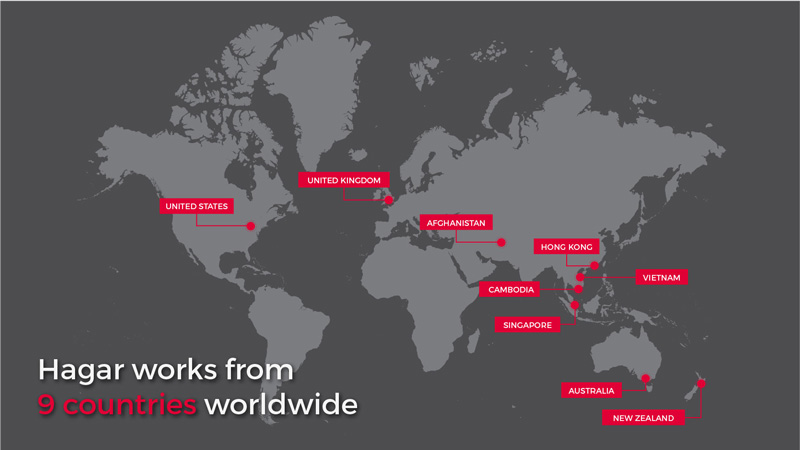 Afghanistan
After four decades of conflict, Afghanistan persists in the struggle for stability. A complex political context, economic vulnerability, and a high incidence of migration and displacement create ripe conditions for human trafficking to flourish. Afghanistan has one of the highest rates of violence against women in the world, with deeply entrenched gender roles.
In Afghanistan, HAGAR works closely with government ministries and the Trafficking in Persons (TiP) High Commission to increase internal capacity to protect and uplift vulnerable women and children. In particular, HAGAR is working to create a coherent TiP National Referral Mechanism for Afghanistan and train a wider range of stakeholders to identify and protect survivors.
Operating in Afghanistan since 2008, HAGAR has had a long history successfully working to improve the lives of some of the most vulnerable in Afghanistan.
Cambodia
Emerging from the ravages of conflict and relatively recent genocide, Cambodia is a country with rich cultural heritage and at the same time, deep inter-generational trauma. With an estimated 256,800 people living in modern slavery, it has the highest prevalence of slavery in the world after North Korea and Uzbekistan. Domestic and gender-based violence are prevalent, with a recent UNICEF report revealing that one in five Cambodian men between the ages of 18 and 49 admitted to perpetrating rape.
HAGAR works directly with people who are the human face of these harrowing statistics to provide healing, justice, and freedom from fear. At the individual level, we ensure they have a safe place to live, and loving foster families to care for children in the community. We provide them with trauma counselling, medical care and legal advice to help them understand their rights and seek justice. They have the opportunity to go to school, learn vocational skills or gain a university degree. Ultimately, they are supported to secure a job so they can live independently.
At the national level, we work closely with the Royal Government of Cambodia to increase capacity within provincial and national ministries, as well as police to sustain this life-changing work in their country. We also developed a toolkit for legal professionals, which is now being used across the country to ensure that children who have survived abuse are not re-traumatised during the legal process. We are currently working in close collaboration with First Step Cambodia, to support the government in developing Cambodia's first set of social work standards.
Vietnam
Vietnam is one of South East Asia's fastest developing countries, yet it remains a significant source country for women, men, and children who are subjected to sex trafficking and forced labour. Women are trafficked as brides to neighbouring countries, as well as further afield, with incidents of trafficking that reach as far as Europe. Domestic violence is widespread, and nearly 60% of married women have suffered from physical or sexual abuse in their lifetime.
In Vietnam, we support women and their children who have fled from severe domestic violence and human trafficking. We support them through the whole journey of recovery, including trauma counselling, education, vocational training, and job placement while they are placed in safe accommodation in the community. We have developed strong partnerships, including with the Yen Bai Women's Union to build their capacity to prevent trafficking and protect survivors in Northern Vietnam.
Singapore
In spite of Singapore's rapid development, it remains a transit point and destination country for victims of human trafficking. Deceived by promising job offers from fraudulent job agents, victims leave their countries for work in Singapore, only to find themselves coerced into sexual exploitation and forced labour. About 70% of the 1.4 million foreign workers in Singapore are low-wage migrant workers, vulnerable to human trafficking. The first anti-trafficking law was passed in Singapore in 2014, and with the support of the government, Hagar is making significant strides in ensuring that survivors are protected and cared for.
HAGAR was originally established in Singapore as a support office. However, after identifying an urgent need for comprehensive recovery services, we expanded to provide support to survivors who had been trafficked into Singapore. We now provide counselling, case management, empowerment through literacy and skills training, and assist to resettle survivors back in their home countries when their Singapore court case finishes. We also work closely with the Singapore Government to ensure that survivors of trafficking are comprehensively supported throughout legal processes.
Learn more about how our work in Singapore is changing lives.
Help us transform lives
Join HAGAR to empower survivors of trafficking and abuse to start a new life.
Help us transform lives
Join HAGAR to empower survivors of trafficking and abuse to start a new life.
Help us transform lives
Join HAGAR to empower survivors of trafficking and abuse to start a new life.