As a corporate forerunner
Corporates lead by example in creating a socially-conscious workplace that is inclusive, aware and forward-thinking. They elevate Hagar's profile within the industry and in their workplace and in doing so integrate corporate values with workplace culture. See which opportunity below fits you and
contact us
. We would love to help you get started!
Corporate Social Responsibility
Corporate ambassadors are passionate about Hagar's mission and work. They provide expertise, partner with Hagar on a long-term basis and showcase their corporate values through financial giving and knowledge sharing.
Boeing has been a strong supporter and funder of Hagar's anti-human trafficking programmes in Southeast Asia for close to 10 years now. Central to their deep and enduring commitment to uplifting underprivileged communities, their annual grants focus on building opportunities that inspire people's future and driving positive lasting change for people and their communities.
Linklaters LLP, a global law firm, supported Hagar International in the development of a legal toolkit to assist child victims and witnesses in Cambodia through their country's justice process. In addition to contributing pro bono legal research, the organisation also supported the work of a foreign lawyer who served as a legal advisor on this phenomenal project. In the same manner, currently, Linklaters Singapore is working with Hagar Singapore on a similar toolkit for vulnerable witnesses contextualised for the Singapore judicial system. They have also been generous financial supporters of Hagar's work over the past years.
Ark Industries, one of Singapore's top embroidery and printing companies, has been a faithful, long-time supporter of Hagar. Besides being a loyal sponsor of Hagar's annual charity golf event and other fundraising sporting events, the founder of the company, Marc finds joy in contributing to the individual lives of survivors. Most recently, he organised a honeymoon dinner for a former Hagar beneficiary from Cambodia and produced a suite of custom-made gifts for the newly wedded couple!
Awareness Initiatives
Awareness initiatives can take the form of lunch talks, corporate tie-ups or revolve around products or services
Keeping with their passion for community service, the Rotary Club organised a lunch talk for their members to learn about Hagar's work amongst some of the world's most vulnerable communities. Inspired by the potential of transformation, the group is discussing ideas on how they can pull together a funding project to benefit the survivors in a tangible way.
In celebration of International Women's Day, Aura, a fine-dining restaurant, collaborated with Hagar to educate patrons on human trafficking, and donated a portion of sales proceeds to support survivors of trafficking and abuse.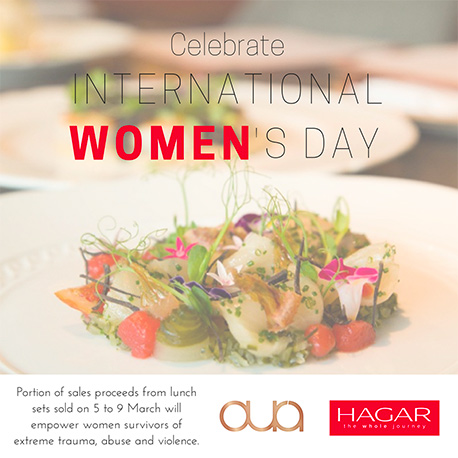 Workplace Fundraising
Never mind even if your company does not have an institutional giving channel in place or they are too complex to navigate because there are just so many different ways in which you can organise fundraising efforts around your favourite cause.
One of the best ways to bond is definitely over food! Even better, leverage that opportunity for fundraising purposes and that was exactly what employees from Deutsche Bank did. A group of Hagar supporters within the staff team organised a charity cook-out in support of Hagar. The cooking competition was undertaken by four team chefs; senior managers in the Bank who cooked their four favourite dishes and prior to the challenge, each team set up their respective online fundraising portals and went around the office canvassing for support around their favourite chef. The single event raised a whopping $86,000 from within the employees.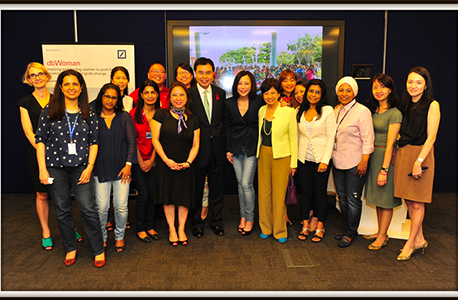 Another example was seen from employees from
Thomson Reuters
who coordinated a bake sale within their office premises. The staff organising team including Hagar's volunteers chipped in to produce a variety of cafe food recipes. Leading up to the lunch event, the team ran a series of publicity efforts amongst their colleagues to highlight the special food menu. It was a sold-out endeavour and 100% sales proceeds were donated to Hagar.
It does not always have to be around food. Think about the top few passions shared by most people at your workplace and let your creativity fly!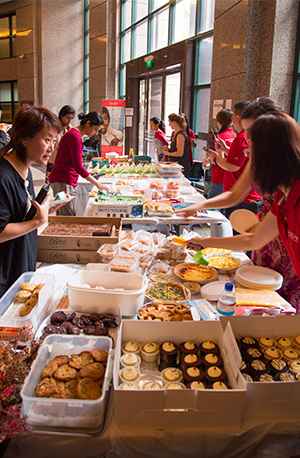 Matching Grants
Boost employee engagement by matching your employees' charitable donations and supporting causes close to their hearts. Consider following Yahoo! Inc's lead – setting up an account on Benevity, a giving platform which allows corporates to match employees' personal giving to charities on the platform.
If you are a Hagar supporter, check with your company's Human Resources department to ascertain if your company provides matched giving. A fine example is seen from Allied World Assurance – the company matched one of their employees, Mark's donation to Hagar, doubling the impact of his personal giving!
Employee Engagement
Corporate philanthropy provides a key opportunity to boost employee engagement and showcase corporate values.
Every year as part of their Community Teamworks initiative, Goldman Sachs employees organise a bowling event for Hagar clients, giving them an opportunity to socialise and enjoy an afternoon together over food and a healthy game of competition. Over the years, this has turned out to be one big favourite annual event for Hagar clients!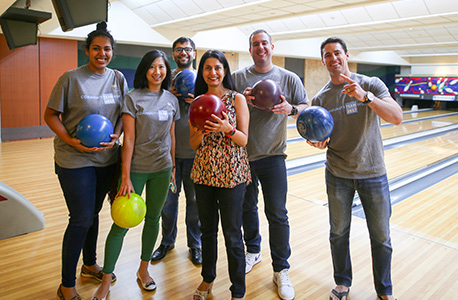 Consistent with Deutsche Bank's corporate vision of empowering women, dbWoman galvanised more than 30 volunteers from their women's network and ran a life-skills workshop for Hagar clients. Both parties enjoyed learning from each other, and the women's group did not stop there. Over the years, the employees continue to tap different opportunities, organising outings during festive seasons for the clients' enjoyment.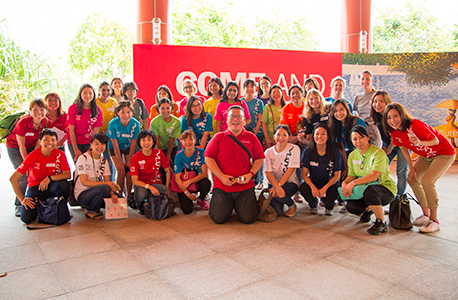 You could support employees' charitable activities by allowing time off work to engage in social causes, thereby boosting employee engagement. Increased engagement has been shown to pay dividends in productivity, loyalty and brand perception.
The opportunities to give back is limitless! Whether you are heading the HR or CSR department in your company, or an individual employee, you can contribute to rebuilding broken lives. Start today by dropping us a line with your plans.
Help us transform lives
Join HAGAR to empower survivors of trafficking and abuse to start a new life.
Help us transform lives
Join HAGAR to empower survivors of trafficking and abuse to start a new life.
Help us transform lives
Join HAGAR to empower survivors of trafficking and abuse to start a new life.