17 May 2020
The number of COVID-19 cases among foreign workers in Singapore continues to rise, taking the country's total to 28,038. Total number of fatalities from the disease is 22. However, the good news is that the number of new cases in the community has gone down significantly to a single digit count. A total of 9,340 people have fully recovered from the infection.
Since the COVID-19 outbreak in Singapore, the government's multi-ministry taskforce and NGOs spared no effort in providing support to the foreign workers who have been most affected by the crisis; more than 90% of infections are found in foreign workers living in dormitories.
Besides providing food and essential supplies to foreign workers in purpose-built dormitories, over the past two weeks, HAGAR has also expanded its reach to workers who have less access to support, i.e. foreign workers living in factory-converted dormitories (FCDs) and shophouses, and female migrant workers staying in dedicated women shelters. Through the tele-counselling sessions, the male workers highlighted the shortage of food and basic necessities. They have no money for food and rent, much less sending money home to their families. Though employed, many have only received a portion of their salary during the circuit breaker period. From the women's end, their worries are about their jobs and children back in their home countries; many have lost their jobs during this circuit breaker and are hoping to find alternative employment quickly after the movement restrictions loosen when the circuit breaker ends after 1st June.
Vegetables, potatoes, tomatoes, onions, eggs, chicken, fish, beef, cooking oil, spices and more – truckloads of food, surgical masks, hand sanitisers and feminine items for female workers were delivered to the workers this week. Especially for Muslim workers who are celebrating Ramadan later this week, we hope the food supplies will bring them comfort and joy.
Since the start of the circuit breaker on 7 April, HAGAR has received overwhelming encouragement from donors with donations in kind and funds to keep the recovery services going for our beneficiaries. Every other day, we have been receiving at our doorstep, deliveries of donations of face masks, hand sanitisers, Vitamin C, and other basic necessities for the migrant workers. Volunteers and donors busy themselves sewing reusable cloth masks to ensure that the workers will never run out of face masks.
In spite of the economic and social upheaval caused by the coronavirus, the many tales of triumph and kindness showed by the Singapore community give great reason for hope that a new and better world will emerge from this pandemic.
1 May Update
The number of COVID-19 cases among migrant workers living in dormitories have swelled in recent weeks, bringing the national tally to 17,101 as of 1st May. To date, more than 80% of the total cases in Singapore are migrant workers.
Singapore is in its fourth week of a "circuit breaker" period to curb the spread of the novel coronavirus. Safe distancing measures have been tightened and the circuit breaker extended by another four weeks to 1 June. Most work places and schools remain closed and people have shifted to working and learning from home during this time. They are not to leave their homes except for essential activities such as buying food and groceries.
While the number of new daily cases in the community has reduced, the number of new infections in foreigner worker dormitories continue to be a challenge.
Several new measures by the Singapore Government are in the pipeline to provide ongoing care to infected workers. These steps include setting up of community care facilities within the most affected dormitories for COVID-19 positive migrant workers who are clinically well or display mild symptoms, on-site community recovery facilities to look after patients who are no longer infectious, and rehousing of recovered workers in different locations or designated blocks within their dormitories.
In the past week, HAGAR has expanded its support to more than 3,000 migrant workers, providing them with hot meals and vital supplies to keep them healthy and protected. The distribution of supplies includes essential face masks, hand sanitisers, cleaning and laundry detergents, insecticide, and comfort home snacks such as murukku.
Since the COVID-19 outbreak, many volunteer groups have come forward to pledge their support for migrant workers. From sponsoring essential supplies, buying meals for workers, to donating their government payouts and producing reusable masks, men and women including children have taken up the responsibility to do their part to protect the migrant workers in Singapore.
Besides addressing their basic needs, HAGAR is also paying close attention to the mental health of quarantined workers. From 1st May, HAGAR is rolling out tele-support services to female migrant workers in the dormitories. Conducted by trained volunteer counsellors, social workers and translators, the tele-support is aimed at addressing their fears and concerns, providing them with the necessary emotional support to cope with this difficult period.
19 April Update
Over the past few days, Singapore has seen a staggering surge in COVID-19 infections amongst migrant workers concentrated in dormitories. As of 19 April, the total number of confirmed cases stands at 6,588.
In Singapore, there are about 200,000 migrant workers in purpose-built dormitories and 90,000 in factory-converted dormitories. These vulnerable migrant workers are at risk of catching the virus largely due to the density of population in these dormitories. Over the past week, the Singapore Government has been working extensively to relocate these workers to improved living spaces.
To date, Hagar has assisted some 1,700 affected migrant workers and existing HAGAR clients with care packs comprising essential face masks, hand sanitisers and Vitamin C. Clients who have lost their jobs or income as a result of the pandemic are also receiving additional economic and healthcare support during this critical period. In the upcoming week, HAGAR will also commence providing tele-counselling and hot meals to workers staying in dormitories.
Working collaboratively with other NGOs to support the migrant workers during this crucial time, we have seen incredible support from the local community working through ground-up initiatives and donation drives to ensure the well-being of our foreign workers, in the true spirit of SG United.
15 April Update
The circuit breaker has been imposed in Singapore from 7 April until 4 May. Non-essential businesses are now closed, people must stay home and minimise travel and wear masks if they have to go out. Social gatherings are strictly prohibited during this period.
All HAGAR staff are currently working from home. Even though all group programmes have been suspended, we continue to provide essential counselling and training to our clients through video-conferencing.
As of 15 April, there are 3,699 confirmed cases of COVID-19 with a death toll of 10. Despite the best efforts and stringent measures taken by the Singapore Government to contain the disease spread, Singapore continues to see a sharp spike in daily cases, with the majority from foreign worker dormitories where low-wage migrant workers are staying in.
To protect the workers, many of these foreign worker dormitories have been gazetted isolation areas. HAGAR is currently responding to the elevated needs amongst the migrant community, providing essential supplies like face masks, sanitisers, Vitamin C and mental support to distressed workers together with partner NGOs and independent community groups. Migrant workers are a vulnerable segment of population in Singapore. Experiencing immense stress during this time of isolation, workers fear catching the disease and losing their jobs should they fall ill. When this happens, it would mean they would be repatriated and lose their only source of hope for their families back home.
To date, HAGAR's clients staying in foreign worker dormitories are safe. However, a number of them are no longer able to work due to the closure of non-essential businesses. With no job and loss in income, the clients are anxious about not being able to send money home to their waiting families.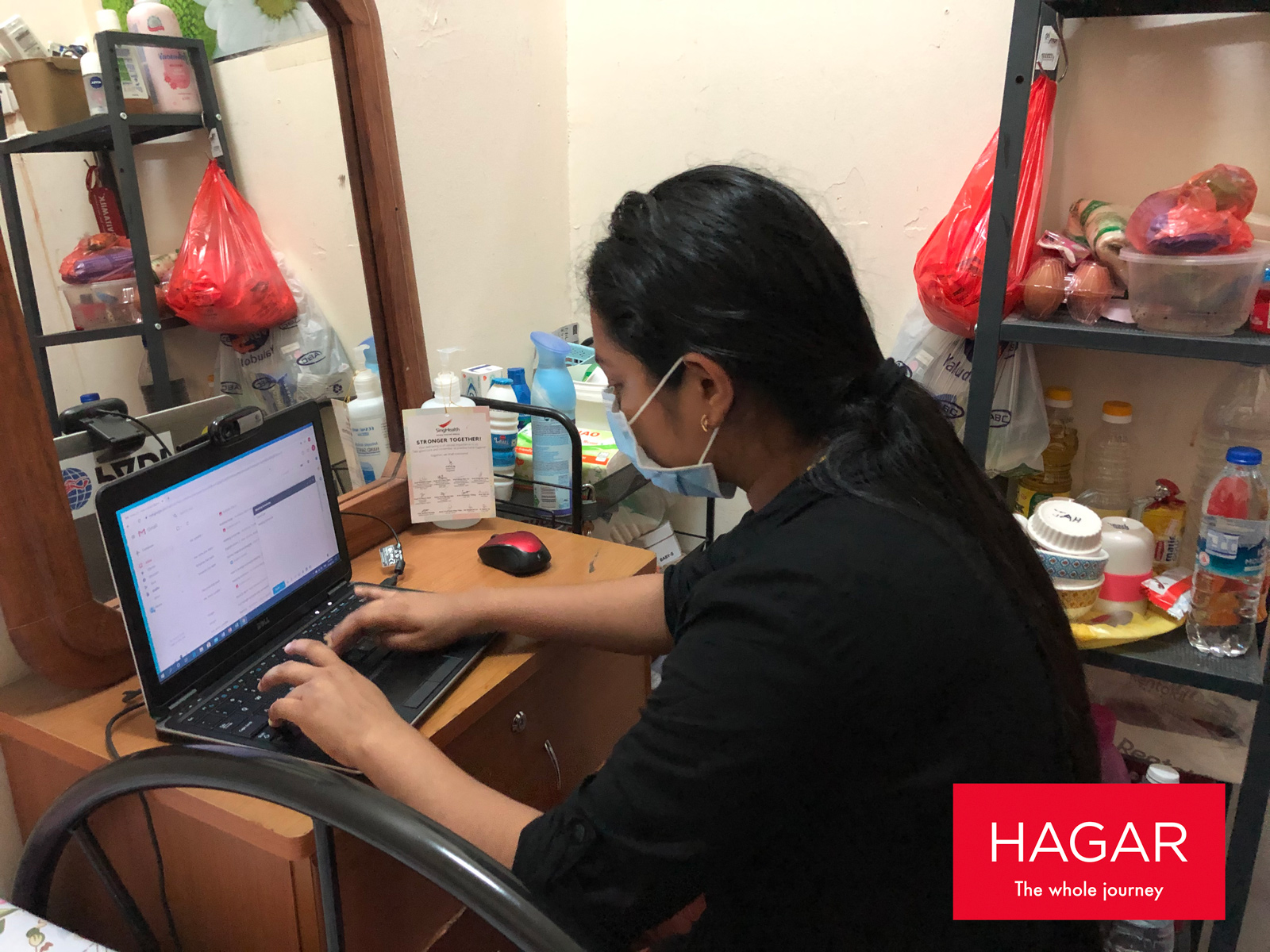 Single-handedly supporting her entire family's daily living needs and seeing her 6 younger siblings through school, Rani sought work in Singapore four years ago, but found herself trafficked and exploited by her employers.
Upon rescue from trafficking and placed under HAGAR's care subsequently, Rani has regained her self-esteem under the pursuing love from her case worker and counsellor and took up a dishwashing job to continue earning an income to support her big family back home. A keen learner and conscientious worker, Rani is highly motivated to pick up new skills. Just 2 months ago, we managed to find her an extraordinary job opportunity as office administrator in a multi-national HR firm where the employer is willing to train and help her develop core competencies in office skills, uplifting her personal capacities to build a sustainable future.
However, she is now stranded due to the circuit breaker measures. Unable to start on her new job, there is mounting pressure to still send money home to her family, where everyone is depending on her.
Undeterred, Rani's caseworkers together with two volunteers are currently providing Rani coaching in the English Language and computer skills through video-conferencing. HAGAR is also supporting Rani with basic food assistance during this period when she has no income.
"Thank you so much that you never give up on me. I never think I can one day work in the office. I will definitely work hard, thank you for believing in me."
At 23, a positive and cheerful young lady, one would hardly see Rani upset even when curveballs are thrown at her. With her attitude of gratitude and spirit of excellence, we are hopeful for a positive turn in the situation so that she can start work soon!
Hagar pursues the highest degree of care and protection for each of its clients. To protect the identity of our clients, names have been changed and images do not necessarily represent the individual profiled.