One year on: Afghanistan Crisis Aftermath
Since the Government takeover in August 2021, the country has experienced a deepening humanitarian crisis. Livelihoods have been decimated, Afghans across the country are dealing with poverty, acute malnutrition and starvation, and a raft of natural disasters such as earthquakes, drought, and floods.
HAGAR continues to be one of the international NGOs permitted to provide humanitarian support in Afghanistan. Thanks to the generosity of our donors around the world, we were able to raise over US$1.12 million to aid displaced women, children, and families. To date, HAGAR's Emergency Response Plan has helped 172,439 Afghans in Kabul and Paktika through:
Support for earthquake victims

: Our mobile clinics in Paktika province treated more than 16,000 patients after the devastating earthquake in June, and continue to see more than 100 patients daily. We also provided shelter and access to food, water, and sanitation to almost 8,000 quake victims, as well as specialist counselling and trauma therapy to help children cope with the devastation.

Daily essentials for families most in need

: 5,768 homeless families in Kabul received monthly food aid packages, and 1,000 destitute families were given thick blankets to help tide over the brutal winter months.

Safe haven shelters for trafficking survivors

: Our Forgotten No More shelter for boys gave 352 victims care, support, and vocational training, and we recently opened Kabul's first emergency shelter for at-risk and homeless girls.

Child-friendly spaces for children

: Afghan children living in internally displaced camps or on the streets have had their childhood ripped apart. At each of the 14 child-friendly spaces we've created in 14 camps, they can eat, learn and play safely.

Capacity building for partners and community leaders

: Only by empowering the community can we try and protect the most vulnerable. We trained 120 participants on topics such as child protection against trafficking, and how to identify abuse.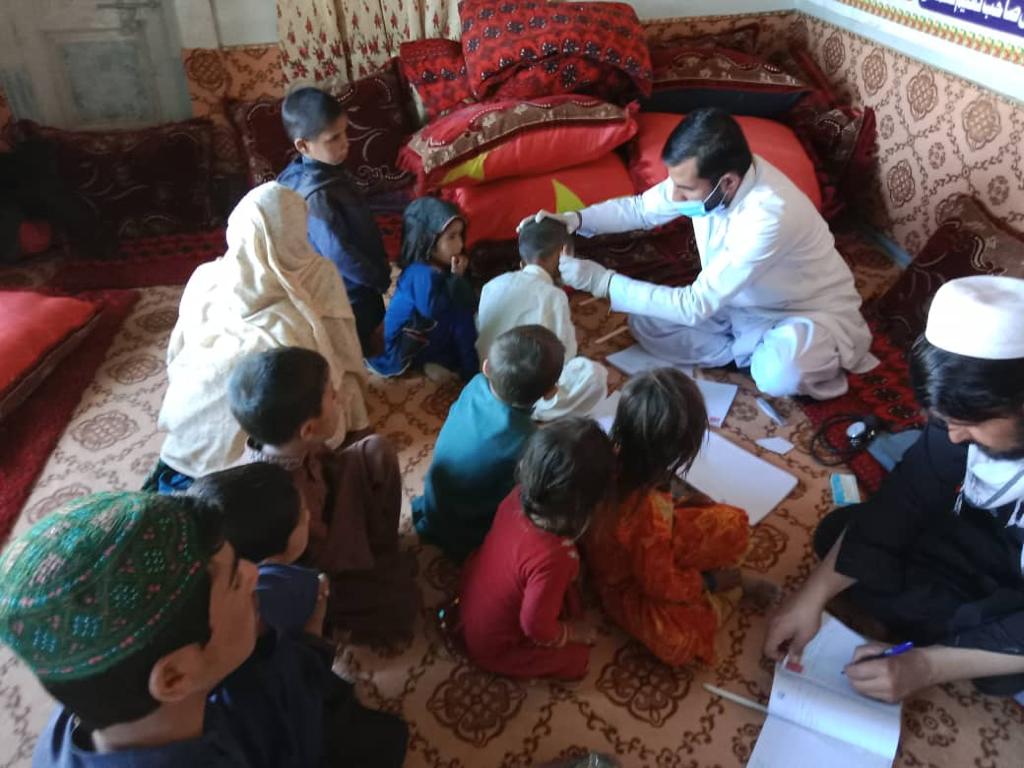 Thousands of earthquake victims in Paktika province, many of whom were children, received medical treatment from our mobile clinics.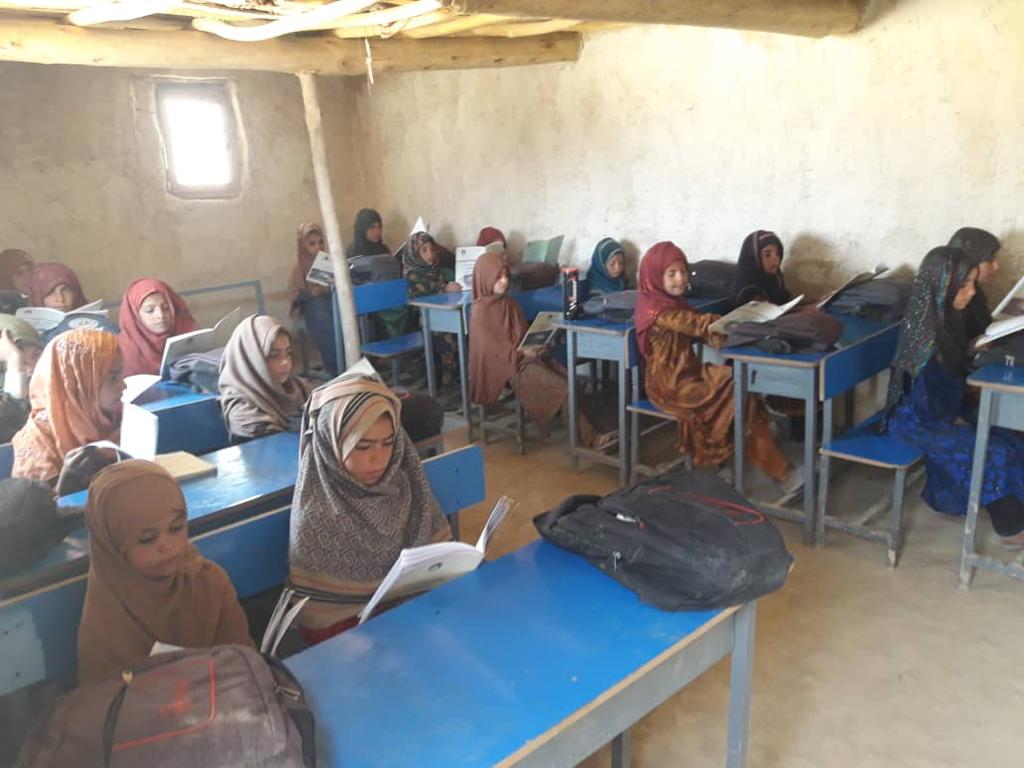 Children having lessons at one of the child-friendly spaces set up to provide safety, learning and respite for displaced kids.
Helping kids to heal through play; an important component of trauma therapy to help relax their mind and manage emotions.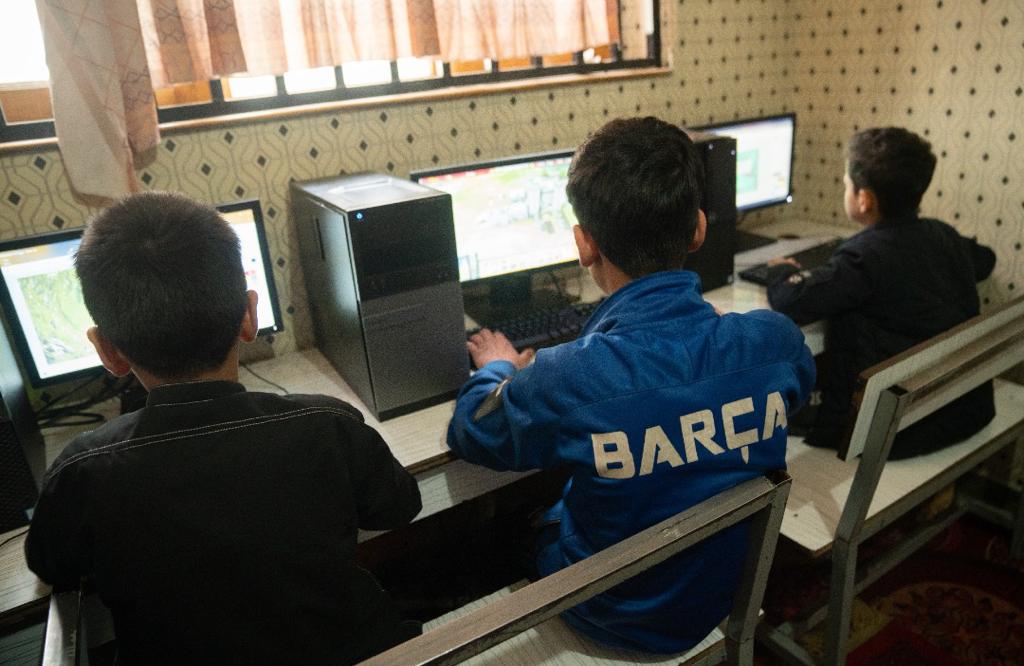 Boys learning computer skills at the Forgotten No More shelter, where they receive recovery care and vocational training for independent living.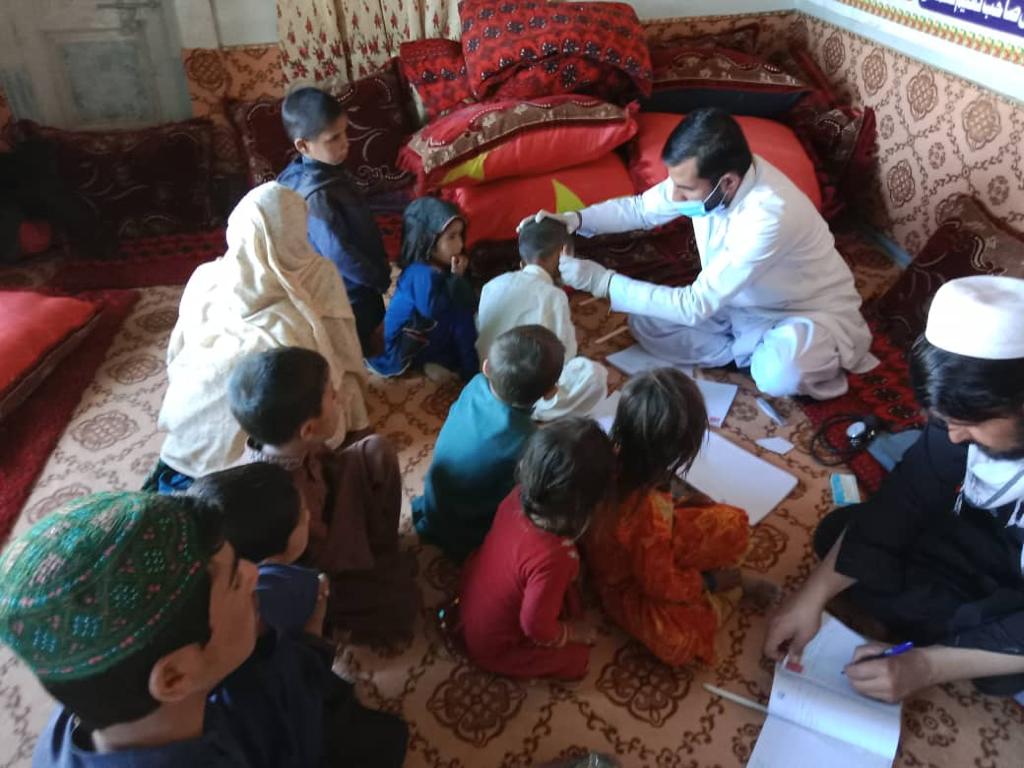 Thousands of earthquake victims in Paktika province, many of whom were children, received medical treatment from our mobile clinics.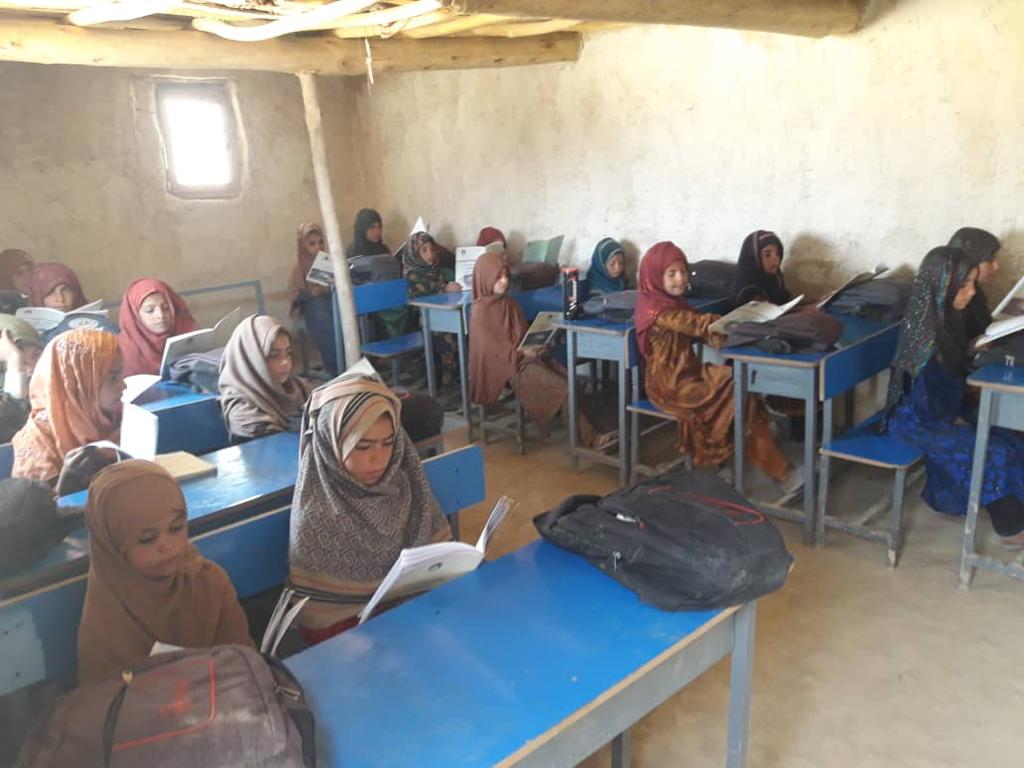 Children having lessons at one of the child-friendly spaces set up to provide safety, learning and respite for displaced kids.
Helping kids to heal through play; an important component of trauma therapy to help relax their mind and manage emotions.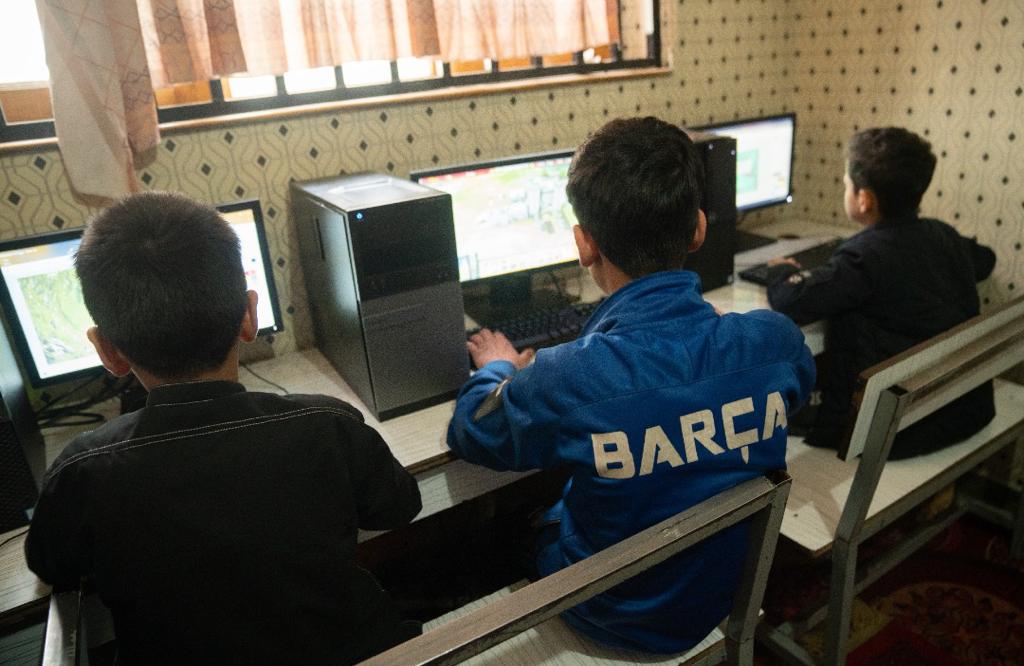 Boys learning computer skills at the Forgotten No More shelter, where they receive recovery care and vocational training for independent living.
Lives are being changed, thanks to the hard work and support of our teams, partners and donors. But hundreds of thousands more need help to survive this severe and prolonged humanitarian crisis.
Our priority in the first half of 2022 was to provide urgent food and medical relief to those in dire need. From April 2022, we transitioned our focus from emergency response to
long-term sustainable development
, to enable Afghans to regain their independence and self-confidence so they are less dependent on temporary relief aid.
HAGAR's Poverty Reduction and Livelihood Project underpins this recovery phase. It focuses on job creation, training, and placement for displaced and vulnerable individuals through 3 cash-based modalities: cash for work, commercial cooperatives, and small businesses. To date, we have helped more than 2,400 beneficiaries:
Cash-for-work: 128 beneficiaries were trained and hired as wool threaders at a carpet company. Each received a monthly wage of US$100 during their 6-month onsite training and will get more as full-time workers from 2023.
New cooperatives: HAGAR and its partners set up 3 tailoring cooperatives in Kabul. HAGAR gifted 130 sewing machines and other essential equipment to help kick-start the garment production. Beneficiaries were trained in advanced tailoring techniques and operations management.
Small business: 40 small businesses were established in Kabul to sell essential goods such as fruits and vegetables, animal feed, hygiene products and winter clothes at the wholesale market. Approximately 320 needy beneficiaries are now taking the first steps to becoming self-supporting.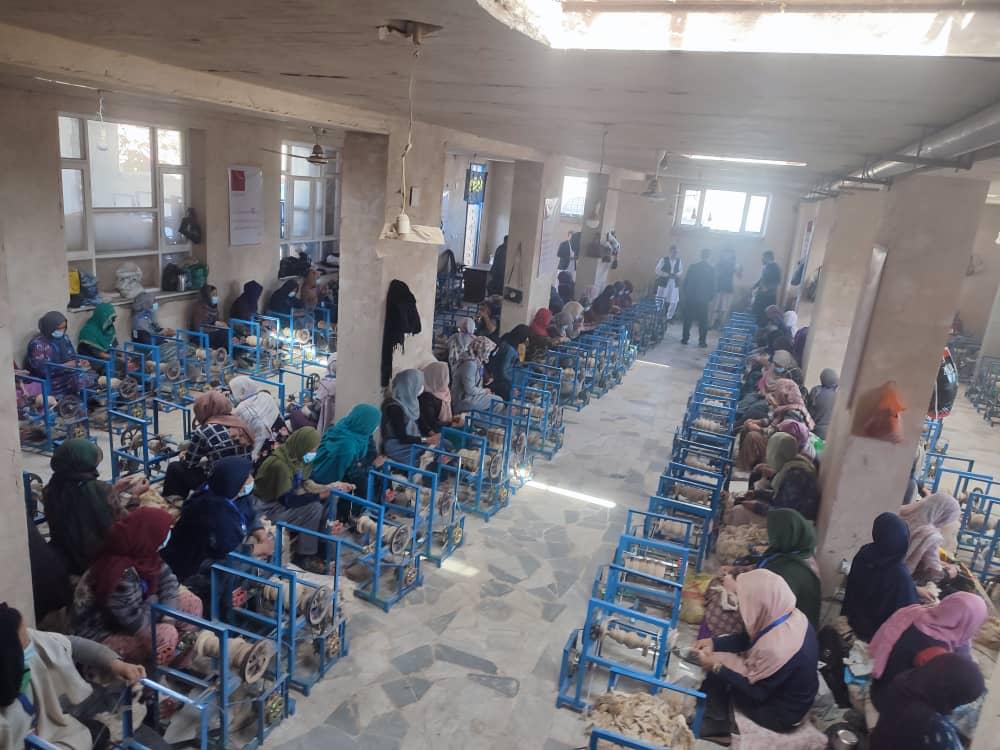 Trained and hired as wool threaders, women have a chance of earning a living through the Cash-for-Work programme.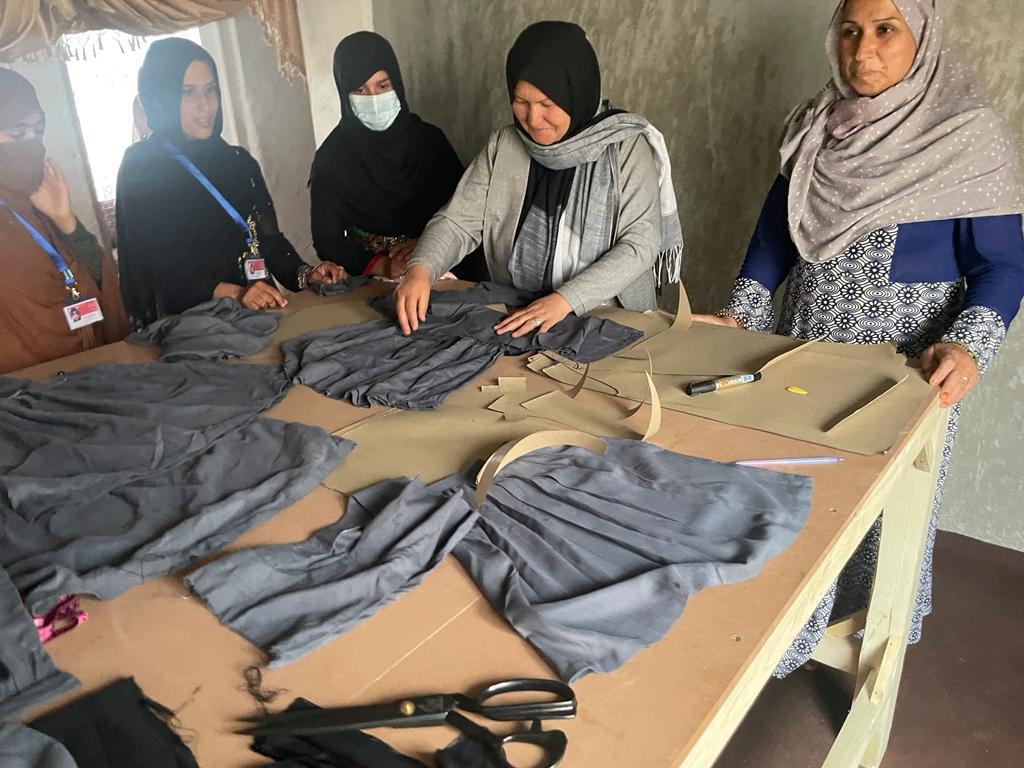 Tailoring cooperatives set up to upskill and provide jobs to women so they can support their families.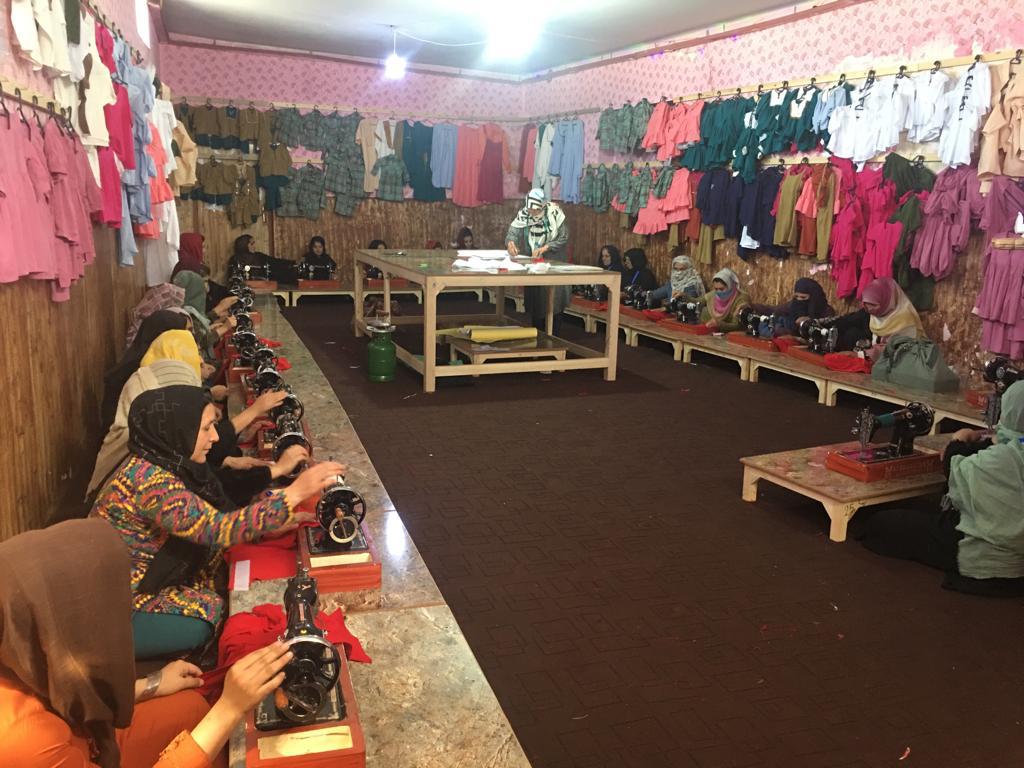 Women beneficiaries producing beautiful garments and winter clothes for sale.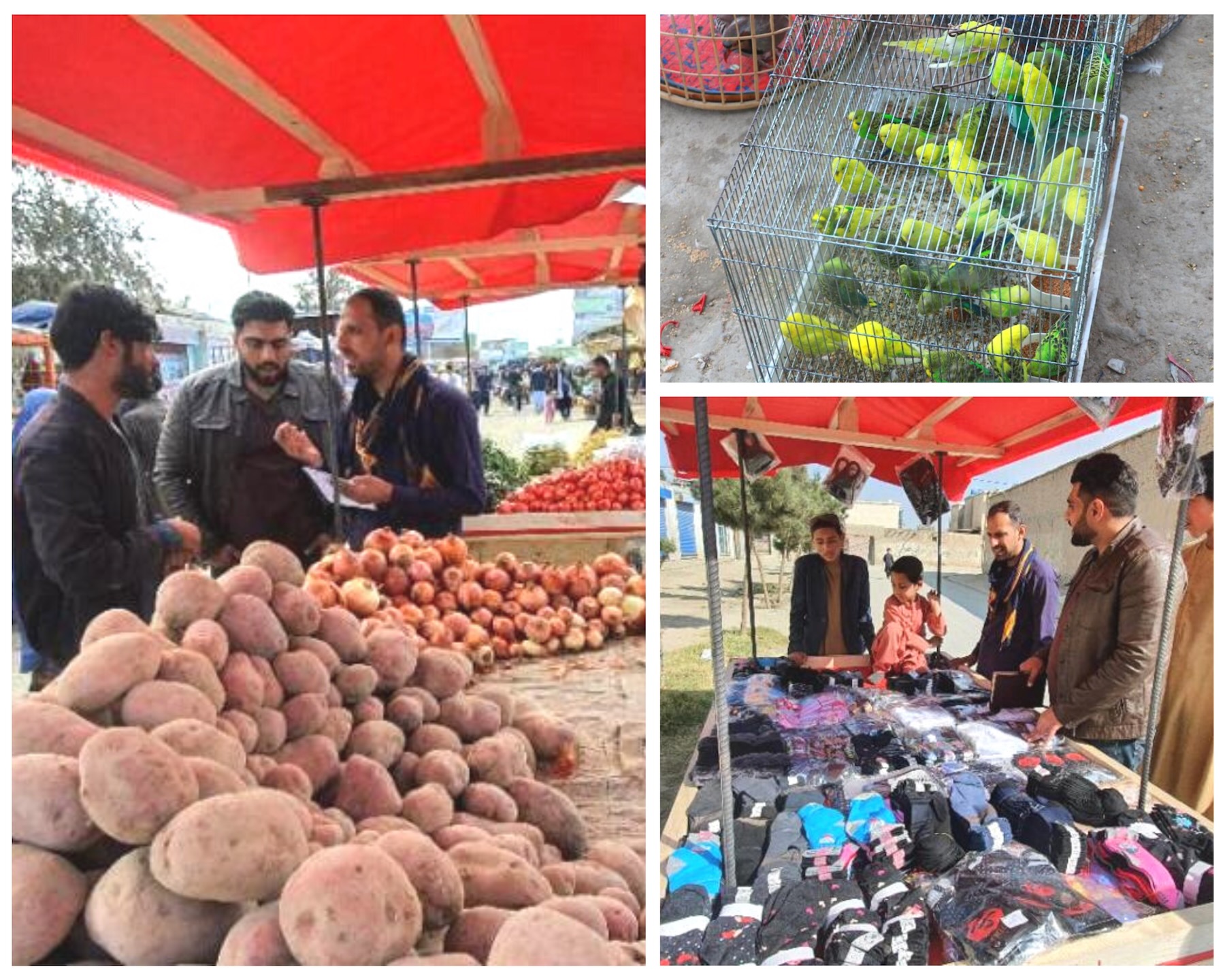 40 small businesses ranging from sale of vegetables, fruits and essential goods were set up to help beneficiaries rebuild livelihoods.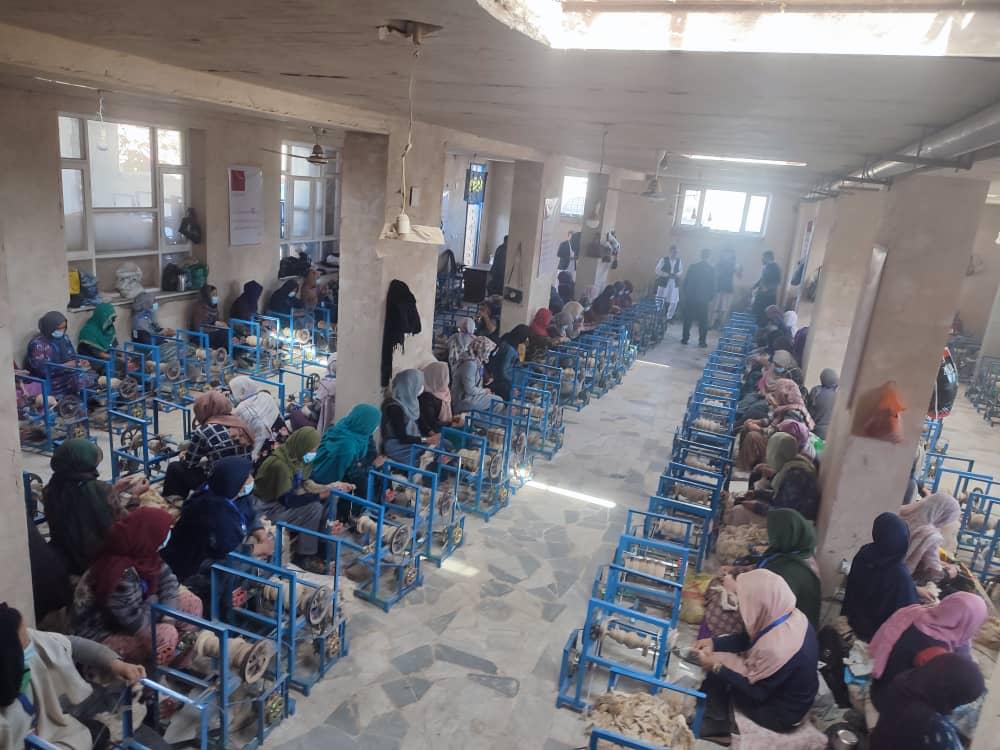 Trained and hired as wool threaders, women have a chance of earning a living through the Cash-for-Work programme.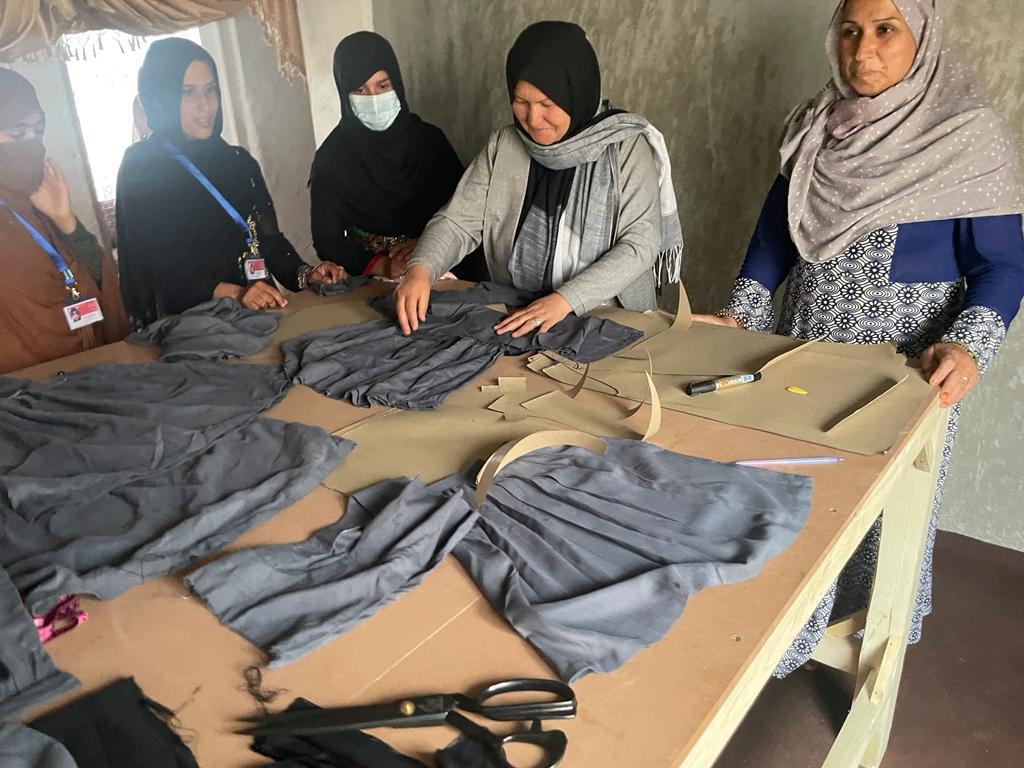 Tailoring cooperatives set up to upskill and provide jobs to women so they can support their families.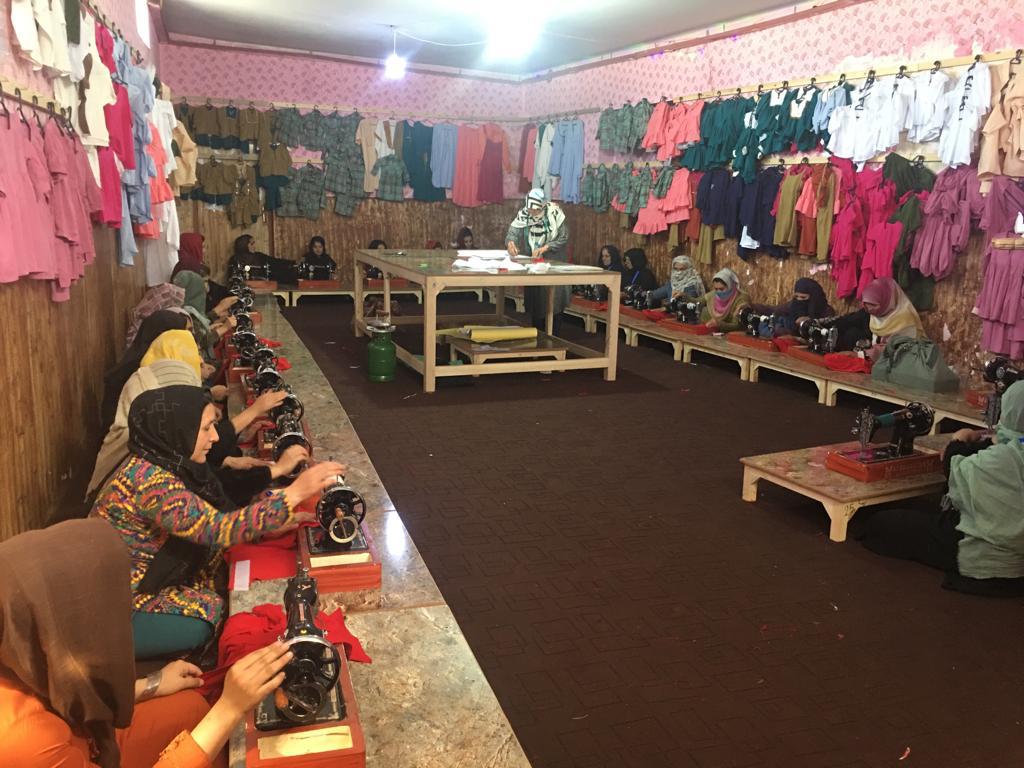 Women beneficiaries producing beautiful garments and winter clothes for sale.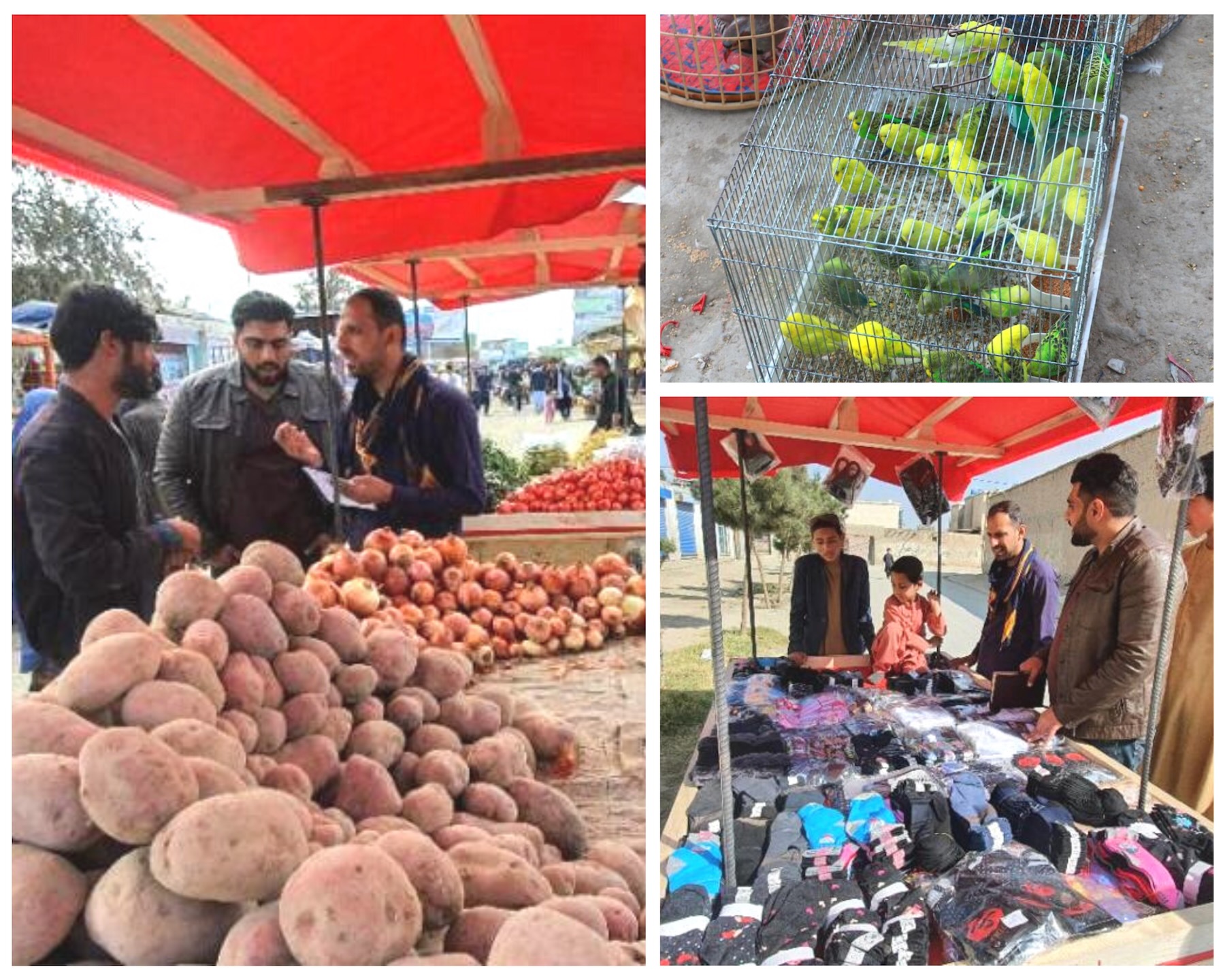 40 small businesses ranging from sale of vegetables, fruits and essential goods were set up to help beneficiaries rebuild livelihoods.
There is significant interest in the Poverty Reduction and Livelihood projects from local communities as they see the positive impact on beneficiaries' lives first-hand. HAGAR is ready to scale this programme to more areas, but we need funds to do so. The situation is bleak but with your help we can make a real difference on the frontline.
Help us bring hope for a better life to the people of Afghanistan.
June 2022: Relief Efforts Intensify in Paktika, one week after Afghanistan earthquake
For the past week and more, HAGAR has been on the ground providing urgent medical care for victims of Afghanistan's worst earthquake in 20 years. Our work is concentrated in the Gayan district of Paktika, an already impoverished region severely hit by the earthquake. "The impact is unbelievable," our Hagar Afghanistan staff on the ground described. Fortunately, other aid organisations have joined humanitarian efforts over the last couple of days, reducing pressure on HAGAR being the only NGO at the site.
The numbers of children orphaned by the earthquake continue to rise rapidly. Children have become extremely vulnerable following the earthquake, losing their families, houses and schools overnight. Crowds of children have gathered on the streets as they no longer have a school to attend. These vulnerable orphans are severely at risk of abuse, hunger and total destitution.
Following our HAGAR team's disaster risk assessment and ongoing discussions with other NGOs, government agencies and community leaders, it is evident that the need for psychosocial support is critically important to help these child survivors recover from trauma.
At this point, our Hagar Afghanistan team have started setting up tents to house these children. In collaboration with Shelter Now International, HAGAR will run 2 child-friendly spaces, prioritising care for orphans and separated, unaccompanied children with no family members or neighbours to stay with. At least two child-friendly spaces will be set up to provide kids with the following critical services over the next 3 months:
Psychosocial counselling and trauma therapy: HAGAR will deploy two experienced psychosocial counsellors to provide crucial counselling services. Where necessary, those suffering severe trauma will be referred for psychiatric intervention.
Medical services: The delivery of medical care through our mobile clinic will continue to ensure that we reach survivors in remote areas.
Food, water and sanitation: Children will receive daily meals. Mobile toilets will be set up to ensure health and hygiene.
Education and recreation: This is an essential component of recovery for these kids; play therapy will also be introduced to help small children regulate their emotions and cope with their loss.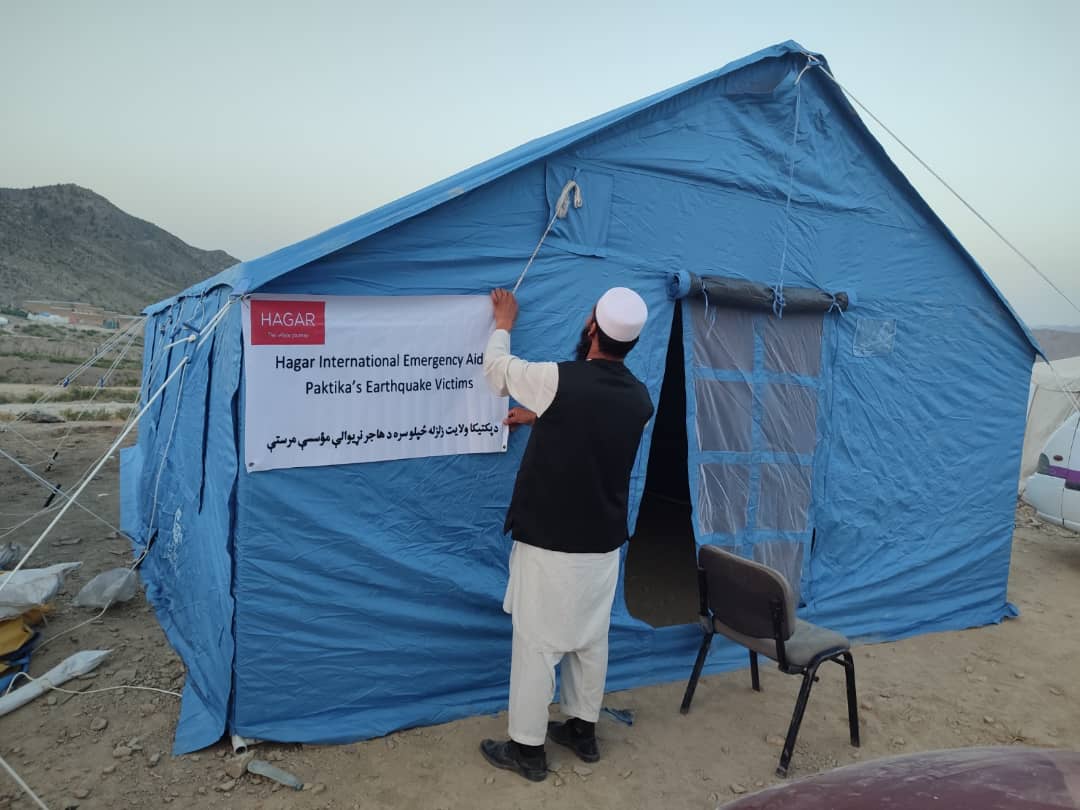 Hagar staff setting up tents to house orphaned and vulnerable children, a place where they can receive trauma care, medical treatment and protection against abuse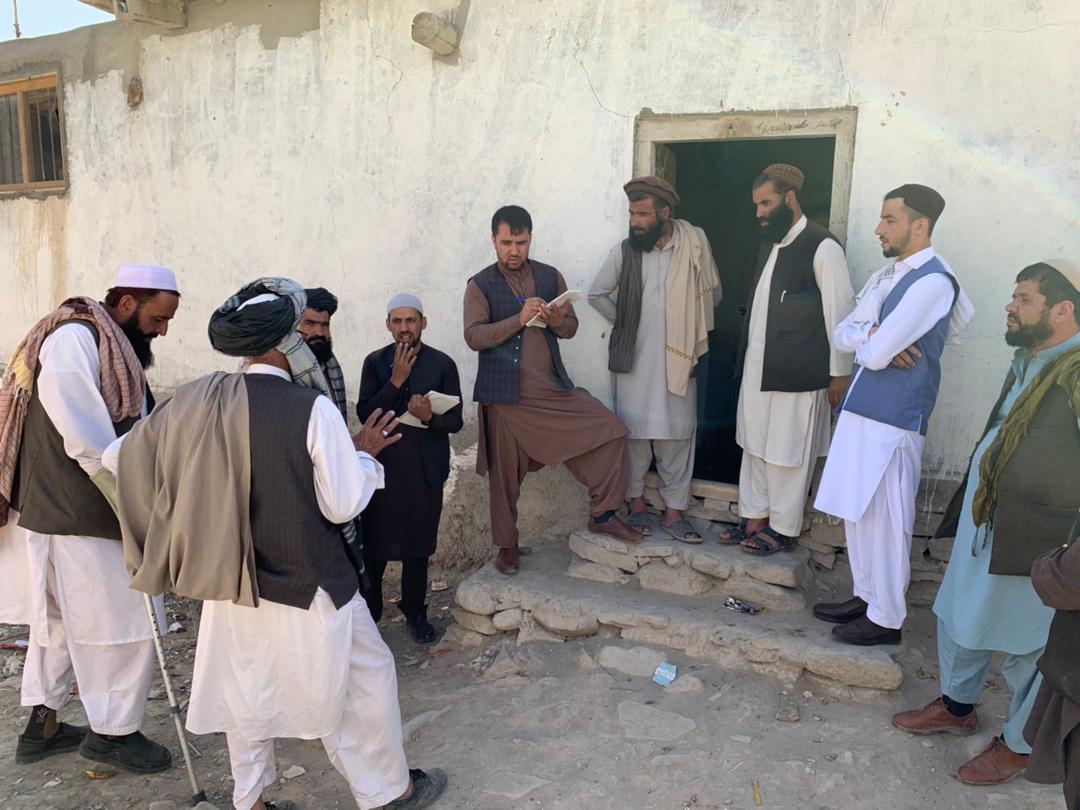 Hagar staff in discussion with community leaders, government agencies and other NGOs, ensuring the care provided to beneficiaries is delivered in a smooth and efficient way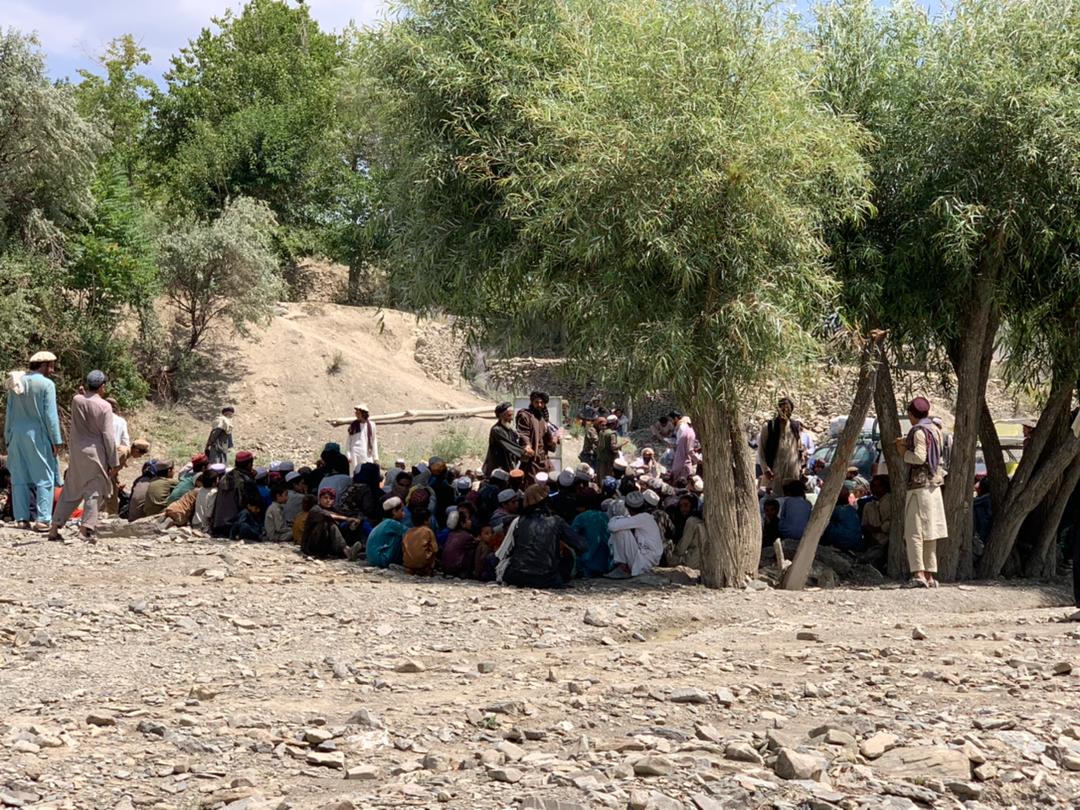 Children gathering in crowds due to the collapse of their school building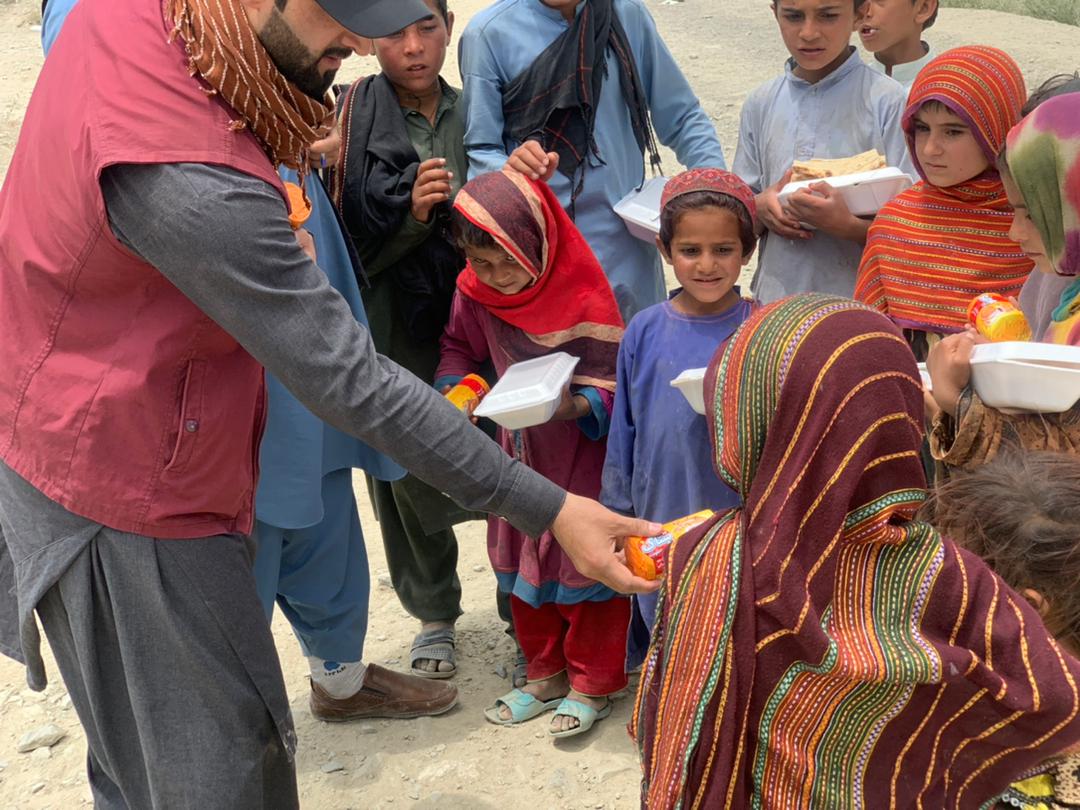 Hagar staff distributing takeout food from a nearby soup kitchen to children, putting a rare smile on their faces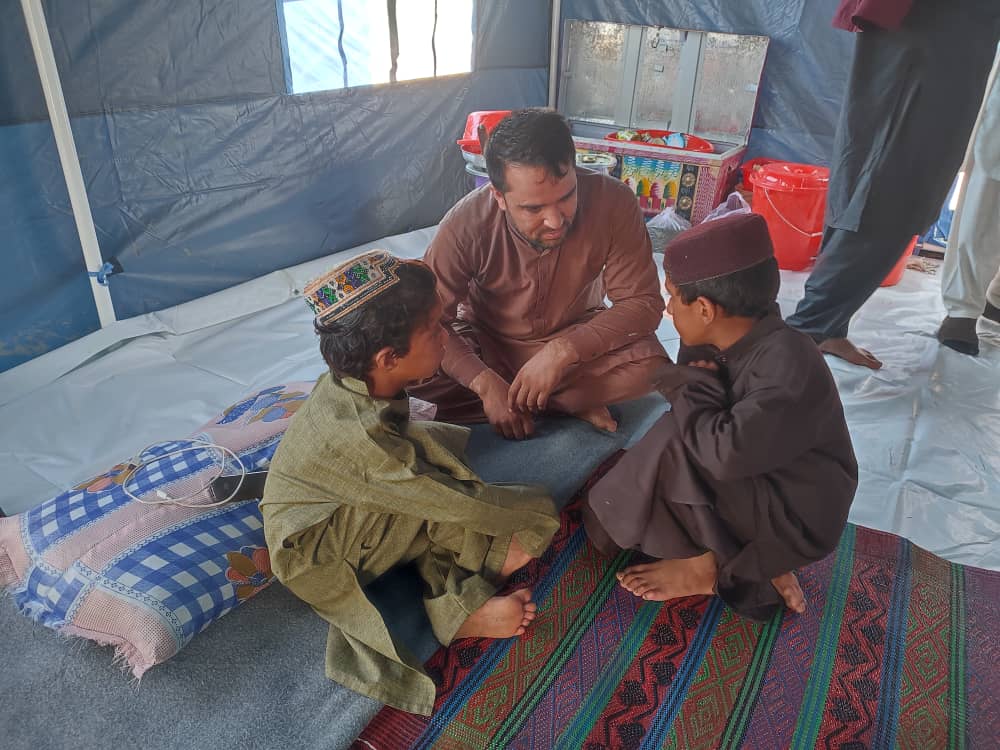 Our Hagar Afghanistan staff chatting with the kids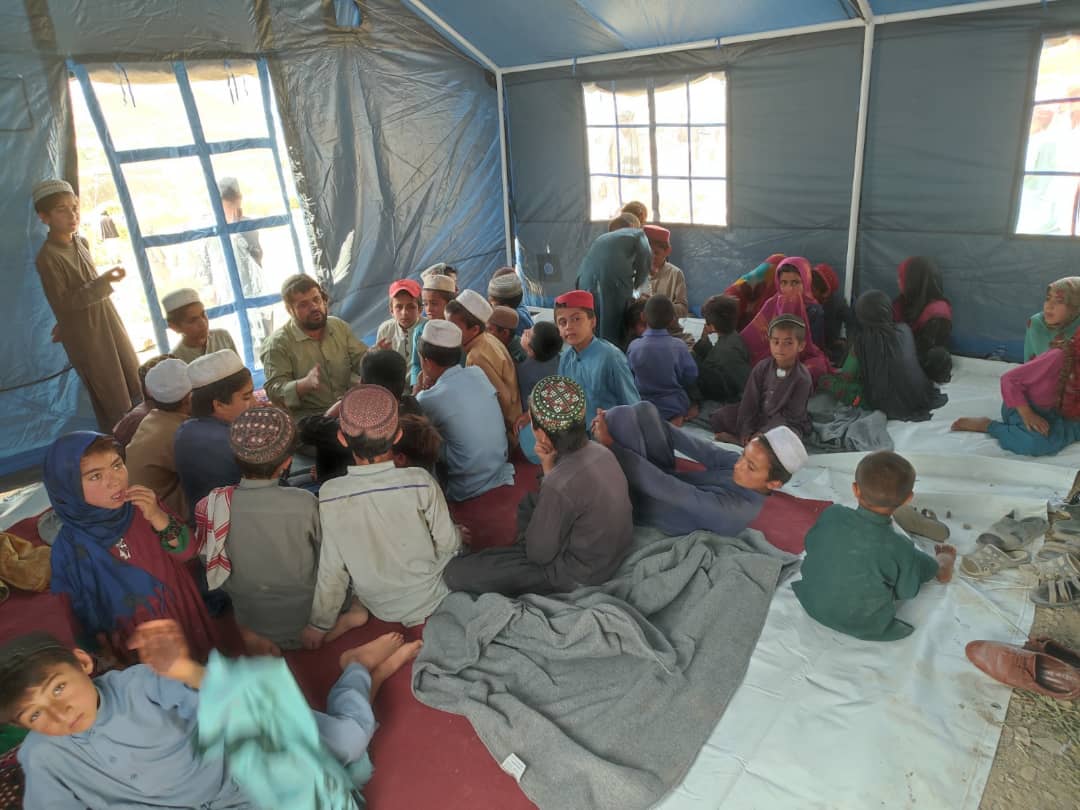 The first batch of children enrolling into our child-friendly spaces
While the waves of challenges seem unending for the people in Afghanistan, our Hagar team in Afghanistan continue to press on and are deeply thankful to all HAGAR donors whose critical assistance has been so invaluable in these challenging times.
Our Executive Director of Hagar Afghanistan, Jan De Waal stressed the importance of HAGAR's timely response to the disaster.
"Yesterday our team passed some roadside villages again. The people recognised Hagar, and they said how much they appreciated… They never once got the attention and care that they did in that two days. In the onset of a disaster, the first two days are always a window period of total chaos. And we were there."
Help us continue our crucial work in Afghanistan by supporting our disaster response today.
LATEST NEWS: HAGAR Responds to Devastating Earthquake in Paktika, Afghanistan
More than 1,000 people have been killed and 1,500 injured in the Paktika and Khost provinces of Afghanistan after a 6.1 magnitude earthquake hit the nation's south-eastern regions on early morning, Wednesday (22 June 2022). The earthquake, whose epicentre was in Khost, caused further devastation after a 4.5 magnitude aftershock followed it just one hour later.
Paktika is one of the most remote provinces in Afghanistan that has been impacted by the country's recent political upheaval. With few public health services and a high level of poverty, the province's people were in a critical condition even before this emergency occurred.
Hagar Afghanistan has been supporting the people of Paktika through our Emergency Response over the past 2 months and the work is ongoing. The plan was developed to support destitute and displaced people in numerous ways, with a strong focus on providing them with primary health services. Recently, we also set up a mobile health team which provides support to those unable to travel for vital health care. HAGAR has been the only NGO operating in the area before this earthquake.
This recent crisis has added extra pressure on the already struggling province. The officials of Paktika province, from the Directorate of Public Health, requested Hagar Afghanistan's mobile health team to provide urgent medical support for the people.
As a result, HAGAR immediately deployed a small team to the area to provide much needed medical first aid to the most vulnerable people. Using our existing medical resources from our primary health care project, including the ambulance-like vehicle from our mobile clinic we have been able to provide support for these people. This work is ongoing over 10 days, providing much needed assistance while we determine the future needs of the affected community. We will provide updated reports from the ground as we receive them from our team.
Executive Director of Hagar Afghanistan, Jan De Waal explained the dire situation is compounded by other difficulties.
"Normally in a situation like this a country has mechanisms in place with the onset of a disaster, including the NGO sector. One can normally within 24 hours have a proposal ready. But there are no donors left in the country, no USAID, EU, DFID, NORAD, GTZ- only the UN. So even if bi and multi laterals want to donate they cannot because of the sanctions by the UN and its member states," he said.
The situation is bleak but with your help we can make a real difference on the frontline. To join us in supporting the people of Paktika with critical medical treatment, food and safe accommodation, please donate to our disaster response today!
HAGAR Emergency Response
(ongoing since August 2021)
Since the heart-breaking images of people fleeing and dropping off planes first started appearing on our screens last August, the situation in Afghanistan has continued to worsen.
There are now about 3.4 million people displaced within Afghanistan and the United Nations recently declared that 95% are hungry and surviving on one meal a day*. Driven to desperation, more and more children are seen roaming the streets, begging for food and money.
In the past 8 months, through the generosity of thousands of HAGAR donors and supporters around the world, we received some $867,000 USD that allowed our Hagar Afghanistan team to provide vital assistance to some 20,800 survivors who are facing displacement and extreme poverty in the country. With these funds, HAGAR have provided critical relief assistance to some of the worst affected families and children through provision of food aid and hygiene supplies, shelter, child-friendly spaces, mental health support and education.
"We were not able to find any job anywhere anymore, the only choice for us was to come out in the streets to beg for food and we had no options but to take out our small siblings with us to beg for 3 months. We were starving for 5 days, when like an angel of salvation, HAGAR's assessment team approached us and registered us for food package aid."
Aziza, recipient of HAGAR's emergency aid
HAGAR has been one of the very few NGOs on the ground that have been permitted to provide humanitarian support at this time.
At this stage, there is a real urgency to provide more than just emergency aid. In the long term, we want to help the people develop the ability to gain independence, resilience and a financial livelihood.
But we need your help to make the next steps possible! By partnering in HAGAR's response, you are enabling the people in Afghanistan to live empowered lives and are not reliant on temporary emergency aid.
NEXT STEPS:
From May 2022, the Hagar Afghanistan team are hoping to implement these three new projects to help our existing beneficiaries transition into independence:
Establishing the Poverty Reduction and Livelihood Project: The new livelihood programme will enable families to start earning an income of at least $100 USD a month, that is sufficient to provide basic food for a family of 8, and cover some energy and clothing needs. This will be achieved by organising the beneficiaries into business cooperatives, establishing cash for work programmes and helping them start small businesses.
Increasing the number of Child Friendly Spaces: The HAGAR team are desperate to set up more of these safe spaces due to the overwhelming numbers. Children currently roaming the streets begging will be targeted and encouraged to attend classes in these spaces as HAGAR works towards preventing lifelong illiteracy and consequent poverty.
Providing life skills training to women and girls living in a rural area that is known for its high levels of poverty and neglect.
The needs in Afghanistan remain overwhelming. While it looks like a long and winding road to recovery, HAGAR remains committed to the restoration of the people in Afghanistan, and we hope you would join us on this journey to rebuild these broken lives. It is only together that we will be able to practically make a difference in the lives of thousands of displaced and vulnerable people at this crucial time.
Read how HAGAR has helped some of the most vulnerable in Afghanistan so far:
Safe Spaces for Children
(providing safety, education, mental health and psychosocial support)
The
World Food Programme
estimated that approximately 23 million people in Afghanistan (about half of the population) do not have access to food*. Acute malnutrition is above emergency levels in 25 out of the 34 provinces, with the situation expected to worsen.
Following the arrival of the new Government, the HAGAR Team on the ground visited multiple camps for Internally Displaced People (IDP) to evaluate the unfolding situation. Those in these camps had often fled their homes or were now unable to afford rent. They found that most of the people in these camps were women (often widowed), children and those with disabilities. There were some families in these camps who had no source of income and were struggling to feed their children, often living in tents or other makeshift structures. Overall, HAGAR staff described the conditions of these camps as "very bad," with the lives of women and children being in grave danger.
Supporting vulnerable communities in Afghanistan since 2008, our Hagar Afghanistan team jumped into action right after the change of Government in August 2021 and conducted a series of rapid needs assessments to ascertain the level of needs on the ground and where HAGAR could possibly make the greatest impact. The Afghanistan team created an assessment criteria and worked to identify and select the neediest households both in these camps and in their other networks. When everything was ready, these households were then invited to HAGAR food distribution events to receive a food hamper. To date, 5,768 of the most vulnerable people in Afghanistan have benefitted from HAGAR's monthly food packages.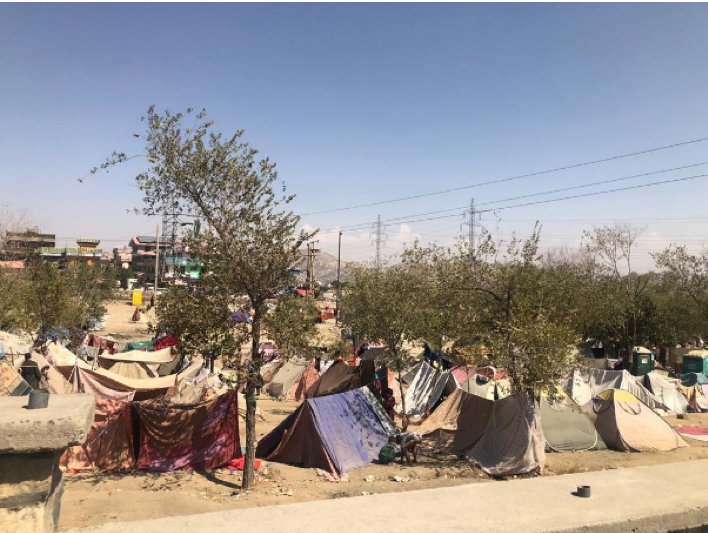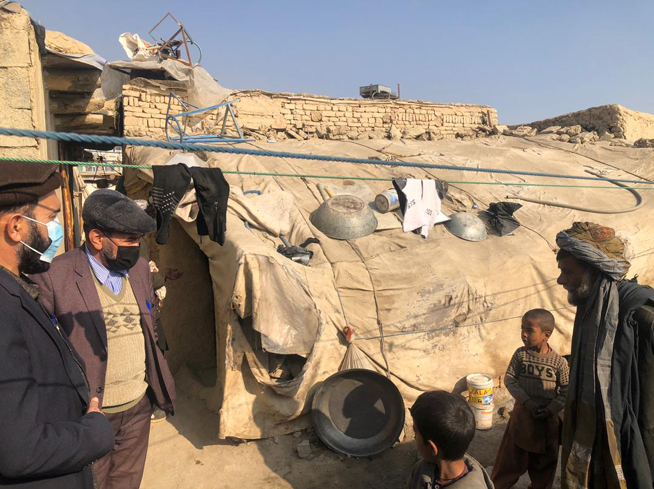 Words cannot describe the emotions of those receiving a food hamper. Khadija, a recipient of a food hamper, described to HAGAR staff how this support came at a critical time for her family.
"My name is Khadija. I am from Dasht-e-Barchi in Kabul province. We are six people in our family including me, my husband, two daughters and two sons. My husband is disabled and can't do anything. And I am the sole breadwinner of the family. Of my children, two are disabled and I bear a lot of problems in my family. I live with my family in a rented house. I can barely make ends meet. In the past, I used to embroider before the fall of the government, which used to bring me some income, but now that work has come to a standstill. For now, HAGAR's help is a solution to some of our domestic problems. I hope HAGAR can continue the food aid support because I do not have any other option to provide food for my family."
Khadija is just one out of the hundreds of households who are grateful to HAGAR and our donors. Because of the generosity of our donors around the world, HAGAR has been able to ensure that they have a source of food at a time when some of them would have gone hungry and starved.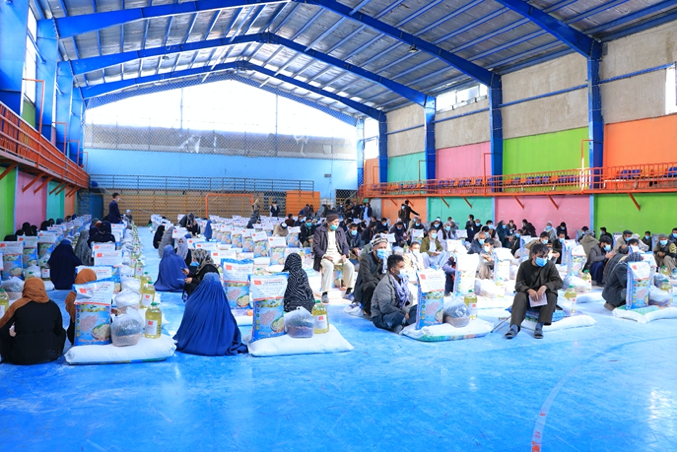 Not only have our supporters helped provide food hampers and essential winter items, but the HAGAR team in Afghanistan have also been able to create child friendly spaces inside the camps for Internally Displaced Persons (IDP) with 1,860 children and family members benefitting from this initiative. These spaces have provided the children in these camps a space to be kids; a space to learn, receive education and enjoy some rare recreation activities.
When visiting the IDP camps last year, HAGAR found that the majority of the children living in these areas were not attending school. Instead, they were working to help provide for their families through activities such as polishing shoes, begging and collecting garbage from the streets.
Because of the generous financial support of our supporters around the globe, the HAGAR team were able to respond to this situation and begin the process of creating spaces where children could both learn and play.
HAGAR staff did the following:
Identified children in IDP camps who either had no easy access to a school, had families who were hesitant to send them to school or whose age was limiting their access to education
Identified six safe spaces in the IDP camps where classes and activities for children could start
Met with parents/or caretakers of the children HAGAR wanted to invite along to raise awareness about the importance of their child having access to education and literacy
Secured essential support from the Ministry of Education
Appointed teachers for the classes, with HAGAR staff then running a 2-day workshop with them to give them a better understanding of the project and HAGAR's policies
Purchased stationery from a suitable vendor and equipped all of the classes with the right resources
On the 28th of November classes began, with 330 students participating and beginning to follow a standard primary school level curriculum. In addition to their education, staff also keep an eye on the children's physical and mental health, with psychosocial counselling being provided, in partnership with other NGOs. Our colleagues on the ground have reported that these child-friendly spaces have been a huge success with a significant impact being noticed in both the kids AND their parents! To each of 330 students participating and the 1,860 children and families benefitting from the care and educational support, this intervention represents an opportunity that they never would have had if it wasn't for HAGAR supporters.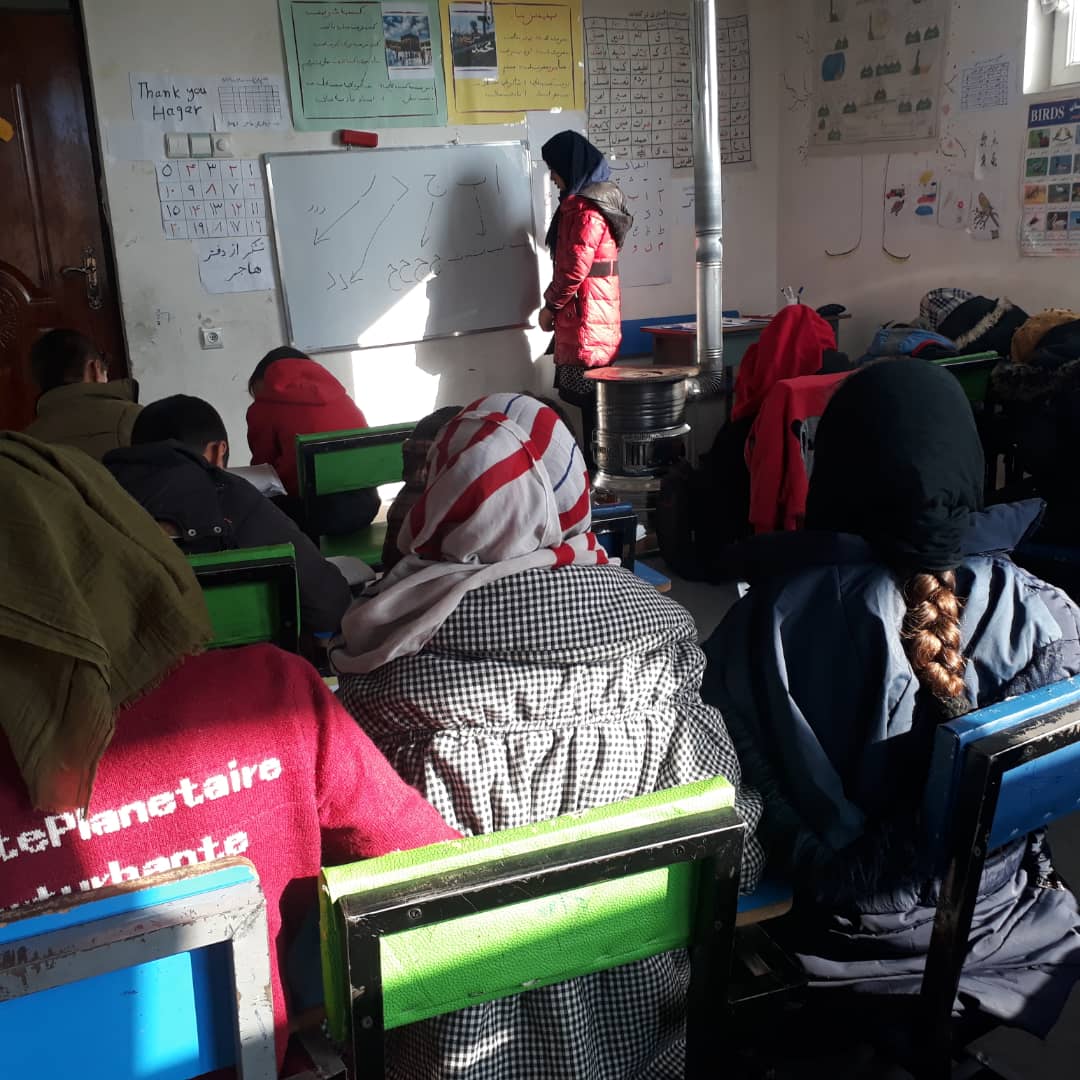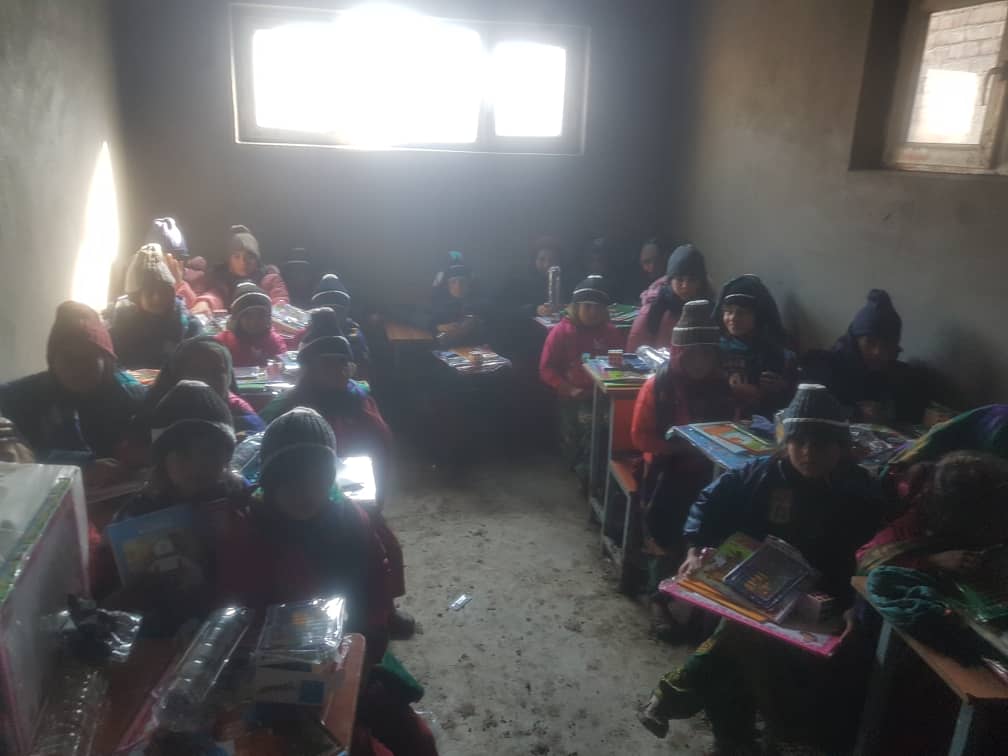 "I am Abdul Basit… In my father's family, everyone was qualified and educated only my father remained uneducated. Which had a devastating effect on our family. My father did not have a special job and always worked as a labourer. And in the current government change, he remained jobless and we did not have any means of income. In that case, I would have to skip school and work to feed my family. With this, all my hopes and aspirations were shattered.

A friend told me that the HAGAR organisation is opening a basic education class in the Dak area botkhak for children interested in education and haven't taught much at all. I told myself that now is the time to fulfil my dream of education. I quickly joined the class and started studying. Thanks to HAGAR International Foundation for making a positive difference in my life…"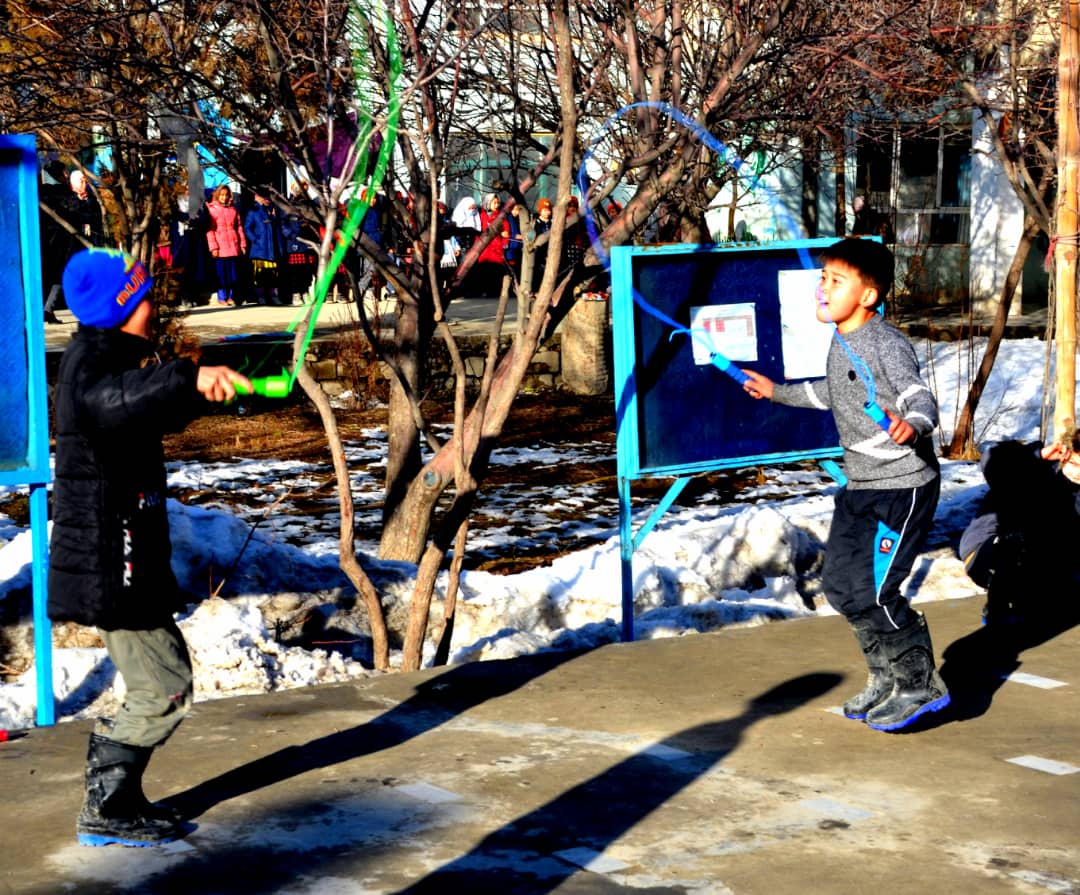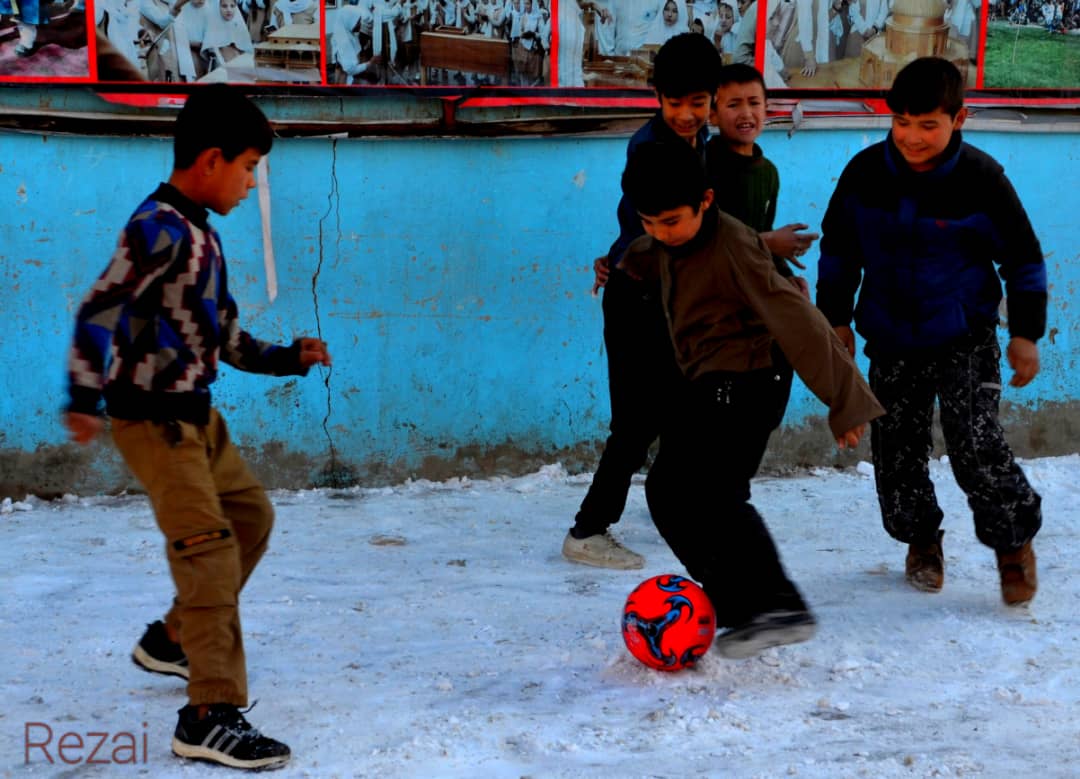 Winter in Afghanistan is harsh. Temperatures can drop below freezing point and snow fall can be severe. As winter began again this year, there were concerns globally about how the vulnerable people in Afghanistan are going to fare especially those in IDP camps and/or with no income to pay for heating. Some
news agencies have reported
that families are having to choose between food and heat.
However, because of all of our wonderful supporters around the globe, HAGAR has been able to provide warm blankets, clothing and children's shoes to vulnerable families (the majority of which are living in camps for Internally Displaced People). Approximately 7,752 people have benefitted from this winter support. Such supplies could not be given at a more crucial time and pictured below are some of the distribution events underway.
As part of their winter support initiative, HAGAR has made sure that the children attending the HAGAR Child Friendly Spaces in IDP camps have what they need to stay warm this winter. The following is a testimony from a teacher in one of these spaces about how winter support from HAGAR has profoundly impacted the lives of her students:
"Raghida is one of the smartest students in our class in the Arzan Qimat district. Her family is very poor and could not afford her education. When she enrolled in HAGAR's educational programme, her clothes were so bad and she was barefoot that in such a cold winter, she could not continue her studies without warm clothes and shoes. They are living in a tent in the Botkhak IDP camp.
One day when I was in the classroom teaching to the students she came to the class very worried. When I asked her the reason? She said: "my family is very poor we do not have warm clothes and blankets for the cold winter. I cannot come to the class without a warm jumper and shoes. So I am going to quit my class in winter."
Her condition was really bad and it was very difficult to come to the class in this cold weather, but fortunately, HAGAR's office took very serious steps in this regard and through the emergency response plan provided warm winter clothes and shoes to the students of our classes. They bought shoes and helped their families with blankets. In doing so, the students who had been forced to drop out of school due to winter resumed their studies. And their families have survived the onslaught of winter."