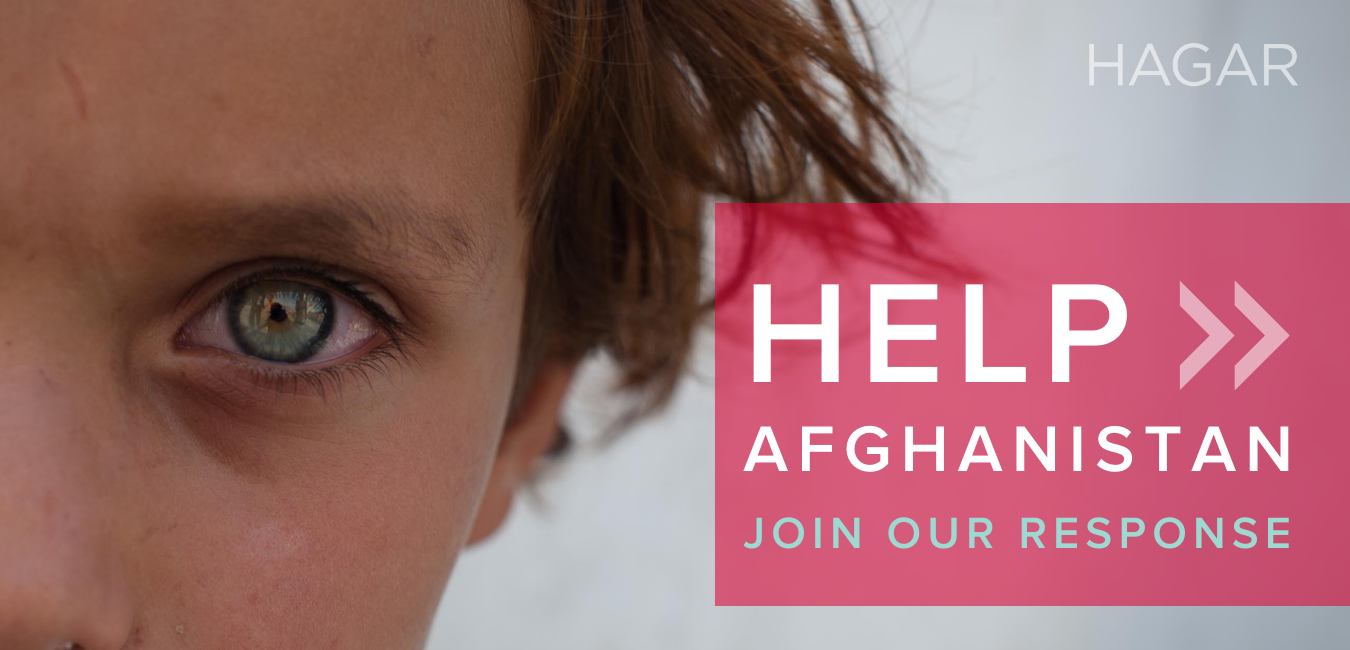 The humanitarian situation in Afghanistan has deteriorated significantly with the negative impacts of the bitter winter, exacerbating the needs of an already vulnerable population. Multiple disease outbreaks in IDP camps are ongoing, affecting children's survival.
Covered with snow with temperatures dipping to -10 degree celsius in the nights, Kabul's harsh winter has further worsened the plight of displaced children and families who are struggling simply, to keep alive.
Without food, warm clothing and winter heating, there are warnings that millions of displaced people in Afghanistan, particularly children face the risk of freezing to death if humanitarian aid do not arrive in time.
At this present moment, our Hagar Afghanistan staff on the ground are moving quickly, arranging distributions of food and winter supplies to displaced and destitute children and families, and those living in shanty camps.
Each winter pack includes an insulated blanket, a pair of shoes, a winter beanie, gloves and a winter jacket. Wood/coal are also provided for families at IDP camps.
In addition to meeting these immediate needs, our Afghanistan team in the past two weeks have managed to host displaced children in safe spaces where they can continue to study and resume some normalcy.
We are extremely thankful for the generous support we have received from donors over the past months that have made our ongoing relief efforts possible. While prioritising life-saving activities at this stage, we are in the midst of developing interventions that will uplift these affected communities in the long term.
We hope you will join us to rebuild these precious lives. While we do not yet have the funds needed for the continuing relief activities and new recovery programmes for 2022, we remain committed to doing all that we can to restore hope and rebuild their futures in Afghanistan.
The situation continues to unfold in Afghanistan. A humanitarian crisis is escalating and the United Nations estimate that over 680,000 people across the country are displaced, many without food, shelter and access to water.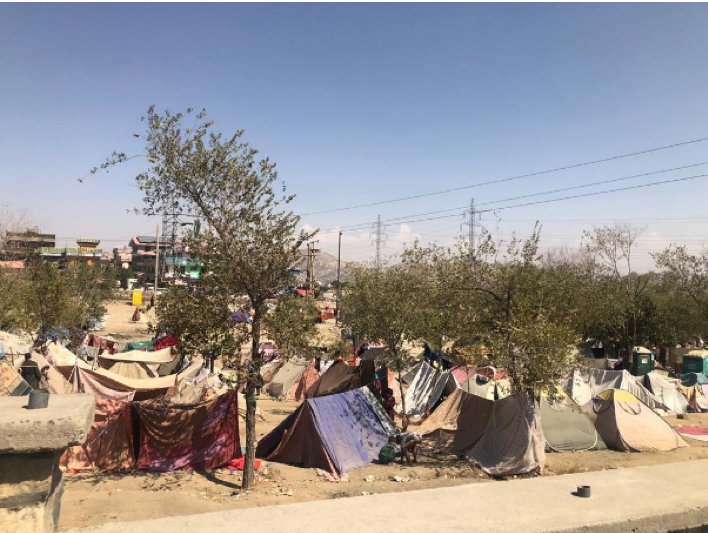 Women and children are the most at risk in this crisis and the number of them facing neglect has multiplied. Malnutrition, and rising outbreaks of waterborne diseases amongst those who are displaced has intensified, and HAGAR staff on the ground can see the vulnerability of people growing every day as desperation for the basic essentials increases. As winter approaches, people are in critical need of assistance to weather the coming snowstorms.
In the last two months, Hagar Afghanistan have received official documents from the government to proceed with our relief response. Together with support from donors around the world, our HAGAR staff on the ground in Afghanistan have begun implementing emergency response activities to meet the significant needs. At this point, food distribution to displaced and destitute families is in full swing. Food parcels are distributed twice a week with the goal of providing practical assistance to 13,000 vulnerable and displaced people in Kabul who are severely affected in the current situation.
The recent distribution to families living in the Karte 3 District area took place smoothly. Food was paid for, delivered to a local stadium, and meticulously assembled in rows by HAGAR staff. The location was selected due to its accessibility to beneficiaries and local Police were also on hand to maintain order and keep everyone safe. Having given out identification cards to those receiving parcels, representatives from each family then came and took the supplies home.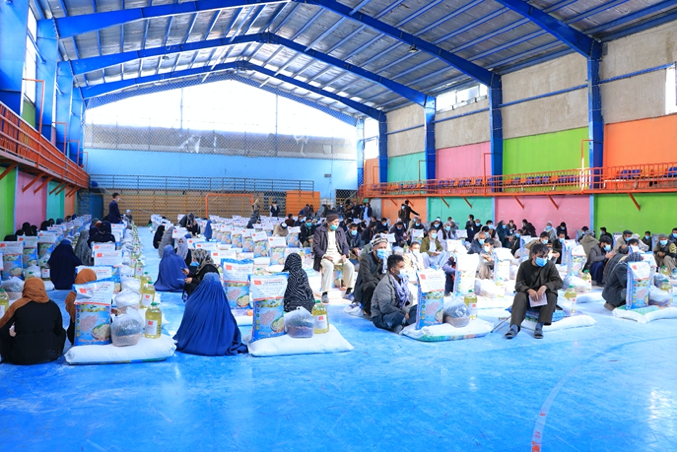 To each of these families, this food from HAGAR has come into their homes at a time when they are struggling to afford basic essentials. One recipient said:
"I am disabled in both legs. I have two daughters and a wife. I drive a zarang to make a living. It is very difficult for me to make ends meet. Sometimes people help me with my condition. I am in a very bad situation in life. Thanks to HAGAR to support me and my family."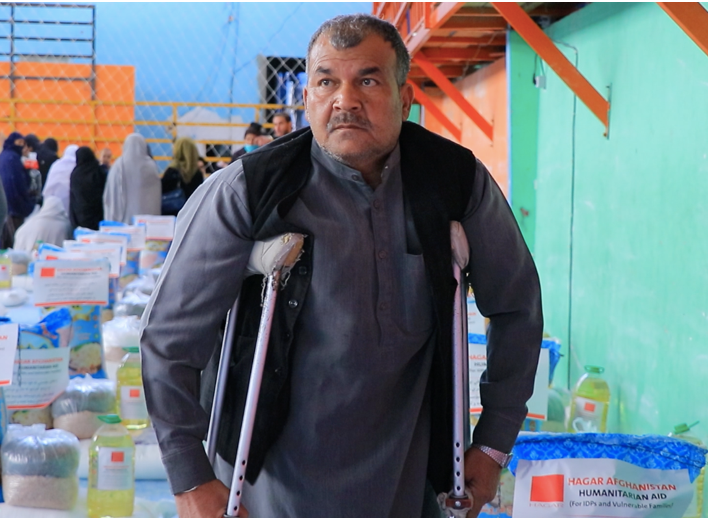 Another similar food distribution event was also held by HAGAR in a camp for displaced families with children recently, with approximately 3,200 people receiving food as a result. Over the coming months, HAGAR will continue carrying out the following four relief activities, assisting vulnerable and displaced people in Kabul:
Food Provision: Giving food aid and basic essentials to existing clients and other vulnerable individuals and families who are currently displaced or whose livelihoods have been severely impacted.
Healthcare: Providing primary healthcare for displaced persons, which includes establishing and running a mobile medical clinic under the care of HAGAR's in-house doctor.
Emergency Shelter: Establishing an emergency shelter, targetting at-risk homeless girls and women who are significantly more vulnerable at this time. The team in Afghanistan have shared about the rapid increase in women who are begging on the streets, desperate for any bread or cash that they can find.
Safe Spaces: Setting up child-friendly spaces for displaced young children, where they can continue to learn, play and feel safe.
HAGAR is also planning long-term. While we have received what was needed to
begin the first phase
of the relief activities and implement them for several months, the needs on the ground have grown since initial budgets were set, and continue to do so every day. In addition to this already escalating situation, current droughts and the approaching winter are threatening food supply. Beyond the immediate emergency relief activities, our HAGAR team are also developing plans to improve the people's lives in the long term.
Therefore, we know that while our initial response is funded, further financial support will be needed in the future as we continue our work in supporting vulnerable women and children in Afghanistan in the coming months and years.
We truly appreciate your kind support. It is only together that we will be able to practically make a difference in the lives of thousands of displaced and vulnerable people at this crucial time.