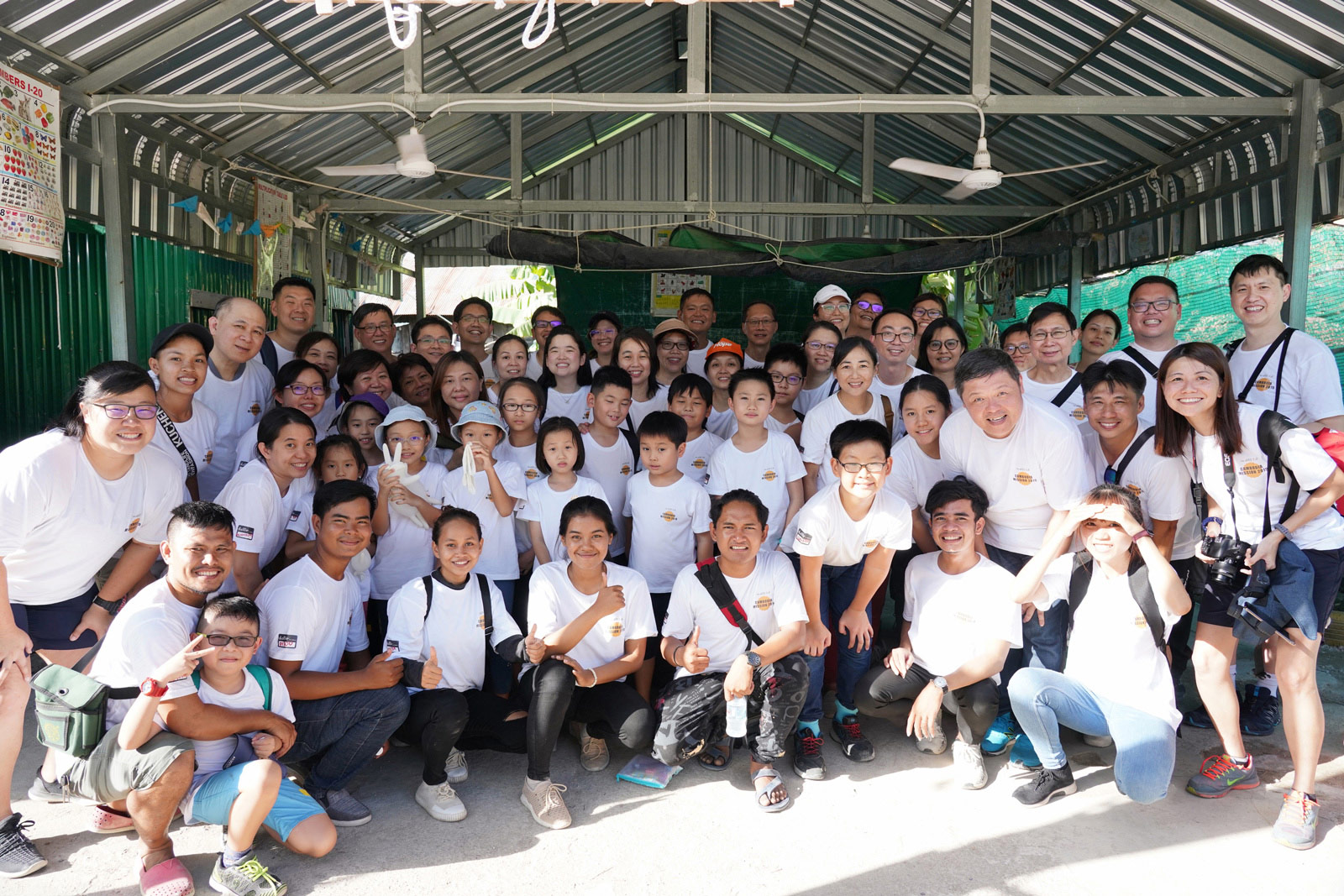 An uncommon sight off the beaten track in Kampong Chhnang, three big busloads of more than 50 Singapore volunteers drove into the province in the early hours upon arrival in Cambodia for a 4-day humanitarian mission on 28 November 2019.
The largest Singapore team yet, made up largely of members from the Bethesda Bedok-Tampines Church and other healthcare volunteers and doctors were in high spirits – ready to hit the ground running after having spent six months in preparation. With the help of former HAGAR beneficiaries, Dr Rithy Hong and Aly, the team organised a series of health screenings and house-building efforts for needy and disadvantaged communities across Kampong Chhnang and slum families in Phnom Penh.
Even the young Singaporean children got involved, helping to distribute toothbrushes and toothpaste to the Cambodian kids. Elsewhere, another group worked on the double to lay the foundations of a shelter that was meant to serve as housing for the elderly folks who have no place to stay. Everyone shovelled and hoed the sand, stones and cement mix and helped to lay out the bricks that outlined the simple building. For Singaporean folk, this was no easy feat since most of our labour is in air-conditioned offices. However, the challenge didn't deter the team from persevering in the sweltering heat; it was a beautiful sight as Singaporeans and Cambodians worked hand in hand for a common cause.
To usher in the Christmas cheer, the Singapore team threw a lunch banquet for over 150 villagers in Kampong Chhnang. Many of the locals have never seen a non-Cambodian and their eyes shone with gratitude when they saw the food that was made available to them. Blankets were given out to all families which came in handy as temperatures dropped to an unusual cold of below 25 degrees Celsius in the night. The chilly winds would have caught them off guard if not for the warmth from the donated blankets.
Following the health screening, many of the kids were found to be under-nourished and had severe dental conditions such as decaying teeth due to weak oral hygiene. There were cases of head lice and a few anomalies with heart conditions that required further screening at the local hospital in order to obtain a proper diagnosis and to develop a treatment plan. For many of the kids, because it is their first time seeing a doctor or a dentist, they were gripped with a lot of fear. But through the coaxing and reassurance from the local teachers and the Singaporean volunteers, many overcame their fears and were seen by the attending doctors and dentist.
We are glad that majority of the kids are in good health. Those who will require treatment or further attention will be followed up closely by Dr Rithy and other partner Cambodian doctors. If you would like to support their ongoing healthcare and medical treatment plans, please kindly click here to make a donation.