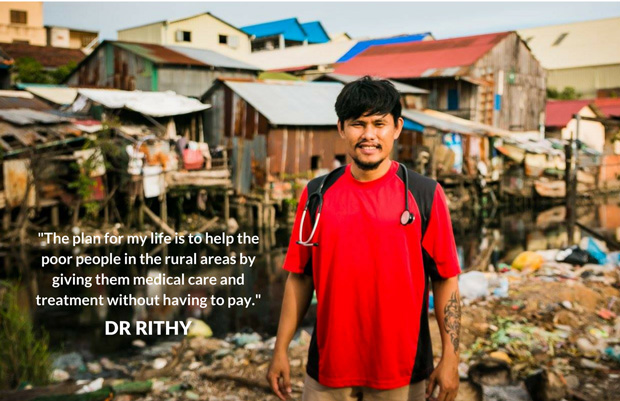 When Dr Rithy Hong last came to Singapore on 12 September 2017, he shared his heart with HAGAR supporters and donors and spoke of his journey that started since he was 12. Today at 31, he is a full-fledged doctor and is completing his practicum as a specialist in Obstetrics & Gynaecology.
Over the last few years, Dr Rithy has been helping the slum communities in Phnom Penh. The impoverished community is unbelievably extensive and he has been attending to their healthcare needs, providing medical treatment to children and families living in eight slums.
Travelling across the slums in his mobile clinic on a tuk tuk, Dr Rithy offers medical consultation to the poor villagers who are not able to afford to see a doctor when they are ill. Newborns do not have the nutrients they need and Dr Rithy has been providing their families with formula milk that is critical to the baby's development.
Having witnessed how the poor are denied medicine and treatment simply because they cannot afford it, and having personally lived through an extremely harsh childhood, Rithy was determined to bring healthcare to those who need it.
Rithy grew up in a broken family; he's never met his father and his abusive mother tried drowning him in a lake once in her drunken state. Rithy was orphaned when both his mother and grandfather passed away. The young boy was completely devastated by his grandfather's demise as he was the only symbol of love and peace that Rithy held on during his rough childhood. He cannot remember for how long he walked, but he would sleep on the streets and lived on foodscraps from the garbage bins. He later got into drugs, glue-sniffing and was involved with gangs who taught him how to survive.
At 12, Rithy was referred to HAGAR but he trusted no one – how could he when even his own mother had tried to kill him. Even though he was in school, he resented the fact that everyone else was much younger than him and pushed himself to study hard. Over time, through the persistent care and encouragement from the HAGAR staff and teachers, Rithy's life began to change and so did his thinking. The possibility of one day being able to help his own people from the slums drove him to excel in his studies.
"Though I am no longer living in the slum anymore, I am back for the slum people now." Dr Rithy
It is through lives like Rithy's that warrants the work that we do here at HAGAR. For all the years of walking alongside Rithy, he sums up the reason for us to do whatever it takes, for as long as it takes, to restore a broken life. And when healing happens, and the cycle of poverty is broken, communities can become whole again.
Empower A Survivor
Donate Now
Provide them with the necessary protection, literacy and skills to start a whole new life.
Empower a Survivor
Donate Now
Provide them with the necessary protection, literacy and skills to start a whole new life.