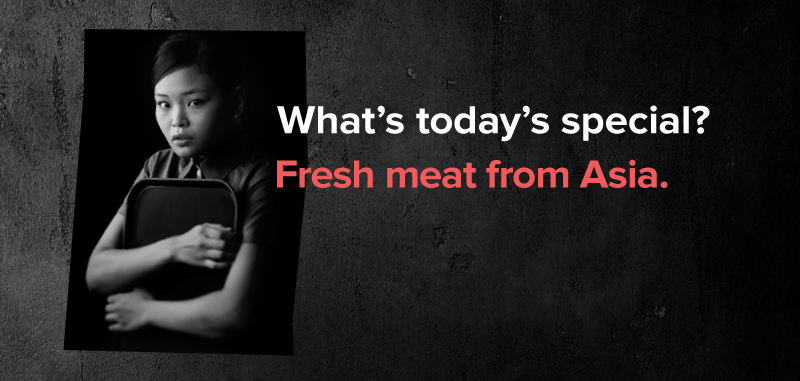 From an early age, Minh developed an appetite for the culinary arts, thanks to her father. Despite being dreadfully deformed by a severe spine injury, he took it upon himself to support the family, working multiple jobs as a waiter, kitchen hand and occasional chef. Likewise, her mother toiled tirelessly to manage the household and make ends meet. Minh was only 14, but she felt a responsibility to contribute to the family and put her younger sister through school.
A friend suggested both mother and daughter could work as waitresses in Singapore, but her father opposed the idea vehemently and forbade them to leave Vietnam. Nevertheless, they ignored the old man's warning, and headed to the Lion City.
Little did they expect the restaurant catered to guests with a very different appetite. In fact, it wasn't a proper restaurant at all, but a seedy establishment where women were expected to offer a menu of sexual services to satisfy the insatiable hunger of perverted men.
To protect her daughter, Minh's mother made the ultimate sacrifice. She accepted the sex work so that her daughter could be exempted. Although escaping prostitution, Minh was held hostage in a house entirely devoid of hope, bound to perform menial chores, wrecked with worry about the safety of her mother. She faded to a shadow of her former self, crushed by overwhelming sadness.
Another woman living in the same house sympathised with Minh's plight. Risking pernicious repercussions, she enabled Minh to escape and contacted the police to rescue her mother. With both of them safe in a shelter, Minh would not stop blaming herself. Not only did she fail to alleviate her family's burdens, her actions got everyone into hot soup.
Skewered by a crippling sense of anguish and worthlessness, Minh only started to show some signs of recovery after weeks in HAGAR's care. In Singapore, the humanitarian organisation provides critical recovery support for victims trafficked for sexual and labour exploitation.
Working from 10 countries, HAGAR provides protection, personal transformation, community reintegration, and economic empowerment for thousands of victims across the world, walking the whole journey of recovery together with them.
Upon the conclusion of the legal trial months later, Minh and her mother finally returned home. With HAGAR's guidance, she understands the importance of an education and is currently completing a course in culinary arts, cooking up dreams of having her very own restaurant.
Hagar pursues the highest degree of care and protection for each of its clients. To protect the identity of our clients, names have been changed and images do not necessarily represent the individual profiled.
Empower a Survivor
Donate Now
Provide them with the necessary protection, literacy and skills to start a whole new life.
Empower a Survivor
Donate Now
Provide them with the necessary protection, literacy and skills to start a whole new life.