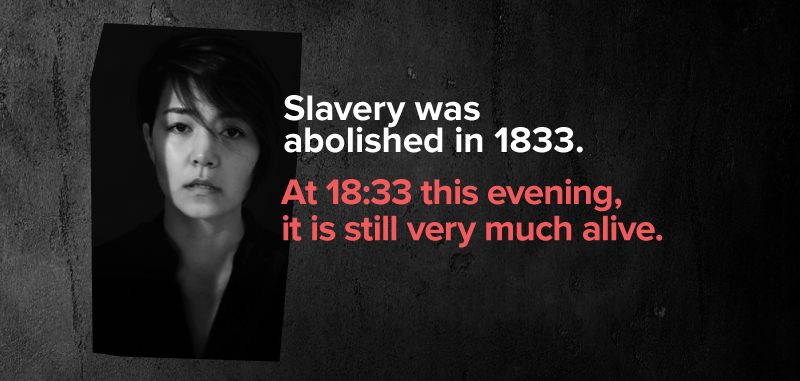 Nishad repaid her father's love with all she ever owned.
Being the only child in the family, Nishad was loved and doted on by her father. He would come to her rescue whenever she was disciplined or bullied. Nishad lived with her grandmother and father. The family was poor and the young girl earned a small income harvesting onions in the fields. Her grandmother's death devastated her and she turned all her attention to her father.
When he became ill, Nishad wanted to do all that she could to make him well again. But the family could not afford the medical treatment. She was helpless until the neighbours who heard of their predicament offered Nishad a job. It would, however, require her to travel out of the country and go to Singapore. They guaranteed that she would be able to make 150,000 rupees ($15,000 Singapore dollars) in a month.
Innocent 15-year old Nishad knew nothing about the world and saw only an opportunity to help make her father well. With the money, they could pay for the medical fees, medicines and treatment. She had received no education and this was just too wonderful a chance to refuse. The neighbours arranged everything including her flight itinerary.
Two men picked her at Changi Airport. They brought her to a unit in Geylang and to her surprise, locked her in the room. They forced her to provide sexual services to the men who came in and starved her if she refused. This went on all night and she would have to serve at least 20 men every night. It was a nightmare that Nishad could not wake up from. She cried desperately but this time round, her father could not help her.
She was miles away from home and he knew nothing of what was happening to her. Whenever there were no customers, the men would force her to go on to the streets and solicit from passersby. Backed into a corner and with no one to turn to, Nishad had no choice but did as they demanded.
The police finally arrested her when she was walking the streets of Geylang. Upon investigation, she was identified to be a victim and they went in pursuit of the brothel owners.
At the shelter, Nishad would often get into fights and arguments. She had a quick temper and quarrelled with everyone including the personnel. She was unmotivated and depressed, picking up smoking and resorting to self-mutilation whenever she did not know what to do. Because of the extreme abuse that she suffered, Nishad experienced breathlessness and chest pains whenever she is under tremendous stress. Hagar provided counselling to Nishad and initially she could not make eye contact and would not respond.
In Singapore, the humanitarian organisation provides critical recovery support for victims trafficked for sexual and labour exploitation. Working from 10 countries, HAGAR provides protection, personal transformation, community reintegration, and economic empowerment for thousands of victims across the world, walking the whole journey of recovery together with them.
Over the months, Nishad began to open up and became friendly towards others. Her self-confidence started improving and she would laugh and flash a shy cheery grin whenever she is happy. The legal trial has come to an end and the brothel owner was found guilty. HAGAR arranged for her return home and helped to ensure she would be well supported when she was back.
Hagar pursues the highest degree of care and protection for each of its clients. To protect the identity of our clients, names have been changed and images do not necessarily represent the individual profiled.
Empower a Survivor
Donate Now
Provide them with the necessary protection, literacy and skills to start a whole new life.
Empower a Survivor
Donate Now
Provide them with the necessary protection, literacy and skills to start a whole new life.