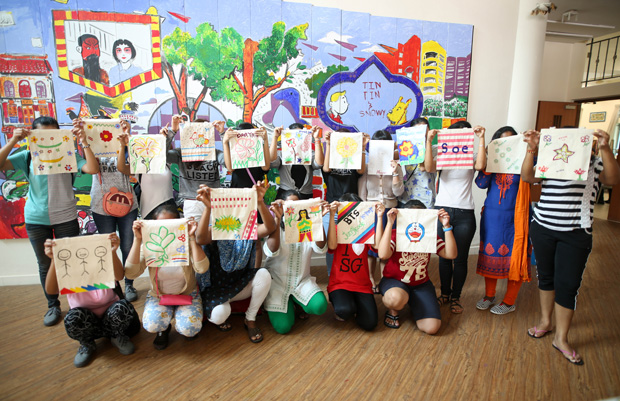 Victims of human trafficking
Lianhe Zaobao [original article]
They left their hometown in search of a better life. On their arrival in a foreign land, they soon learnt that the reality was far from what they have wished for. They became victims of human trafficking. They expressed their fears and sadness through paintings. They regained dignity and hope for a bright future.
Trafficking is a global problem. There are more than 45 million people who fell into the hands of the human traffickers. Mainly women and children, these victims are often trafficked for sexual or labour exploitation (Reuters).
Recovering from human trafficking
Slavery was abolished in 1833, but today it exists in another form: human trafficking.
Trafficking is a violent crime and a human rights violation. Behind every victim is a heart-wrenching story.
More than 45 million people worldwide fell into the hands of human trafficking groups. 79 percent of the victims are women and children. They are trafficked for sexual or labour exploitation. In some poor and war states, the victims will also be forced to work as child soldiers, beggars. They may also be forced into marriage or have their organs stolen.
Trafficking is a global problem, and Singapore is not spared. In Singapore, the victims are mainly trafficked for sex trafficking and labour exploitation.
Hagar Singapore, a non-governmental organisation, is working with the police force to combat human trafficking and provide assistance to victims by bringing them back to their hometowns to start a new life and to protect themselves from being trafficked again.
Lilis was recommended by friends to be a nanny in Singapore but was trafficked into prostitution. She has successfully escaped and returned to her hometown to start a new life (Screenshots from video provided by Hagar Singapore)
14-year-old girl was forced into prostitution
Lilis (not her real name) has only a simple wish: life can be better. She left her home country to work in Singapore. Her life was not only better, but it was like a nightmare.
Lilis thought her friend found her a babysitting job. She only realised she was deceived upon arrival in Singapore. She was forced into prostitution but was fortunate to escape. With the help of Hagar Singapore, she received counselling and was able to find a job after returning home. Lilis is now living a better life.
Hagar International is a non-governmental organisation that helps women and children whose rights have been violated. The Singapore office was established in 2014 to raise awareness on the plight of victims and later began the trauma recovery programme in 2015 to provide assistance to female victims of trafficking.
Lilis' unfortunate experience is, in fact, happening to some girls. As these victims are assisting the police in the investigation, our journalist is unable to reach out to them. However, through the film and information provided by Hagar Singapore, as well as interviews with the staff, the journalist will give you a glimpse of the victims' ordeal to understand how they have escaped from the traffickers to regain trust in people and start a new life.
Friends approached her to take up a babysitting job in Singapore
With the passing of her mother in 2008, the responsibility of caring for her younger brother fell on Lilis when her father and three elder sisters expected her of it.
As a young teenager, she was struggling to even look after herself, not to mention her younger brother. Her father and sisters were unsympathetic and struck her hard with their caustic remarks about being useless and a burden.
One day, she was approached by two of her friends to take up a babysitter's job or a job in a cafe in Singapore. Lilis thought of the job offer as a way to redeem herself in the eyes of her family. She could earn an income and provide for her brother and the rest of them too. She did not hesitate and agreed to the friends' offer. Lilis did not know that she was actually the target of trafficking.
When Lilis arrived, she was sent to work in a brothel. She revealed in a video provided by HAGAR that they (agent) took her to a hotel where women were sexily dressed and the agent wanted her to wear revealing clothes to serve men. "I told them I couldn't but they forced me to do it. I was afraid, sad and angry," Lilis said.
She was locked up in a room with four other women. She couldn't go anywhere. The agent also warned her not to make any noise. A man asked for Lilis one day. Lilis pled for mercy. The man realised she was forced into prostitution. He sympathised with her, gave her 10 dollars and encouraged her to find opportunities to escape as soon as possible.
Perhaps God pitied and wanted to help Lilis too? The next morning, she found the door key hanging in the room. She said, "I have not washed my face nor eaten breakfast, I immediately decided to escape." She and another woman in the same room saw the chance and ran out. They hailed a cab and fortunately the driver could converse in Malay and they told him everything that had happened to them. The driver immediately took them to a police station.
The police sent them to a shelter and asked HAGAR to assist her. The police later arrested the agent.
At the shelter, Lilis recalled her experience. She felt sad and embarrassed. She was unstable and had suicidal thoughts. After counselling from social workers, she slowly recovered.
After returning to her hometown, Lilis worked as an apprentice at a beauty salon. She loved the job and became more and more confident of herself. She said, "I am happy and thankful that someone is willing to help me. I am not afraid to leave home to work in a foreign country but it has to be a proper job. I also need to take care of myself." She now dreams of doing hair and makeup for celebrities.
Many girls from poorer areas wish to improve the lives of their families and fall into the trap of human trafficking. (iStock image)
Daughter blamed herself for getting mother involved
Minh (not her real name) was influenced by her father and was very fond of cooking. Her father had serious spine injuries, resulting in some deformity of the body. Despite that, he still carried the burden of raising the family. He juggled work as a waiter, kitchen assistant, chef and many other jobs. Minh often saw her father busy working in the kitchen. She became interested in working as a chef.
Minh's mother also looked after the family and supported the family livelihood. Although Minh was only 14 years old, she saw her parents working so hard for the family, she felt obliged to do something too, including providing for her sister to go to school.
A friend suggested that Minh and her mother work as waitresses in Singapore. Although her father strongly opposed, Minh and her mother packed their bags for Singapore. The two did not know that, what the friends meant by 'waitress', is a job to 'serve' and provide sexual services for men.
To protect her, Minh's mother pleaded with the agent not to let Minh work. She would work instead. Minh, though escaping the doom, could not escape from the agent. She was kept in a house to help with housework. She was worried about the safety of the mother and was sad every day.
A woman in the same room sympathised with Minh's encounter, ventured to help Minh escape. They asked the police for help. Minh's mother was later rescued. Mother and daughter were settled in a shelter. Minh blamed herself for insisting to come to Singapore, which had led to her mother's misfortune.
Minh was deeply saddened by her own doing and felt useless. She later recovered with the help of social workers. A few months later, Minh and her mother returned to their hometown and began to study cooking with the help of HAGAR. Minh is still learning to be a chef. Her dream is to open a restaurant.
Singapore is listed as Tier 2 in TVPA
In the last 3 years, Hagar Singapore helped 30 women trafficking victims in Singapore. They were coerced into coming to Singapore for prostitution. Marketing and Communications Director, Lynette Lim, explained that Singapore is an economic hub and thus became a transit and destination point.
Trafficking Victims Protection Act (TVPA) in the U.S., classified countries in the world into 3 tiers: Tier 1, Tier 2, Tier 2 Watch List and Tier 3.
Tier 1 countries fully meet the Trafficking Victims Protection Act's (TVPA) minimum standards. Tier 2 countries do not fully meet the TVPA's minimum standards, but are making significant efforts to meet those standards. Tier 2 Watch List countries do not fully meet the TVPA's minimum standards, but are making significant efforts to meet those standards. Tier 3 countries do not fully meet the minimum standards and are not making significant efforts to do so.
According to the Trafficking in Persons Report 2017 published by the U.S., Singapore is listed as Tier 2. Except for 2010 when Singapore was in the Tier 2 Watch List, Singapore has always been in the Tier 2 list since 2007.
Our government is committed to combat human trafficking. Singapore Inter-Agency Taskforce on Trafficking in Persons was established in 2010 to combat human trafficking through: Prevention, Prosecution, Protection and Partnership.
In 2014, the police forces collaborated with HAGAR for the first time. HAGAR provided special training for the frontline police officers to help them identify trafficking victims, and to learn to build a relationship with the victims in a short time to help them get out of the situation.
In March 2015, the Prevention of the Human Trafficking Act ("PHTA") took effect in Singapore. Offenders face jail terms or fines, and the possibility of caning.
Hagar Singapore collaborates with a local shelter for women to provide assistance to women trafficked to Singapore. Lynette disclosed that these victims are from South East Asia and South Asia. Offenders are mainly brothels and pub owners.
Besides victims trafficked for prostitution, there are some women who are victims of labour trafficking. Lynette illustrated with examples: "Some women were promised by their agents a salary of $300 per month but only received $30 per month at the restaurant kitchen where they worked. They were forced to work under unreasonable conditions of 14 hours a day, 7 days a week."
Why do victims easily fall prey to traffickers? Girls are easily deceived because agents are someone they know
Human trafficking is no longer the familiar scene you watch in the movie where some tens or hundreds of people were chained and locked in cases to be sent to another country.
Now, many victims entered countries through work visas. They were forced by their agents to work in jobs that were different from what they were promised. Lilis and Minh were such cases.
Lynette revealed: "The women and girls we helped came from poor countries. They have not received education and did not know how the world looked like beyond their own village. As a result, they are easily deceived. Many agents are someone the girls already knew and thus they could gain the trust of the girls easily. The agents are able to forge passports and lie about the girls' age. The agents will also "brainwash" the victims by telling them: 'Police are bad people. If you need help in Singapore, do not go to the police. My colleague in Singapore will look after you.'"
After the victims arrive, their passports will be held by their employer and they will not be paid their salary. Their daily movement is restricted. The employer will also threaten the safety of their families. It was not easy for them to escape. Of course there are examples of successful escapades like Lilis and Minh, and some girls are rescued in police raids.
Rescued victims will be sent to shelters, waiting to appear in court to testify against traffickers. HAGAR partnered with a group of pro-bono lawyers to provide legal aid to the victims. HAGAR's staff and social workers will also accompany the victims in court and provide them with emotional support.
Social worker Huang Weizhen watch the victims grow from the trauma
Huang Weizhen started as a volunteer social worker with HAGAR in 2014. She disclosed: "When these women and girls came to the shelter, they were traumatised physically and emotionally. Some of them had depression and had suicidal thoughts. They had low self-worth and confidence. As women's status in the society is low in their home countries, they also felt that they were completely worthless. My job is to help them regain their self-confidence and find their self-worth through healing therapy. This is the key to recovery."
Using mirrors and fingerprints as therapy
In Lilis' film, Huang Weizhen used a mirror and fingerprints as the victims' trauma therapy. She explained these two methods to the reporters.
Huang Weizhen would tell the girls that diamonds are so precious because they are rare, but that they are more precious than diamonds. She let the girls open the box in their hands. There is a mirror inside and they can see themselves clearly in the mirror. She said: "I tell them that they are also precious, because they are unique. To them, it's the first time they are told that they are precious and beautiful."
Huang Weizhen also let the girls print fingerprints, and then explain to them, each person's fingerprints are not the same, so each of them are unique.
Imagine life at the age of 80
To forgive, is another important lesson. Huang Weizhen encouraged these girls to share their own experience, and then learn to let go of the past. "I told them that this experience is only part of their life, it is not all. The value of their lives should not be defined by this experience."
After these girls return home, they have a long journey ahead. Weizhen wants them to think of what kind of life they want to lead and ask them to draw it out. By doing so, she hopes to help the victims share their dreams and pursue their plan ahead.
One girl painted a house and wrote the word, "family". She said she wanted to have her own family and house. Another painted a cafe and a restaurant, expressing the desire to start a business. Another painted an orphanage, hoping to set up an orphanage to take care of children.
About spending time with these girls, Weizhen said: "Actually I learnt a lot from them. They have been through such a challenging journey. From living poor back home to suffering exploitation and mistreatment here, they have demonstrated a lot of strength and they kept their hope for life. They did not give up on wanting to improve the lives for themselves and their family. They are really strong."
Huang Weizhen was deeply pleased with the attitudes of some girls: "They told me that coming to Singapore has been meaningful. They learnt how to live through hardship, learnt to help others and learnt what self-worth is. It's very comforting for me to see these girls grow from the trauma, and then blossom."
Executive Director of Hagar Singapore, Michael Chiam (second from left), Marketing and Communications Director, Lynette Lim (third from left), are committed to providing assistance to victims of human trafficking.
5 ways of support in Singapore
Under the guidance of social workers, the victims expressed their dreams through painting as a form of relief and therapy.
Women and girls acquire different skills in the shelter, including cooking, so that they can find a job more easily after returning to their hometown
From attending court to closure of the case, the whole process may take a few months two or three years. HAGAR assists the victims, during this period of their stay in Singapore, in 5 main areas:
Protection
Including personal protection and legal protection.
Personal protection is to provide safe accommodation for the victims. Legal protection includes legal aid for victims.
Recovery
HAGAR set up the Trauma Recovery and Resettlement Programme in 2015 to work with a group of social workers and counsellors to provide trauma counselling and trauma therapy for the victims. Trauma therapy includes art therapy, dance therapy, exercise therapy and more. Some victims are abused by employers. They are physically injured, or infected with sexually transmitted diseases. In such cases, HAGAR will arrange medical treatment for them.
Education
HAGAR provides English lessons to the victims and will organise computer courses from next month.
Economic Empowerment
HAGAR provides training to the victims in different skillsets, including hairdressing, beauty, cooking, so that they can return home to find a job. Some of the victims of labour trafficking can hold a special work permit that allows them to work while waiting for the court hearing. They do work that does not have too much contact with the public. These jobs range from washing dishes in the kitchen to packing in the factory. These arrangements enable them to earn income to send home.
Reintegration
After the victims return to their hometown, HAGAR will work with local organisations to help them find a job and set up a mutual help group.
ABOUT HAGAR INTERNATIONAL
Hagar International was established in 1994 by a Swiss couple, Pierre Tami and Simonetta. They built the first shelter in Phnom Penh, capital of Cambodia, to provide assistance to women and children who were exploited and mistreated. They later established shelters in Afghanistan and Viet Nam, and provided training programmes for local non-governmental organisations in Myanmar.
Hagar Singapore did not set up shelters, but cooperated with a shelter to provide assistance to victims of trafficking.
Hagar International also set up offices in the United States, the United Kingdom, Australia, New Zealand and Hong Kong to raise awareness of human trafficking through various activities, advocate the combat of human trafficking and raise funds for Hagar International's aid programme.
Original article 人口贩运受害者 逃出虎口舔伤口 – 联合早报 appeared on 27 August 2017
Hagar pursues the highest degree of care and protection for each of its clients. To protect the identity of our clients, names have been changed and images do not necessarily represent the individual profiled.
Help us transform lives
Donate now
By partnering with Hagar, you answer the cries of human suffering. Our work is dependent on charitable giving by people like you. Help us transform lives.
Help us transform lives
Donate now
By partnering with Hagar, you answer the cries of human suffering. Our work is dependent on charitable giving by people like you. Help us transform lives.
Help us transform lives
Donate now
By partnering with Hagar, you answer the cries of human suffering. Our work is dependent on charitable giving by people like you. Help us transform lives.