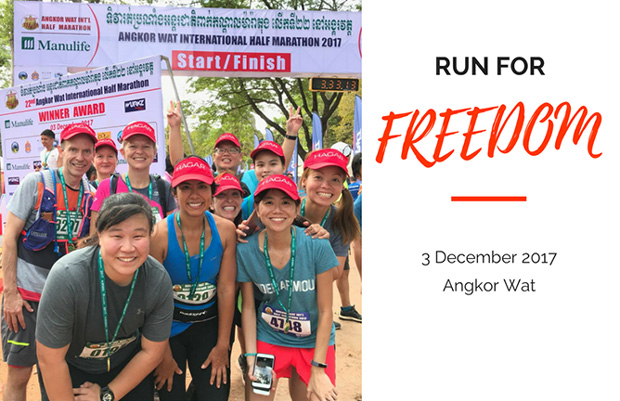 Making this our 2nd run, a team of 15 runners formed the HAGAR Singapore contingent in the trail towards freedom! They were part of a 70-runner strong team together with supporters and staff from the other HAGAR country offices and HAGAR clients who also ran in the race! Together with their case managers, clients endured the entire race and persevered to the finish line in true spirit of the whole journey!
Held inside the UNESCO World Heritage Site with idyllic landscapes, Angkor Wat is one of the most significant archaeological sites in South East Asia, and a symbol of Cambodia. Every year, thousands of runners around the world fly to Siem Reap to participate in the Angkor Wat International Half Marathon and fundraise for the charity of their choice.
In a bid to raise funds and awareness, the group has been hard at work to rally support from their family and friends. Their efforts have garnered over $20,000 and some are still gunning on till the last hour of the year. Check out their campaigns here! All funds raised will go to support the recovery of women and children who are in the care of HAGAR.
HAGAR provides critical recovery, safe accommodation, education, economic empowerment and reintegration support to women and children who have undergone some of the most horrific experiences, particularly gender-based violence, sexual exploitation and human trafficking. Funds raised from the Run for Freedom will go a long way in enabling critical support in their journey to recovery.
Each runner has shared passionately about their motivation and personal challenge. Find out what fuels them and be inspired by their determination.
Special Thanks to Under Armour
HAGAR would like to acknowledge the contribution of Under Armour towards the sponsorship of apparel for our beneficiaries and volunteers in HAGAR Cambodia. This has enabled them to be properly attired for the run as some of them do not have trainers to undertake the race. Thank you for making this run possible for them!