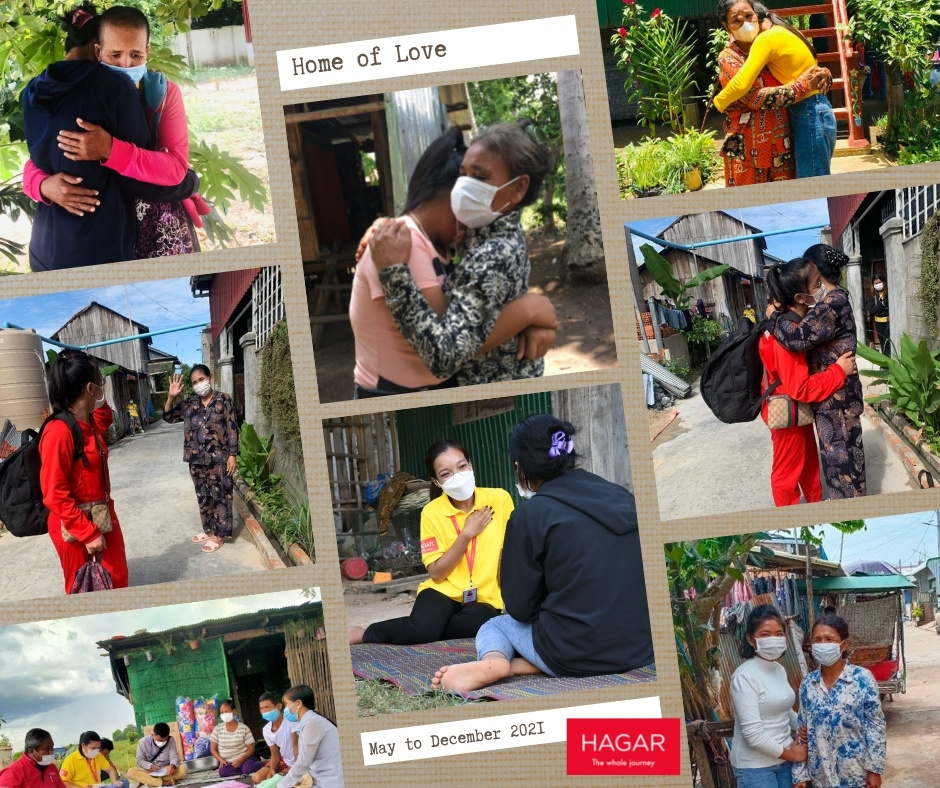 Their bodies covered with fresh wounds and old scars, in late May this year, 40 young girls were referred to HAGAR by the Department of Anti-Human Trafficking unit from the Cambodia Government's Ministry of Social Affairs, Veterans and Youth Rehabilitation (MoSVY).
Medical assessments showed all of these girls suffered severe trauma, mental conditions and were in poor health because of the prolonged torment that they went through. All of them arrived back in Phnom Penh from China with only the clothes they worn; they had no personal belongings with them, no ID card and passport.
These 40 trafficking survivors were trafficked from Cambodia to China. When they escaped from captivity and ran to the police station, instead of getting help, they were thrown into jail and were ill-treated for 3-6 months before they were finally released back to the Cambodia authorities.
Having worked with Hagar Cambodia for the past two decades and seeing the level of quality care that victims of trafficking have been getting from our 'Home of Love', emergency home care services, the MoSVY referred these vulnerable survivors to our team in Cambodia.
In HAGAR's home of love, survivors have the freedom to move around the premises, different from a locked-up facility. They help each other with household chores, they cook what they like and eat together as a family. Most importantly, they are safe from harm and felt loved and welcomed by the foster mother in the HAGAR home, counsellors and staff.
At the emergency shelter, trafficking survivors receive protection, healthcare, legal support, reintegration assistance. They are also empowered through access to education, skills building and job placements that are designed to bring them a step closer to starting a new life. Working with their families, HAGAR assist them to gain knowledge and understanding of impacts of unsafe migration and human trafficking, and create pathways for survivors to be safely reintegrated back into their communities, reducing stigma and discrimination against victims.
From our Singapore office, donations to HAGAR are allocated to pre-committed recovery and empowerment programmes and services for survivors of trafficking and slavery in Cambodia, Vietnam, Afghanistan and Singapore. Unlike large organisations, we don't have excess funds that we could quickly deploy to help new victims or respond to unexpected adverse events as we hope.
However, in this unique situation it is the help from over 230 faithful regular donors that allowed us to take in these 40 new trafficking survivors whose dignity and health was stripped away by unscrupulous syndicates that cruelly exploited them.
Over the past 6 months, the Home of Love was filled with much tears, and bouts of laughter at the same time. Listening to the stories of their pain and witnessing the tearful reunion between these trafficked girls and their families, all of us at HAGAR felt a great sense of privilege – that we were given the chance to play a part in their recovery journeys with the support from our regular donors.
Many of our regular donors tell us, "We are not doing much; we only give a small amount every month while you guys are doing the heavy lifting." But at HAGAR, the honest truth is that we could never do this work if without the support from donors, volunteers, partners, and supporters, and that is why we remain grateful always for each and every one of you.
Empower A Survivor
If you wish to donate monthly to our work in Cambodia, Vietnam, Afghanistan and Singapore, you may sign up here