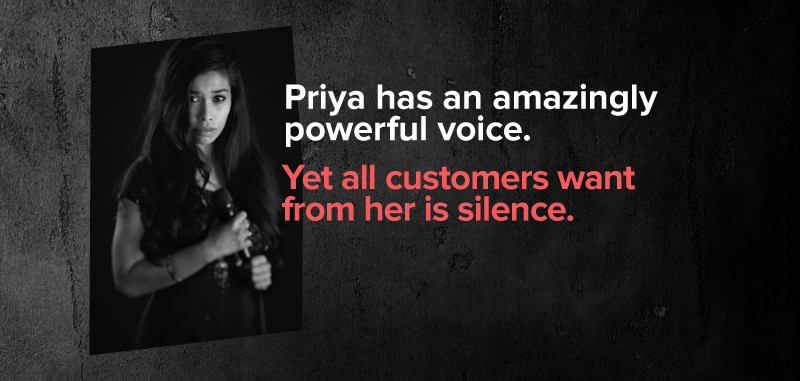 Ancient traditions were unquestionable in Priya's village. Young girls often became very young wives. At the tender age of 14, she was betrothed to a man she'd never met. Wedding bliss became living hell. Her husband abused her mercilessly. She sought refuge at home, but her parents urged her to stay by her husband, as it was the proper thing for a good wife to do.
Headstrong Priya refused to accept her fate. She ventured into the city seeking a job. There she met Ram, a musician charmed by her mesmerising, soulful voice and graceful movements. He offered her a job as a performer in Singapore. As the eldest daughter, Priya was grateful for the chance to support her family and put her younger siblings through school.
Upon arriving in the Lion City, she was escorted to a desolate house. Terrified and alone, she cried herself to sleep. The next morning, she woke up in the company of several other women, all cramped in the same quarters.
For 12 hours each night, Priya had to sing and dance to entertain customers. The more she performed, the more provocative they became. She tried her best to reject the advances. But her boss silenced her by threatening to withhold her salary and confiscate her passport.
Priya had to face the music and provide sexual services to those who demanded it. Even during the day, the women were held captive in the house. Their passports and work permits were kept from them. Torturous weeks went by till Priya and three others pulled off a desperate escape. They were picked up by the police and placed in a shelter.
Devastated by this horrific chain of events, Priya's self-esteem was shattered. She wanted to return home, but felt she could never bring herself to face her family again.
Thankfully, HAGAR was there to help. Before she left Singapore, Priya had learnt to speak English. She was so fluent, that she even assisted to provide translation for the other ladies. In Singapore, the humanitarian organisation provides critical recovery support for victims trafficked for sexual and labour exploitation.
January 2019-Just recently, the perpetrator was finally found guilty and convicted to 15 months' imprisonment by the Singapore criminal justice system.
Working from 10 countries, HAGAR provides protection, personal transformation, community reintegration, and economic empowerment for thousands of victims across the world, walking the whole journey of recovery together with them.
Today, Priya is a strong young woman who has managed to get a small business going at home providing make-up and beauty services to brides. Word has been going round and her customer-base has been steadily growing. She single-handedly supports her 4 younger sisters through school and with the income generated from her home business, the family is able to get by. Empowered by HAGAR, she now exudes confidence and hope, and lends a powerful voice for the freedom of trafficking victims.
Hagar pursues the highest degree of care and protection for each of its clients. To protect the identity of our clients, names have been changed and images do not necessarily represent the individual profiled.
Empower A Survivor
Donate Now
Provide them with the necessary protection, literacy and skills to start a whole new life.
Empower a Survivor
Donate Now
Provide them with the necessary protection, literacy and skills to start a whole new life.