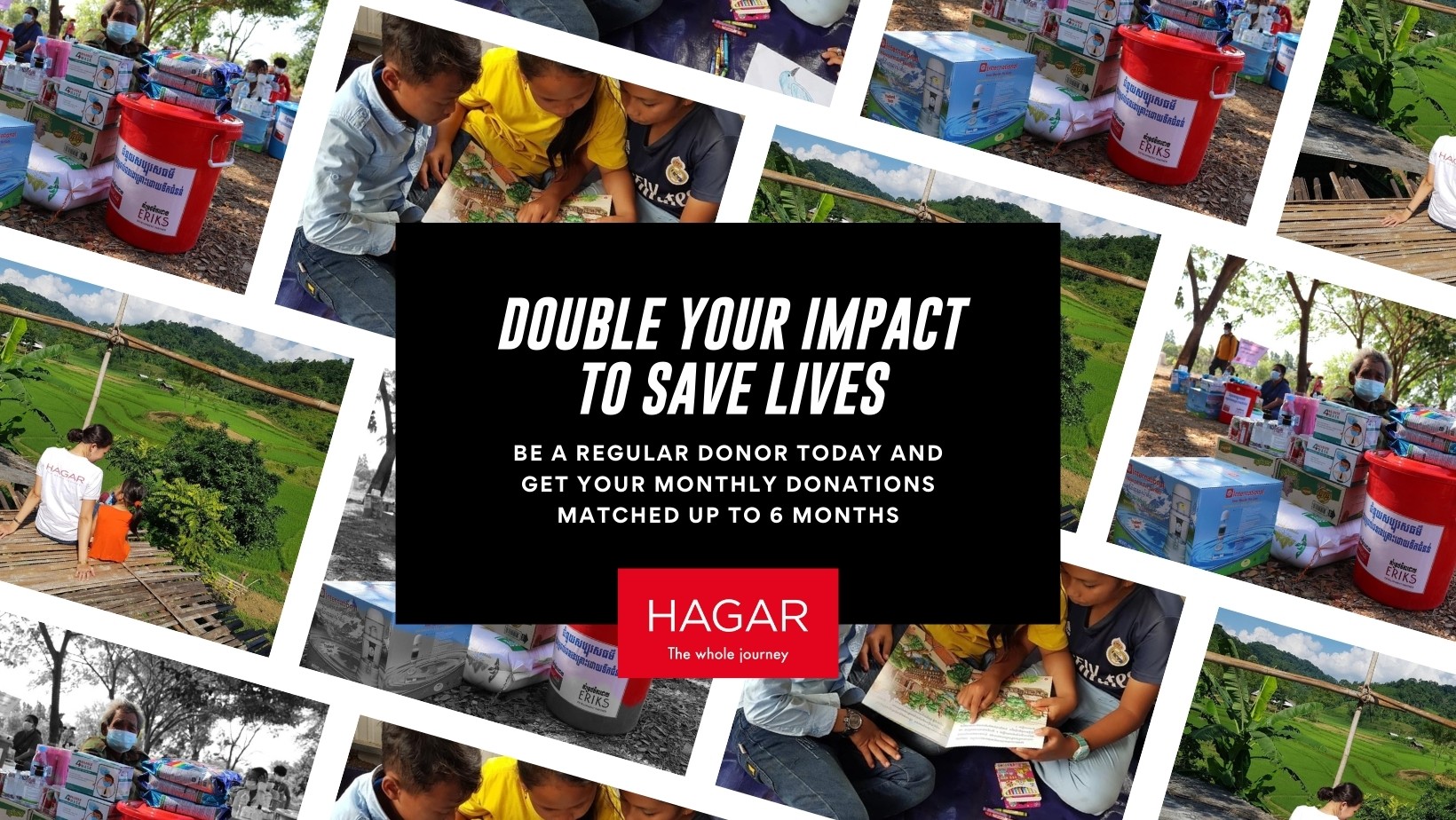 The COVID-19 situation in Cambodia where our HAGAR beneficiaries are has reached critical levels. As the situation approaches a breaking point, we are heartened to share that just 3 days ago, we received a $50,000 matching fund commitment from two corporate foundations to help maximise the support to our beneficiaries during this crucial time!
From now till 18 July, if you sign up as a regular donor, your donations will be MATCHED for 6 months!
Cambodia is currently experiencing a third wave of COVID-19 infections. Last month, hundreds of thousands of Cambodians were devastated by the country's extreme lockdown measures. Factories closed, markets shut and street vendors were banned from operating. Forbidden from leaving their homes, they cannot get food or medicine and have not been able to work. Many are being driven close to starvation. Though restrictions have lifted for some districts, they no longer have the means to purchase even their basic necessities.
Supporting women and children who have suffered the trauma of human trafficking, extreme violence and slavery in Cambodia since 1994, HAGAR has been working on the ground with marginalised communities, improving their literacy and skills to start life anew. The unrelenting COVID-19 pandemic has unfortunately sent many slipping back into poverty. Their financial insecurity puts them at severe risk of deprivation and exploitation.
The next 6 months are extremely crucial for the survival of our beneficiaries as HAGAR works to get them through the pandemic and rebuild their livelihood. From now till 18 July 2021, sign up as a regular donor giving any amount for the next 6 months, the two corporate foundations will match your total giving, doubling the impact of your donation!
Your regular giving of 6 months or more will enable HAGAR to have an opportunity to receive a total matched gift of $50,000!
Your monthly donation over the next 6 months with the matched gift ensures that affected families will receive not just short-term relief but long-term support to build a sustainable future. This critical assistance will be extended to HAGAR beneficiaries in Cambodia, Vietnam and Afghanistan.
These are what your donations will provide for beneficiaries:
Food packs
Cambodia/Vietnam: 50kg rice, 2 boxes of noodles, fish sauce, soya sauce, tinned fish
Afghanistan: 10kg rice, 50kg flour, 5kg oil, 1kg lentils and other edibles
Face masks, hygiene supplies and healthcare;
Livelihood support, skills training and job placements;
Access to online learning for kids;
Counselling support
In this long-drawn battle against the coronavirus, we cannot be sure how long recovery will take. Yet, at HAGAR, we are committed to The Whole Journey of recovery and empowerment for women and children who have survived tremendous hardships from trafficking, slavery and abuse. With our limited resources, we do not claim to be able to change the world, but for every life that is under our care, we are determined to help them live, and build a lasting future beyond the pandemic.
Sign up as a regular donor by 18 July and get your monthly donations matched up to 6 months.