Children are our future – Teach them well and let them lead the way.
When 9-year-old Elizabeth Eio and 10-year-old Noah Pan heard about the desperate plight of vulnerable children under HAGAR's care in this pandemic, they were individually moved to do something to help these children, some of whom they have personally met through their previous mission trips to Cambodia.
Supporting women and children who have suffered the trauma of human trafficking, slavery and abuse since 1994, HAGAR has been working with marginalised communities, improving their literacy and skills to start life anew. The ongoing conflict in Afghanistan has separated many children from their parents, and the unrelenting COVID-19 pandemic has unfortunately sent many slipping back into poverty. Many children have dropped out of school due to increased hardships caused by the pandemic. From living on food scraps to almost nothingness now, children in the slums are struggling to live another day.
In November, Elizabeth joined the 40.3 Freedom Race 2021 where she ran 4.03km to raise funds for survivors of slavery. Raising an incredible $770 through her race, watch this video produced by the Eio family and the little girl's moving story.
Credit: Video from Joseph Eio
Every year before each mission trip, Noah would sell breakfast in church to raise funds for children in the Cambodia slums. With the suspension of group travel in this pandemic, he decided to use his hobby this time to raise funds for the children.
In June, Noah started picking up crocheting skills and has been spending hours daily, creating crochet works. Deeply influenced by his parents' giving spirit and charitable deeds, Noah shared with us his greatest wish in life,
"I hope to be able to continue helping the needy till I grow up, and even when I'm old."
Such a rare kind of wish for a young child, isn't it!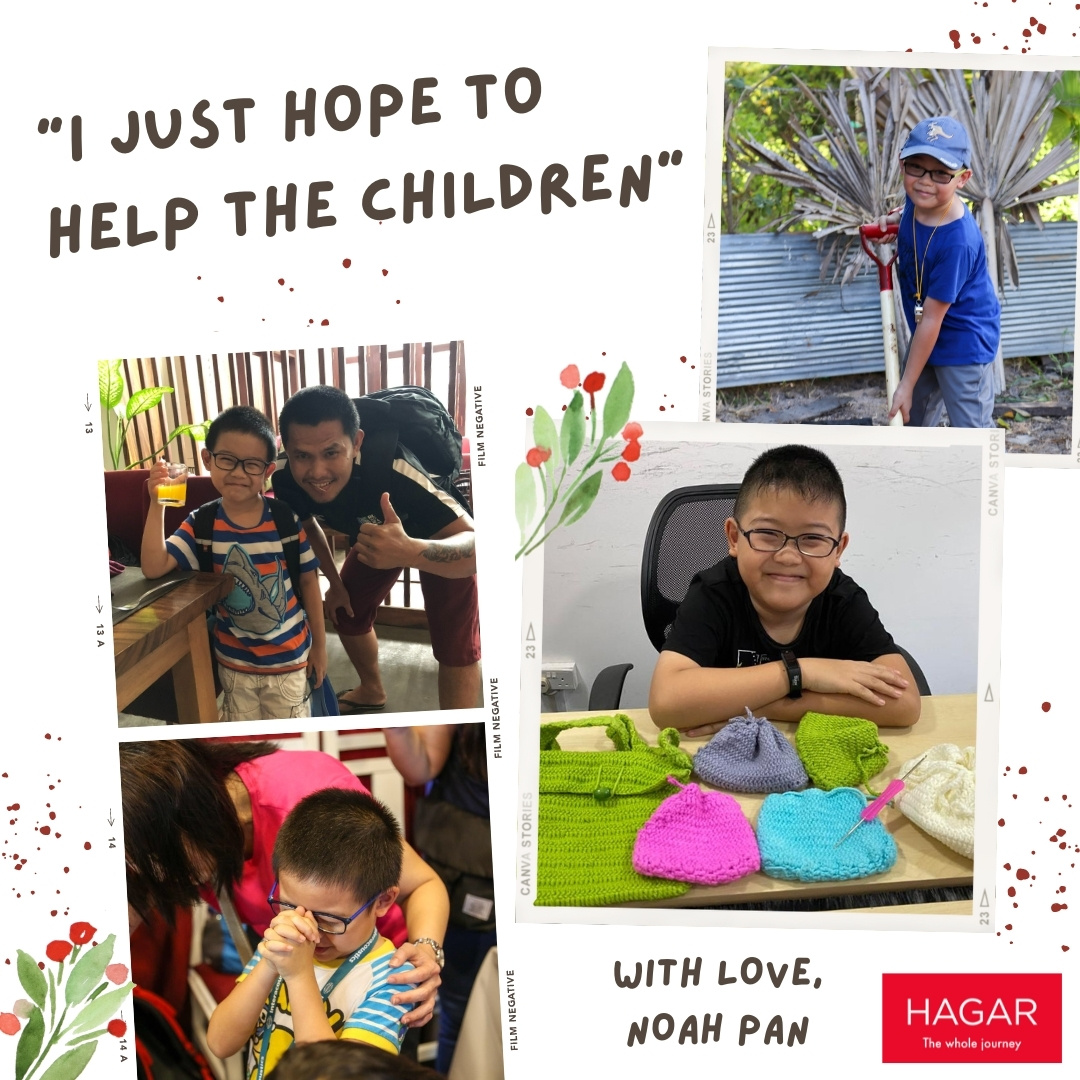 Encourage this young boy this Christmas by buying his amazing crochet creations. Noah is donating all sales proceeds to HAGAR to provide food and medical aid for children in the slums.