Human trafficking survivor, Longdy Chhap bounces back after losing his legs a second time in recent car crash
On 6 November 2022 – our former HAGAR beneficiary and staff, Longdy Chhap, his wife and 3-year-old daughter were severely injured in a car crash in Cambodia. A big truck on the opposite lane went out of control and crashed into Longdy's car head-on. Across HAGAR, our hearts broke when we received the devastating news.

Doctors found broken bones in both of their legs. Longdy's knees were completely crushed by the high impact. Glass shards from the windscreen pierced through his little girl's right eye. They required immediate operation but the projected medical bill of US$30,000 was an impossible sum. Doctors would not operate on them unless they make payment within 3 days. They also prepared Longdy for the eventuality that he may not be able to wear his prosthetic legs again even after he gets well.
It was a race against time over the next few days. From Singapore, we reached out to HAGAR supporters for help. Friends who had met him personally in Singapore or through project visits to Hagar Cambodia, and other HAGAR supporters rallied together to raise funds for him and his family.
Prior to this unfortunate accident, such feelings of pain, suffering and despair were not unfamiliar to Longdy.
Sold by his own mother
Having contracted polio at age 5, Longdy lost the use of his legs, leaving him confined to a wheelchair. His family became even poorer because of his medical condition, so when a broker came to his village and offered a sum of money to his mother in exchange of selling him away to Thailand, the choice was easy for the warm-hearted 8-year-old boy then – Longdy agreed as he felt sorry for being a burden to his family.
Promised a "good and easy" job by the broker, one day, he was loaded into a car with other children, covered with a piece of canvas and trafficked to Thailand where he became one of thousands of child beggars on the streets.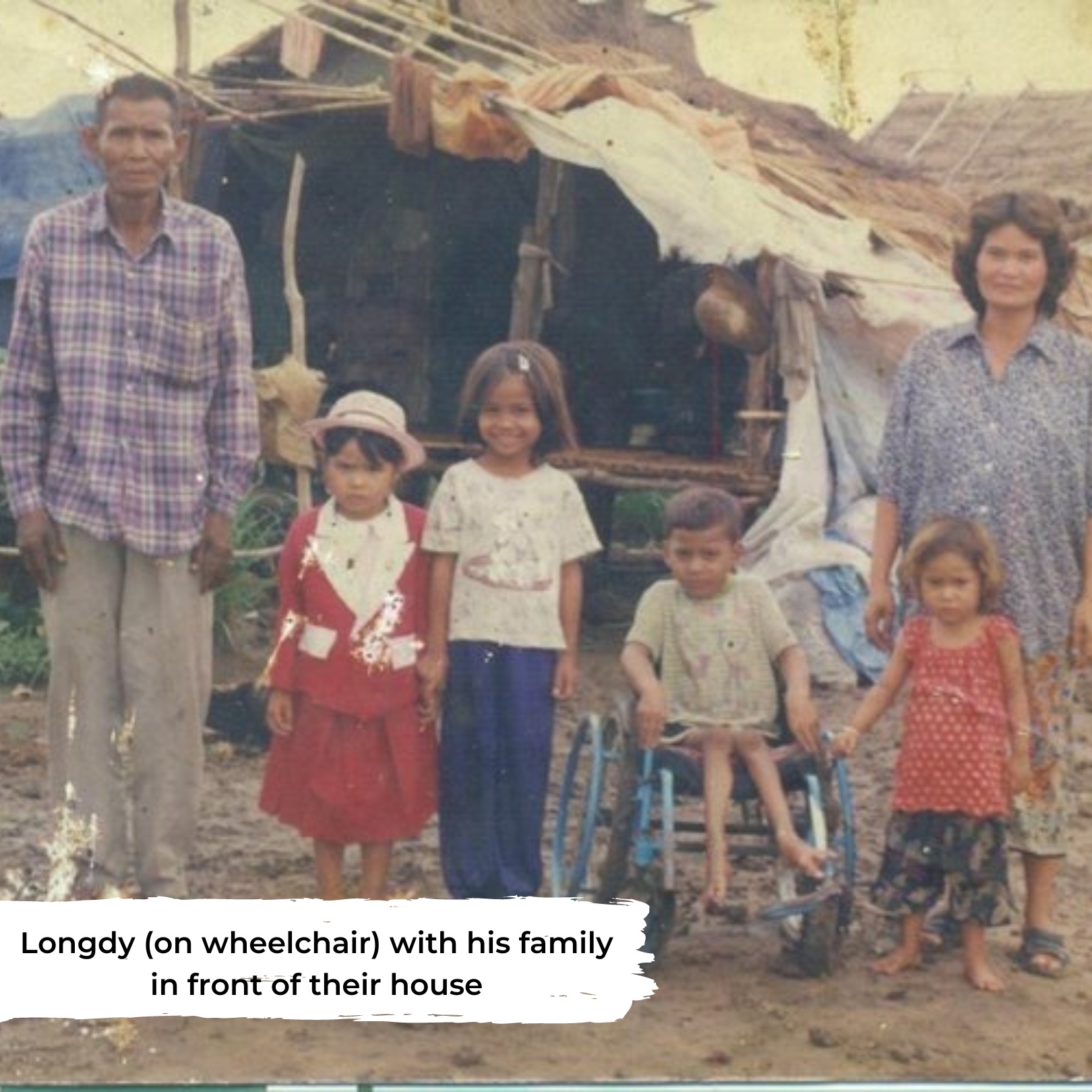 For 5 long years, Longdy suffered unrelenting abuse by the traffickers. Beaten and starved, he spent long days begging each day. Dropped off at busy pedestrian overpasses or busy shopping streets at 5.00am and chained to street railings, he would be moved away only at 6.00pm each night. If Longdy did not collect enough money to meet his daily quota, he would not get any food. In spite of the torment, he could not stand on his own two feet to run away.
Throughout those 5 years in Thailand, Longdy was rescued several times by the local police and deported back to Cambodia. But his mother sold him back to the broker each and every time when he returned home. Fortunately, at the fifth repatriation attempt, the local police rescued Longdy and decided to send him to a NGO instead where he was referred to HAGAR's care. He was 13 then.
Struck down but not beaten
From there, Longdy went on an arduous journey of recovery for years. With great tenacity, he studied hard and obtained 2 university degrees. Currently, working as a case worker with A21, an anti-trafficking organisation in Cambodia, and in addition to his Masters degree studies, Longdy spends his free time, volunteering with HAGAR and advocating passionately to end human trafficking and slavery.
Two weeks after the car accident, we were able to help them pay off the full surgical and hospitalisation cost. But because of their severe injuries, both father and daughter require complete bed rest for about 3 months and full recovery will take a much longer time.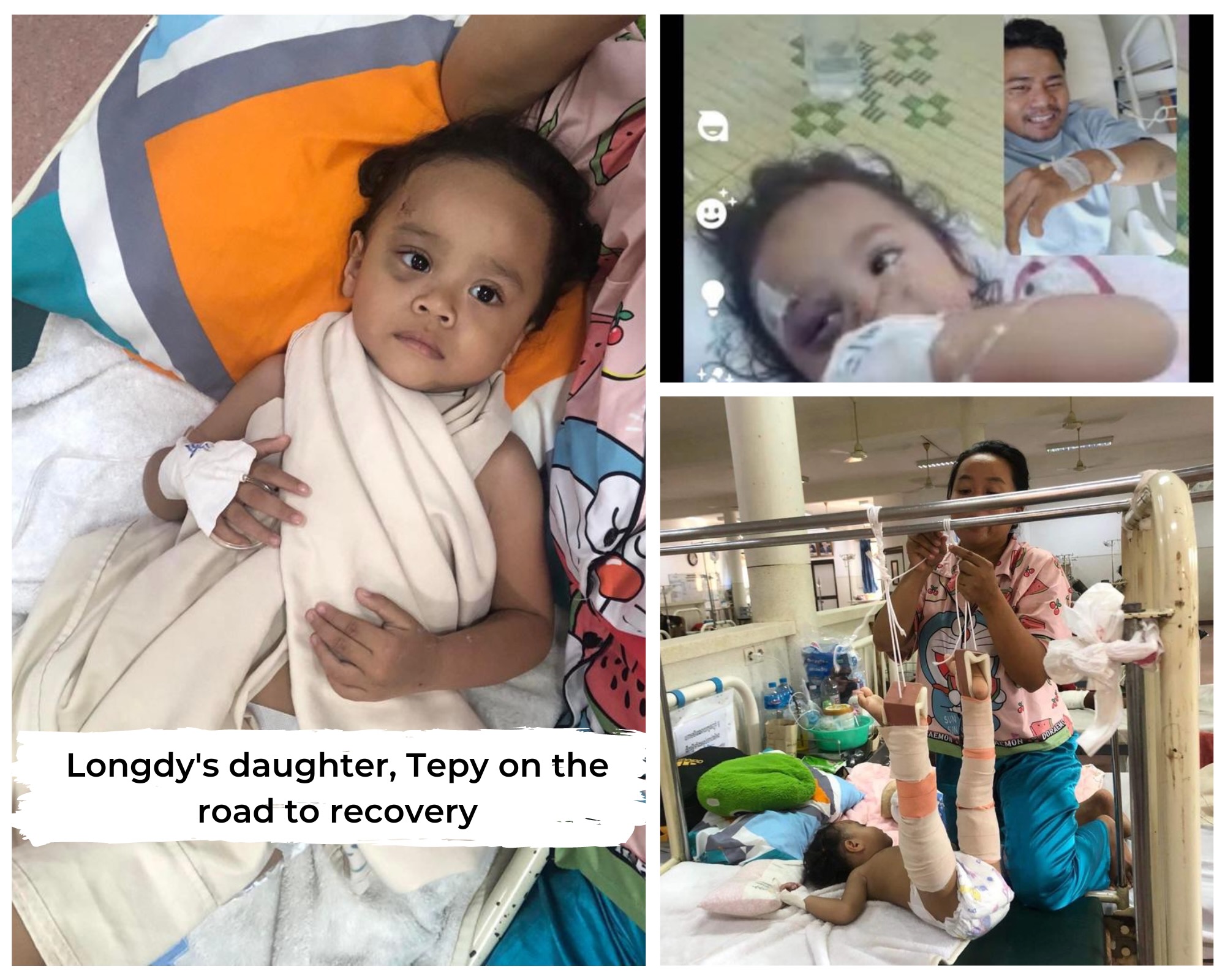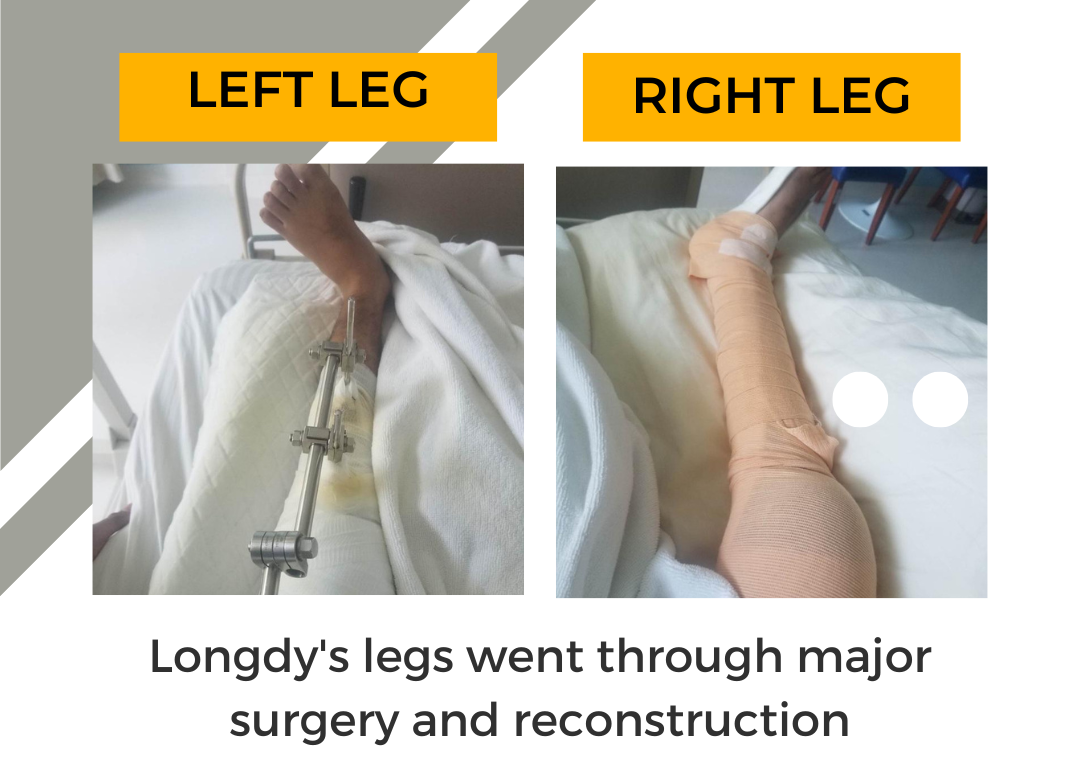 Rehabilitating at home now in order to manage the high hospitalisation cost, Longdy marvels at how they kept their lives.
"I see the photo of my car after the crash, I cannot believe that I and my family are still alive. God saved the 3 of us from death. Though I lose my legs a second time, I am thankful to be living and my family is still with me."
Though it is not yet clear when Longdy will be able to walk again with the help of his prosthetic legs, he remains grateful and hopeful.
"Thank you, Hagar Singapore and Cambodia, and Hagar friends all over the world for helping me and my daughter. I cannot do anything for you but I will keep all of you in my prayers for good health and God's blessings."
Empower A Survivor
Your regular donation each month enables the ongoing support to survivors of trafficking and abuse in the whole journey of recovery