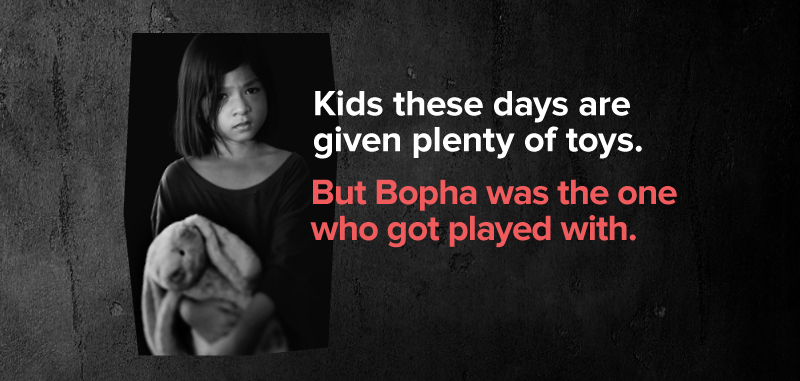 Proverbially, it takes a village to raise a child. Sadly for six-year-old Bopha and her younger sister, their parents were often occupied with more pressing matters. Father was incorrigibly alcoholic, frequently drinking with friends late into the night. Mother had to comb the bars in the countryside, dragging him home in an intoxicated stupor while tolerating his drunken outbursts. It was Grandma who took up the mantle, looking after both young girls.
One fateful night, Father was hitting the bars again. Mother went in pursuit, leaving the children in Grandma's care. They were playing with their toys after dinner, when a loud thud reverberated through the door. All of a sudden, a burly man barged in, knocking Grandma out with a single blow. Glaring at the two girls menacingly, he turned to the elder one.
Grabbing Bopha by the arm, he dragged his young plaything to the master bedroom. The next ten minutes were the most excruciating moments in her life. After being brutally raped, Bopha was tossed aside like a ragdoll, shocked, helpless and hurting. Adding insult to injury, the perpetrator threw a five-dollar bill on the bed and threatened to hurt her further if she breathed a single word to anyone.
Upon her parents' return, Bopha tearfully recounted her ordeal. They rushed her to hospital and lodged a police report. The authorities eventually tracked down and sentenced the rapist to 25 years in prison.
Even after her physical wounds had healed, Bopha still suffered tremendous psychological damage. The police referred her to HAGAR, where counsellors helped her recover. HAGAR provides critical recovery support for victims who have suffered the trauma of sexual exploitation, human trafficking, forced labour or extreme violence. Working from 10 countries, HAGAR provides protection, personal transformation, community reintegration, and economic empowerment for thousands of victims across the world, walking the whole journey of recovery together with them.
Through HAGAR's intensive rehabilitation programme, including art therapy which Bopha loved, she gradually rebuilt her self-esteem and blossomed into a girl always ready with a playful smile.
Hagar pursues the highest degree of care and protection for each of its clients. To protect the identity of our clients, names have been changed and images do not necessarily represent the individual profiled.
Empower A Survivor
Donate Now
Provide them with the necessary protection, literacy and skills to start a whole new life.
Empower a Survivor
Donate Now
Provide them with the necessary protection, literacy and skills to start a whole new life.