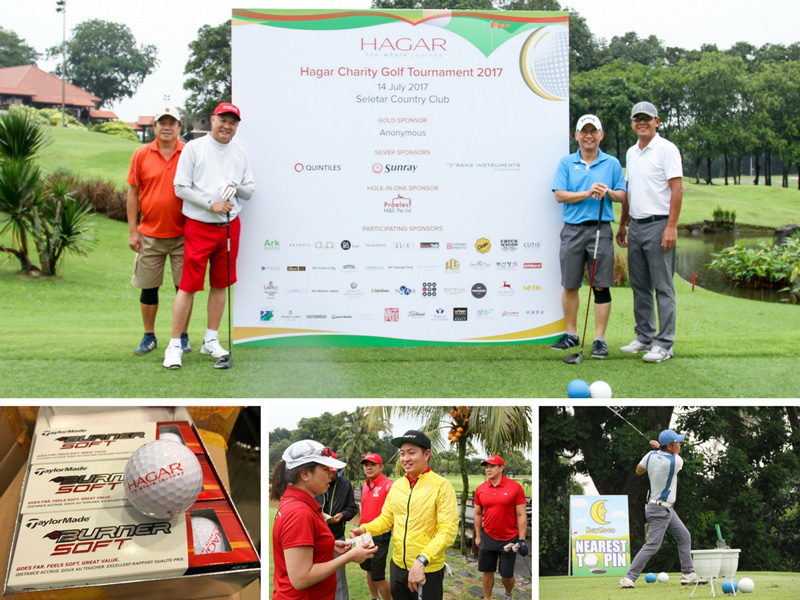 14 July 2017 | Seletar Country Club
17 July 2017 – Despite grey skies and heavy thunderstorms in the morning that threatened a cancellation, golfers turned out in full force last Friday to support Hagar's third charity golf tournament, held at Seletar Country Club. A whopping $144,000 was raised from the proceeds of the event, thanks to the generosity of sponsors, contributions from golfers, and the enthusiasm of volunteers! Kudos to each one of you for doing your part and giving courage to those who have survived extreme abuse, violence and trafficking. They are not alone on their journey to wholeness because of your support.
After an hour of delay, the storm finally died down, supported by resounding cheers from all in the house! Nothing could diffuse the enthusiasm in the air and even the constant light drizzle did not dampen the spirits of golfers and volunteers. All set for a good game and a big win, golfers swung into full force at the various contests where they got to pit their skills against one another for the Nearest to the Pin, Longest Drive and Hole-In-One challenge. Even on the course, golfers continued to give generously by participating in the novelty games as the volunteers worked hard, standing on their feet for 5 hours straight to facilitate the game play!
A sumptuous dinner followed after the game where everyone was treated to an evening of great food, cracking fun and entertainment. That night, we had the privilege of acknowledging faithful sponsors for their continued sponsorship of the Hagar Charity Golf Tournament over the past three years.
Amazing prizes were presented to winners of the various golf contests and novelty games. When the results of the Blind Partnership were announced, loud bursts of laughter thundered as the top 5 and bottom 5 pairs of golfers walked forward with their mystery partner to receive the fun prizes.
Through the Silent Auction, golfers took the opportunity to give more and big-heartedly dug deep for the priced items.
It was a massive celebration and everyone walked away with full bellies, prizes and laughs. Everyone was a winner that night as each returned home with a lucky draw prize.
All prizes and giveaways were kindly sponsored and we are very grateful for all the contributions made, allowing the golfers a pleasant and enjoyable game. From goodie bags to instant prizes, snacks on the course, isotonic drinks, water and alcoholic beverages, novelty game prizes, lucky draw prizes, the fair play award, Hagar would like to thank all sponsors for their contribution!
We also want to thank all volunteers who took their personal time to help out and slogged tirelessly from morning till night. We are so glad that all of you had great fun while working, the success of the event would not have been possible without each of you.
And finally to the organising committee for their incredible commitment and support throughout the planning and preparation for this massive event. As volunteers yourself, you gave sacrificially in so many ways.
The success of this event was made possible by every single person who contributed their time and skills in ways big and small, from planning right up to the execution. Thank you for giving a piece of yourself to helping marginalised women and children recover their lives. You are a blessing that we are very grateful for.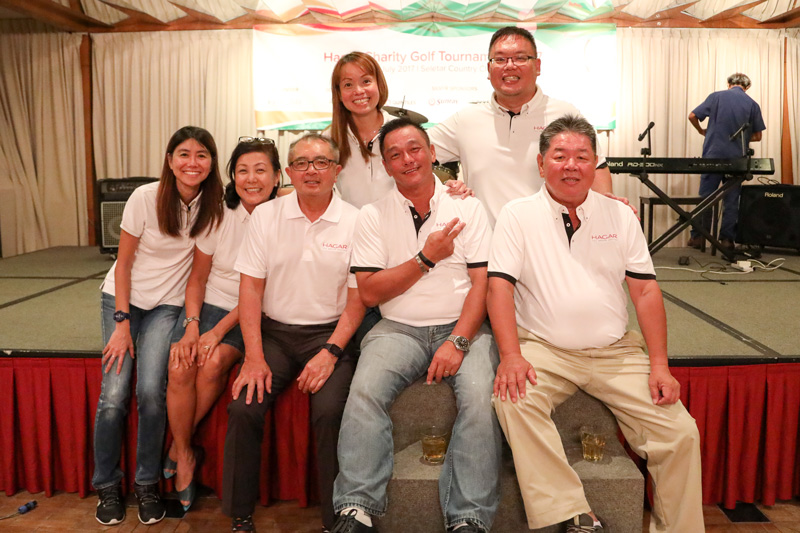 This isn't goodbye though – we hope to have all of you join us again at the next Hagar Charity Golf Tournament in 2018!
Full suite of photos is available at our FaceBook page @HagarSingapore. If you were there with us, look out for your picture!
---
Event Sponsors
We would like to thank the following sponsors who have generously contributed to the work of Hagar through this Charity Golf Tournament 2017. Your support will go a long way in enabling improvements in the lives of trafficking survivors in Singapore and the Asian region.
Gold Sponsors
Silver Sponsors
Participating Sponsors
Hole-in-One Sponsor
Beer Sponsor