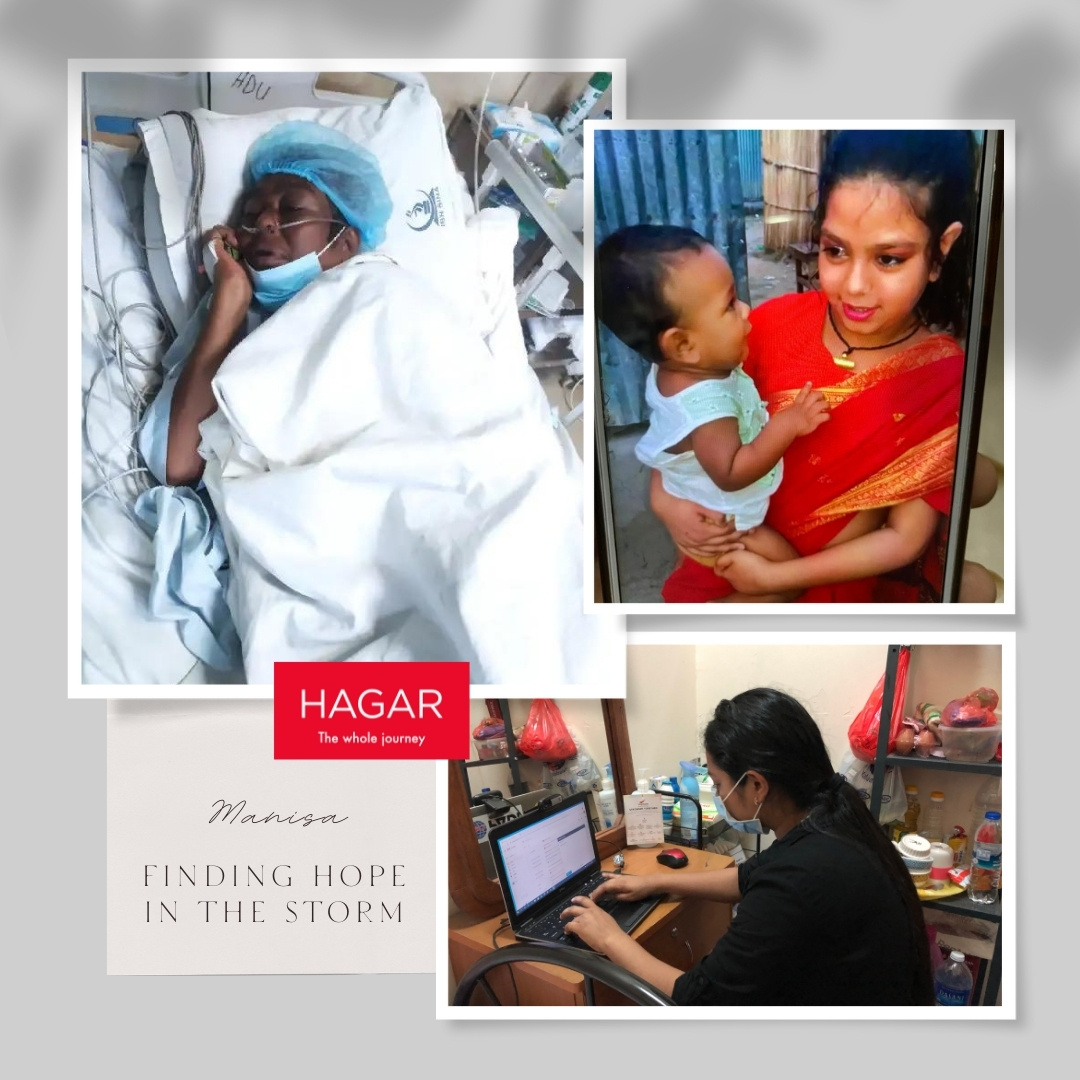 In March this year, we reached out to our supporters with an urgent plea for help.
Manisa's mother suddenly passed out and was rushed to the hospital in Dhaka. She was diagnosed with 4th stage kidney failure and her heart and liver was in distress. There was swelling throughout her whole body and she felt intense pain in her heart and stomach. Without paying the medical fees, the doctors would not commence any treatment. Manisa had practically sold all her valuables, and even with all the money that she and her mother had painstakingly saved over the years, she only had a fraction of the sum needed for her mother's hospital ICU fees and treatment.
A survivor of trafficking and the sole breadwinner in her family of 9, Manisa was severely distraught. One thing she knew – her beloved mother must not die.
The third child amongst seven children, Manisa started working in a garment factory to help her family when she was 10. Despite working more than 14 hours daily, getting her family out of poverty was an impossible dream. One day, she was duped by a trusted person in her village who told her about a job in Singapore that could allow her to send her younger sisters to school and give her family a comfortable life. It was too good an opportunity to turn down – Manisa lived for her family; they are her only hope and purpose for living.
Leaving her hometown, Manisa realised only later that she's been tricked. Instead of working in a music company, Manisa was trafficked into Singapore for forced labour and sexual exploitation. When she was first referred to HAGAR by the authorities, she was only 17. Over the past 6 years, we have been helping Manisa to recover and heal from trauma, and at the same time, increasing her personal capacities by equipping her with English and computer literacy and upskilling opportunities so that she can continue to work and support her family. Manisa works very hard, sending home more than 80% of her salary to her mother every month.
Thankfully, many who heard about Manisa's situation donated generously to help her mother get the surgery, ICU support and specialised treatment she needed. We received a total of $27,366 that covered the hospital bill and some of the ongoing rehabilitation expenses. At this present moment, Manisa's mother is out of immediate danger and resting at home. However, her advanced kidney failure has left her in a weakened state. Doctors are not optimistic about her condition; she needs to go to the hospital for weekly injections and the recurring medical expenses remain high.
With support from MOM and her Singapore employer, we managed to fly Manisa back to Bangladesh to visit her critically ill mother in March and get the blood transfusions done. Originally intended to be a short home visit to see her mother, Manisa was stranded for over 6 months in Bangladesh when Singapore closed its borders to Bangladesh travellers due to the high COVID-19 incidence. Just last month in November, we successfully managed to help her return to Singapore. During this period, her employer continued to pay her salary which enabled her mother to receive ongoing treatment even after discharge from the hospital.
Manisa is very grateful for all the help from the many HAGAR supporters who gave to her mother's treatment cost and saved her life. She wants you to know she is very thankful for every person who has helped her and the opportunities she has been given to study and work despite the exploitative ordeal she had to endure during her time in Singapore.
Beyond recovery, HAGAR focuses on empowering survivors with skills and literacy so they can contribute in their local community and gain independence to pursue their dreams.
Thank you for caring for survivors of trafficking and supporting for them in such a practical way!
Hagar pursues the highest degree of care and protection for each of its clients. To protect the identity of our clients, names have been changed and images do not necessarily represent the individual profiled.
Empower A Survivor
Donate Now
Provide them with the necessary protection, literacy and skills to start a whole new life.
Empower a Survivor
Donate Now
Provide them with the necessary protection, literacy and skills to start a whole new life.