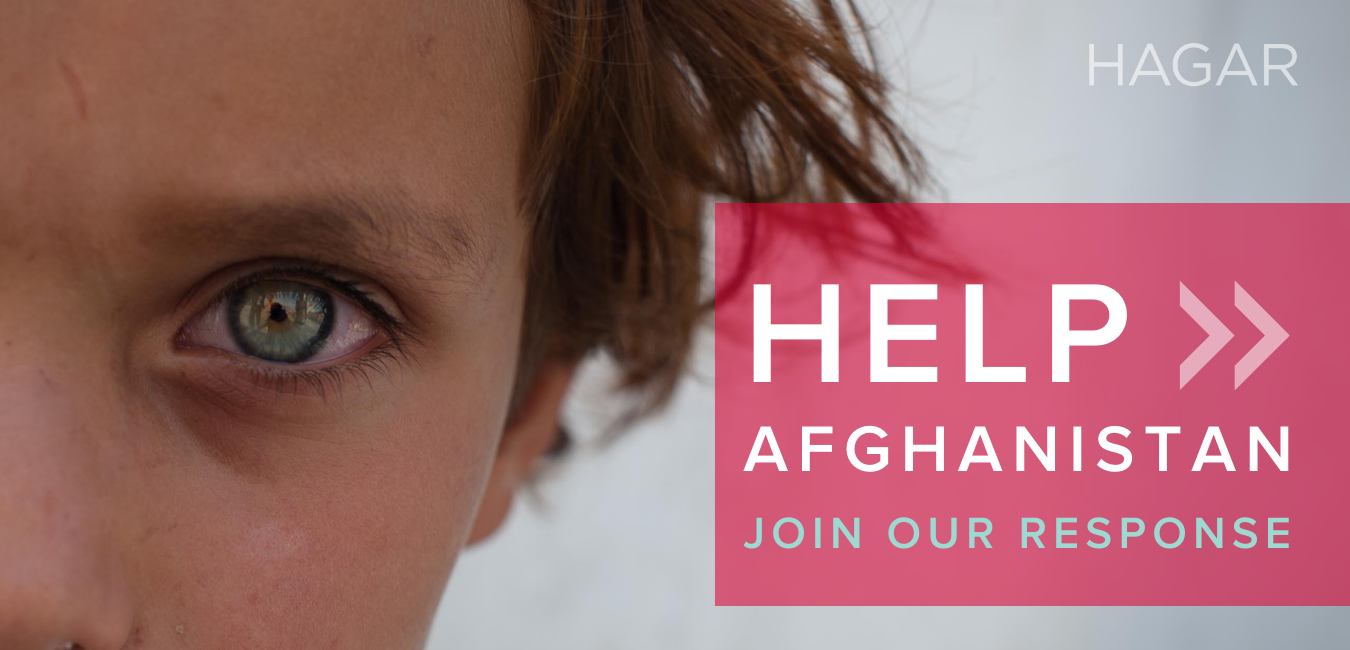 (ongoing since August 2021)
Since the heart-breaking images of people fleeing and dropping off planes first started appearing on our screens last August, the situation in Afghanistan has continued to worsen.
There are now about 3.4 million people displaced within Afghanistan and the United Nations recently declared that 95% are hungry and surviving on one meal a day*. Driven to desperation, more and more children are seen roaming the streets, begging for food and money.
In the past 8 months, through the generosity of thousands of HAGAR donors and supporters around the world, we received some $867,000 USD that allowed our Hagar Afghanistan team to provide vital assistance to some 20,800 survivors who are facing displacement and extreme poverty in the country. With these funds, HAGAR have provided critical relief assistance to some of the worst affected families and children through provision of food aid and hygiene supplies, shelter, child-friendly spaces, mental health support and education.
"We were not able to find any job anywhere anymore, the only choice for us was to come out in the streets to beg for food and we had no options but to take out our small siblings with us to beg for 3 months. We were starving for 5 days, when like an angel of salvation, HAGAR's assessment team approached us and registered us for food package aid."
Aziza, recipient of HAGAR's emergency aid
HAGAR has been one of the very few NGOs on the ground that have been permitted to provide humanitarian support at this time.
At this stage, there is a real urgency to provide more than just emergency aid. In the long term, we want to help the people develop the ability to gain independence, resilience and a financial livelihood.
But we need your help to make the next steps possible! By partnering in HAGAR's response, you are enabling the people in Afghanistan to live empowered lives and are not reliant on temporary emergency aid.
NEXT STEPS:
From May 2022, the Hagar Afghanistan team are hoping to implement these three new projects to help our existing beneficiaries transition into independence:
Establishing the Poverty Reduction and Livelihood Project: The new livelihood programme will enable families to start earning an income of at least $100 USD a month, that is sufficient to provide basic food for a family of 8, and cover some energy and clothing needs. This will be achieved by organising the beneficiaries into business cooperatives, establishing cash for work programmes and helping them start small businesses.
Increasing the number of Child Friendly Spaces: The HAGAR team are desperate to set up more of these safe spaces due to the overwhelming numbers. Children currently roaming the streets begging will be targeted and encouraged to attend classes in these spaces as HAGAR works towards preventing lifelong illiteracy and consequent poverty.
Providing life skills training to women and girls living in a rural area that is known for its high levels of poverty and neglect.
The needs in Afghanistan remain overwhelming. While it looks like a long and winding road to recovery, HAGAR remains committed to the restoration of the people in Afghanistan, and we hope you would join us on this journey to rebuild these broken lives.
Help us to rebuild broken lives
It is only together that we will be able to practically make a difference in the lives of thousands of displaced and vulnerable people at this crucial time.