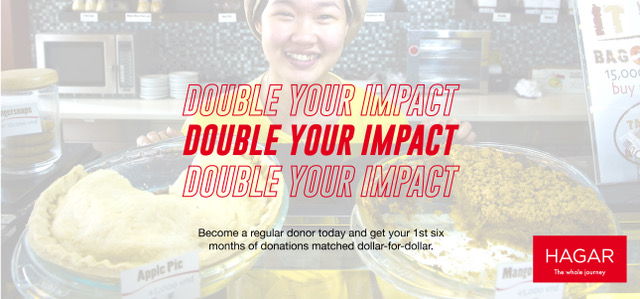 Your donations will be matched!
Thanks to a generous donor who extended an amazing kind offer to help maximise the support to our beneficiaries during this critical time as many are reeling from the impact of COVID-19.
Upon learning about the plight of the survivors, one of our HAGAR donors has generously told us that he would match every dollar to the MONTHLY donations of new regular donors for the next 6 months!
If you commit to giving just $1 a day for the next 6 months, your donations will be MATCHED, and the impact of your donation will be DOUBLED!
By signing up as a regular donor today for 6 months or more, we have an opportunity to receive a maximum matched gift of $50,000! We cannot stress enough how much this would mean for affected survivors who are going through extremely difficult times now.
Since April, many of the survivors under HAGAR's care have lost their jobs or income. Prices of food have skyrocketed while food availability and access for these vulnerable children and families has plunged. Without jobs, they have no money to buy food. Children have been pulled out of school; students in university are forced to think about terminating their studies.
Your monthly donation over the next 6 months with the matched gift ensures affected families will receive the following critical services:
Food assistance
COVID-19 testing and medical care
Skills training
Re-employment assistance, job placements
Counselling support
The road to recovery from the trauma of exploitation and abuse is often long and complex. However regardless of seasons, at HAGAR, we are committed to The Whole Journey and are determined to help them get back up on their feet again.
When you sign up as a regular donor, you will have the opportunity to meet with Sophea, HAGAR's inspirational survivor from Cambodia, on 25 July through a special webinar via Zoom. From being trapped in slavery and abuse, to finding freedom and being a community champion for the prevention of the very same human rights abuses she endured, Sophea will share her personal journey with us. Invitation details will be sent to you separately.
Please join us in empowering these survivors! Click on the button below to give or donate any amount to multiply your impact. The deadline for the 6-month matching donation ends on 31 July. Thank you for your urgent response.
Time Left To Double Your Impact!