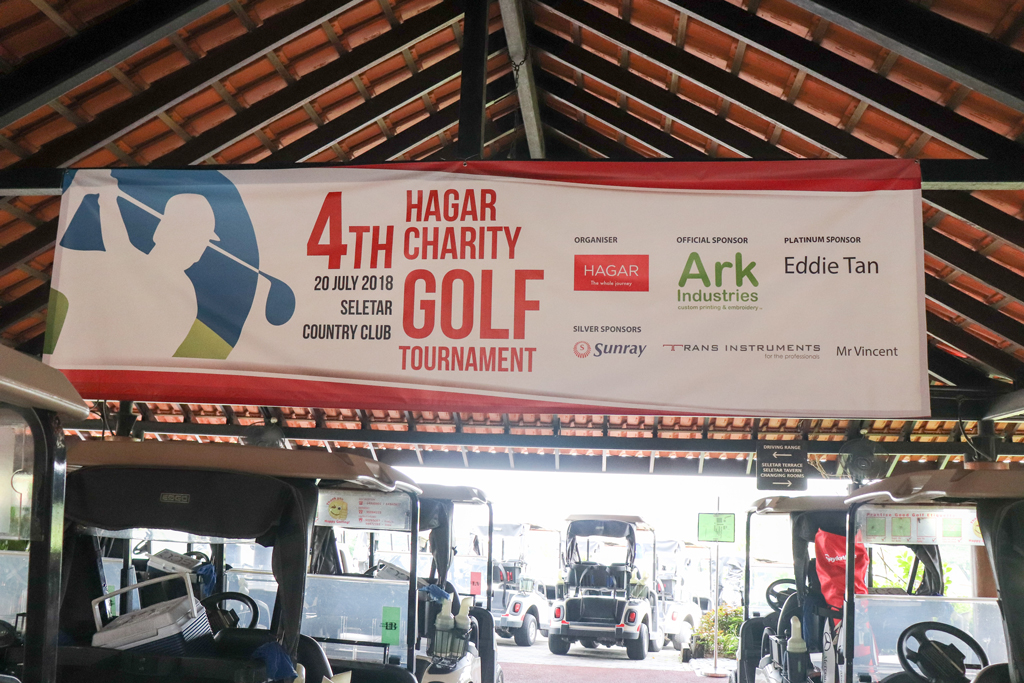 Swing for charity!
20 July 2018 – The fourth edition of the annual HAGAR Charity Golf tournament ended on a high note, with 144 golfers setting a fundraising record of $170,000 in support of women and children who have experienced extreme trauma from human trafficking and slavery.
Complementing the blazing sun and blue skies, the air was abuzz with roaring enthusiasm from golfers and volunteers alike, to get into action! With more than 50 esteemed sponsors backing the HAGAR Charity Golf Tournament 2018, the entire day's programme was decked out in style to give golfers an unforgettable experience!
Featuring exciting on-course novelty games that kept golfers' adrenaline pumping, for the first time ever in a single event, we had the privilege of having two of Singapore's PGA golf professionals, Lip Ooi and Nicholas Seng participate in the Beat the Pro challenge. Amateurs who took part in this special challenge had a chance to put forth a swing with the latest golf clubs at the 2 charity holes proudly sponsored by TaylorMade Golf and Callaway Golf. Giving a further twist to the conventional Beat the Pro challenge, the two pros allowed golfers to choose the clubs that the pros would use to play against them! The exciting challenge drew many participants and raised a great sum of charity dollars.
Topping off the experience, golfers took further delight in the array of scrumptious dim sum, assortment of drinks ranging from the Orion beer, ice-chilled beverages and ToastBox Kopi and Teh, delivered to them on course in personalised service from volunteers.
During the dinner presentation, a reverse auction was held for prized items and individual donations to further raise money for HAGAR's recovery care for survivors of trafficking and abuse. Golfers continued to give generously and at the end of the dinner programme, enabled us to surpass the initial target of raising $150,000 through the event! Kudos to our incredible volunteer and Mediacorp 938NOW FM radio deejay, Paul Sng who delivered a great show rallying the audience to pledge their support for vulnerable and exploited women and children under HAGAR's care.
The success of the event would not have been possible without the dedicated support from our Official Sponsor – Ark Industries, Platinum Sponsor – Mr Eddie Tan, Silver Sponsors – Sunray Woodcraft Construction, Trans Instruments and Mr Vincent, and all of the volunteers who had worked tirelessly throughout the day under the hot sun to deliver a top-rated service and memorable experience for the golfers' pleasure.
The display of high commitment and great compassion by the sponsors, golfers, volunteers and the golf committee humbled all of us at HAGAR greatly. We look forward to the 2019 HAGAR Charity Golf Tournament which will also be part of the celebration of HAGAR's 25th year anniversary. Save the date, 19 July 2019 and we hope to see you all again next year!