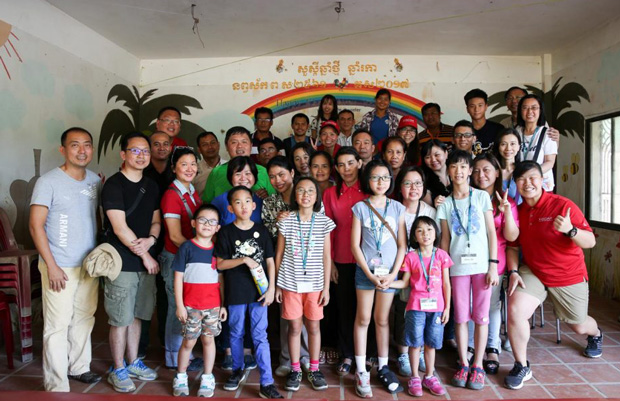 The students at the HAGAR Community Learning Centre in Cambodia were in for a real treat in December. Two days of school were completely overturned and taken over by 23 adults and their children from Bethesda (Bedok-Tampines) Church. Bubbling with enthusiasm, the group of Singaporeans arrived with loads of materials, equipment, bright smiles, games and fun activities so the students would enjoy the learning process.
With a goal to kickstart the vegetable plantation in the school, every activity was aimed at helping the kids understand the importance of nutrition and hygiene, how to grow a mini garden, lifecycle and parts of a plant, and the role of pests and bugs in a garden. The kids eventually got to get their hands and feet dirty in the soil as they dug to loosen the ground, plant the seeds and water the area.
After a day of learning and education with fun and games, the students enjoyed a half-day field trip to the Killing Fields and learnt about their own national history, followed by a short session about Singapore and our cultural highlights. A pop quiz was held and many enthusiastic kids won prizes remembering our independence day and the holidays we celebrate. Even the Singapore kids wanted a go so they could win a prize!
In a cute puppet show presented by the eight Singapore children, along with a series of music choreographed by the team, the Cambodian students were thoroughly amused by the puppets that were brought to life by the kids behind a blanket stage. Many hopped along trying to catch a glimpse of the backstage action and while there was so much going on behind the scenes, the puppets brought to life the story and the true meaning of Christmas.
Even the teachers could feel the vibrant atmosphere and remarked that the students were in such high spirits with a change in the academic programme for the two days. Eventually, the 6-day visit was wrapped up with cosy dinner on a simple boat. Cruising along the Mekong river, the group enjoyed dinner with the CLC teachers. All hearts were full that evening, with a warm bond of care and love for the underprivileged that joined every person together.