40.3 for Freedom to Stop Slavery
COVID-19 has altered life as we know it. The pandemic has had a devastating effect on lives and livelihoods across the world, particularly vulnerable populations.
Globally, there are 40.3 million people living in slavery. Already in a vulnerable state, the crisis is tipping those on the edge into poverty, further increasing their vulnerability to exploitation and trafficking. In a global crisis like this, they battle with basic survival; recovery from the effects of the pandemic will take years for them.
Over 10 days from 23 November to 2 December 2020, 168 participants from Singapore rose to the call, campaigning passionately for the future of survivors through HAGAR's inaugural 40.3 for Freedom virtual challenge, raising awareness and crucial funds for survivors of trafficking and slavery.
Through the relentless efforts and commitment from our participants and supporters, more than 4,177 km was covered over the 10-day race period, raising a total of $177,435 – an incredible result that we are immensely grateful for.
More than 70% of our beneficiaries in Cambodia lost their jobs due to COVID-19; majority have not yet found jobs hence it's been an ongoing stress and burden to make ends meet. Likewise, our beneficiaries in Vietnam, Singapore and Afghanistan face a similar plight as they struggle with the devastating impacts of the global pandemic.
Funds raised will be used to provide emergency food relief, shelter and COVID-19 supplies and we will continue assisting them and focus on long-term sustainable efforts to help them be economically independent.
Congratulations, 40.3 Contest Winners!
We also want to take this opportunity to shine light on these amazing participants who have been extra sporting during this 40.3 Freedom Race! Presenting to you our contest winners, here are:
In spite of his demanding work, family, ministry and social commitments, none of these would stop Jimson from showing his care and helping others to heal and be empowered. A volunteer with HAGAR for more than 5 years now, Jimson has visited HAGAR projects in Cambodia several times and has built strong bonds with some of our beneficiaries through the years. He's a father figure and role model for many, and a huge encouragement to some of our young brothers under HAGAR's care.
During the race period, Jimson reached out to his personal networks and raised an astounding total of $12,707 singlehandedly! We are so awed by the generosity of every single donor and the effort Jimson has put into rallying his friends around the cause. Thank you, Jimson for all that you do!
NEWA stands for 'Never Ever Walk Alone'. Convicted by HAGAR's mission to support survivors of human trafficking and extreme abuse, this group of friends gathered to rally support for our beneficiaries. Over the race period, they have visited 10 various locations to complete their personal challenges! From Bedok Reservoir to Yishun Pond and Jurong Lake Garden, these ladies threaded all over Singapore during this race against slavery! With their splendid efforts, Team NEWA has raised $33,940, making them the top team fundraiser! This group of friends have not only raised a huge amount of money but also brought much hope and warmth with their heart-warming reflections as they took part in the various challenges. Thank you team NEWA for your compassion for the marginalised!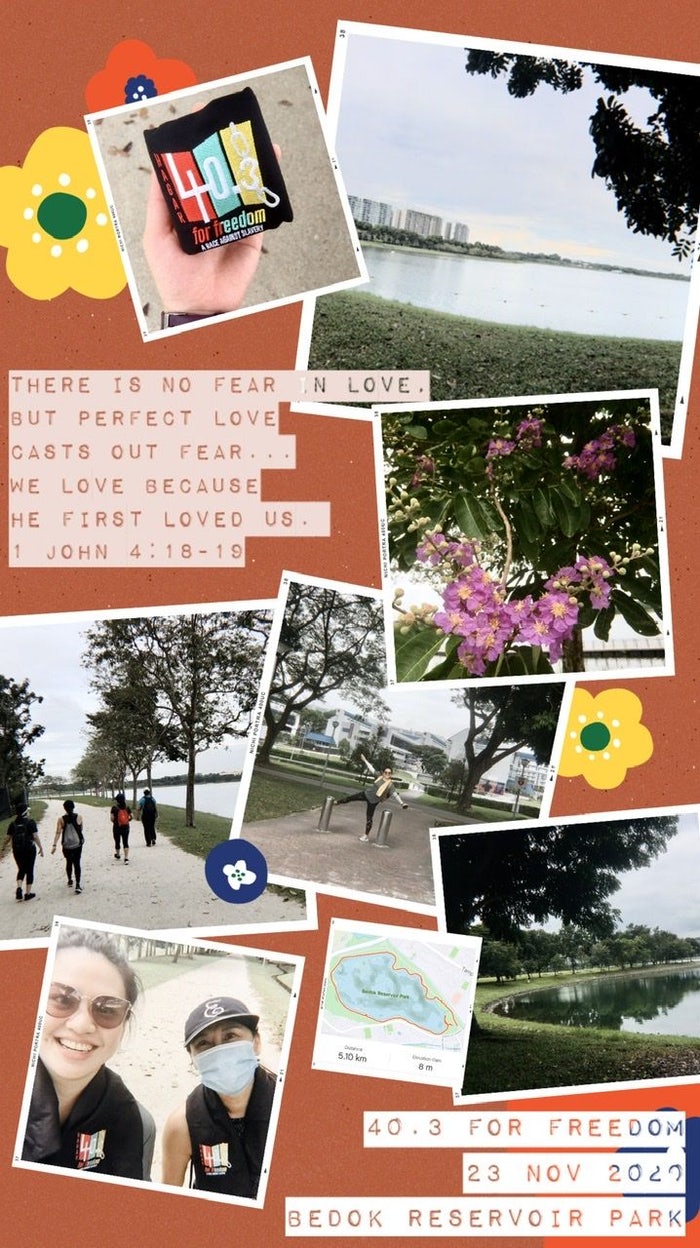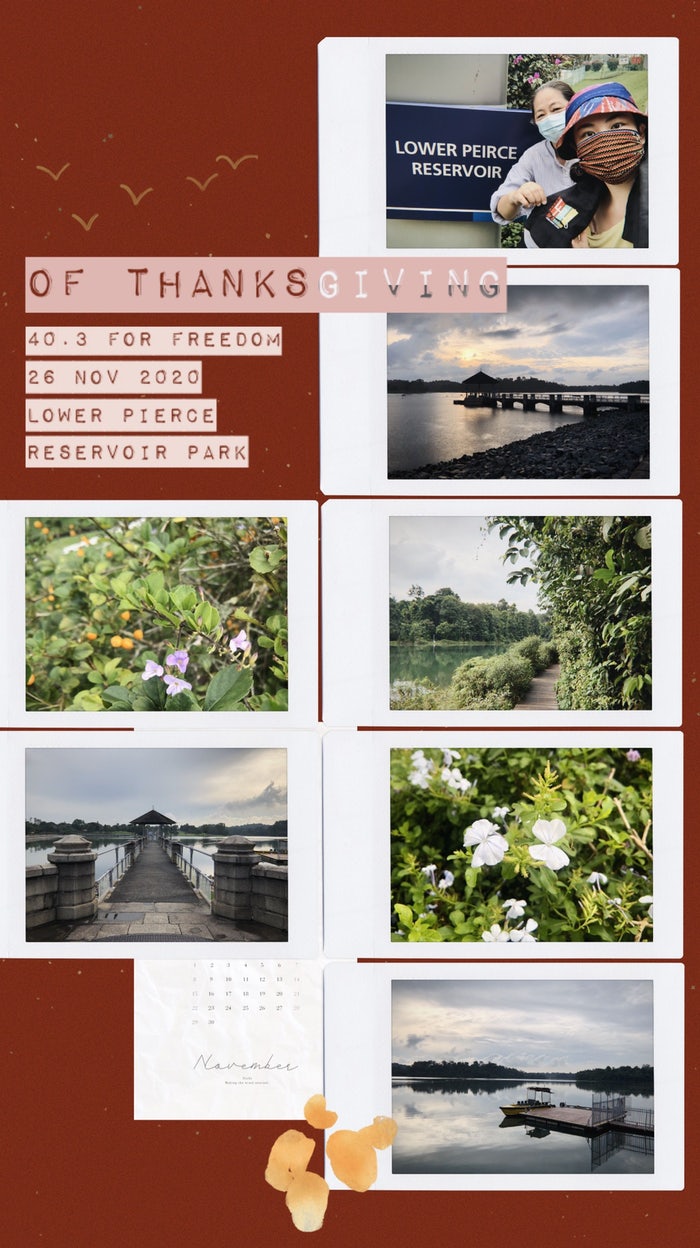 A group of six NUS students with a strong passion to free the oppressed, Team Joysetbeforeus has moved us with their dedication to this race. From spending time designing collaterals to share on social media, to generating thought-provoking conversations surrounding exploitation, Team Joysetbeforeus has truly shone a light on human trafficking and how we could all do our part to end modern slavery! Thank you, beautiful friends for your labour of love and commitment to making this world a better place where every person is treated with respect and dignity.
Never mind that this is a virtual race – Check out this absolutely passionate team who printed their eBibs and wore them to complete their challenge together! Our best dressed challengers are none other than participants from Paul Chan Hagar's Team! This amazing bunch has been garnering support from their friends and raising awareness on the plight of survivors. Together with other members of Paul Chan Hagar's Team, they have raised a total of $23,202. Thank you everyone for your encouragement and compassion for the marginalised!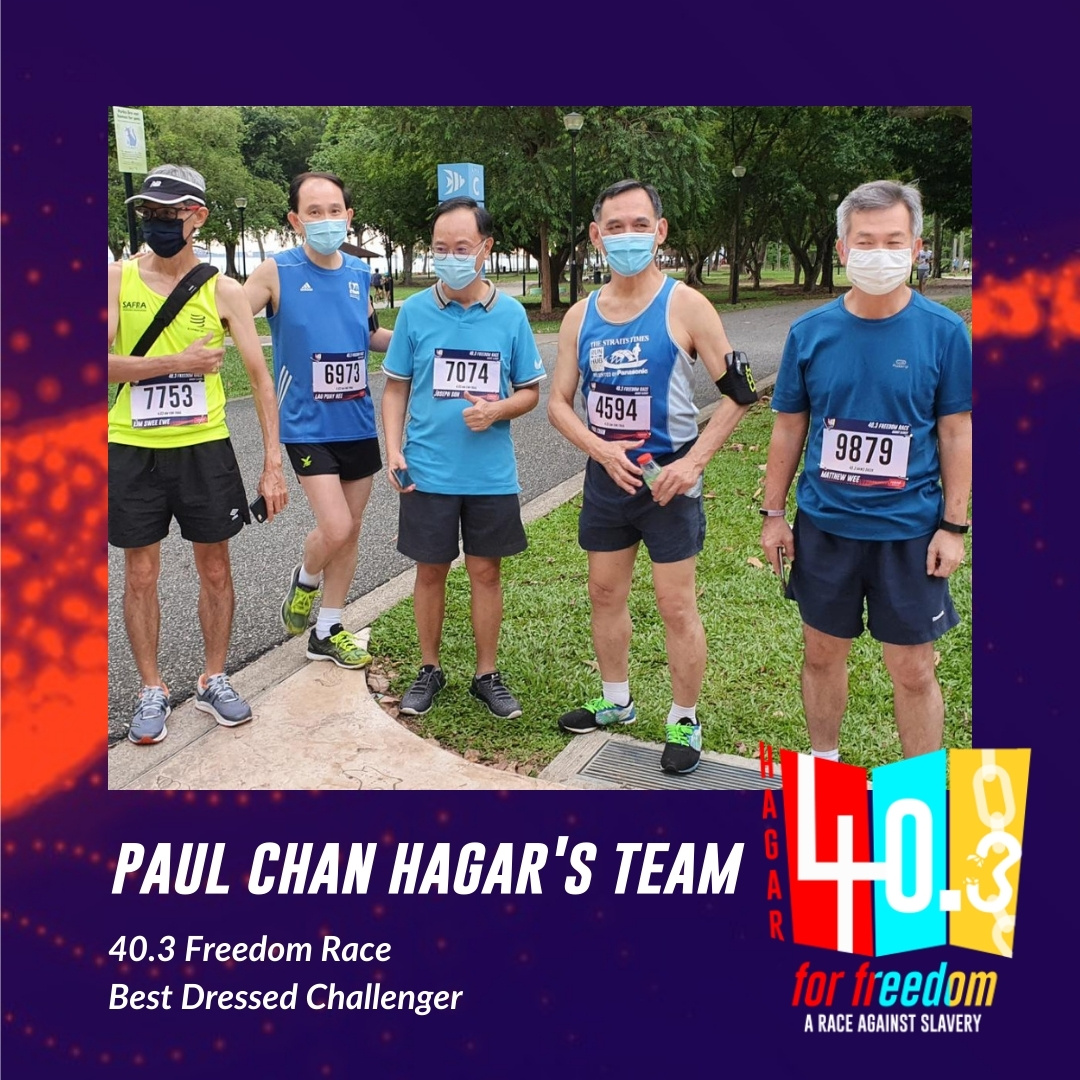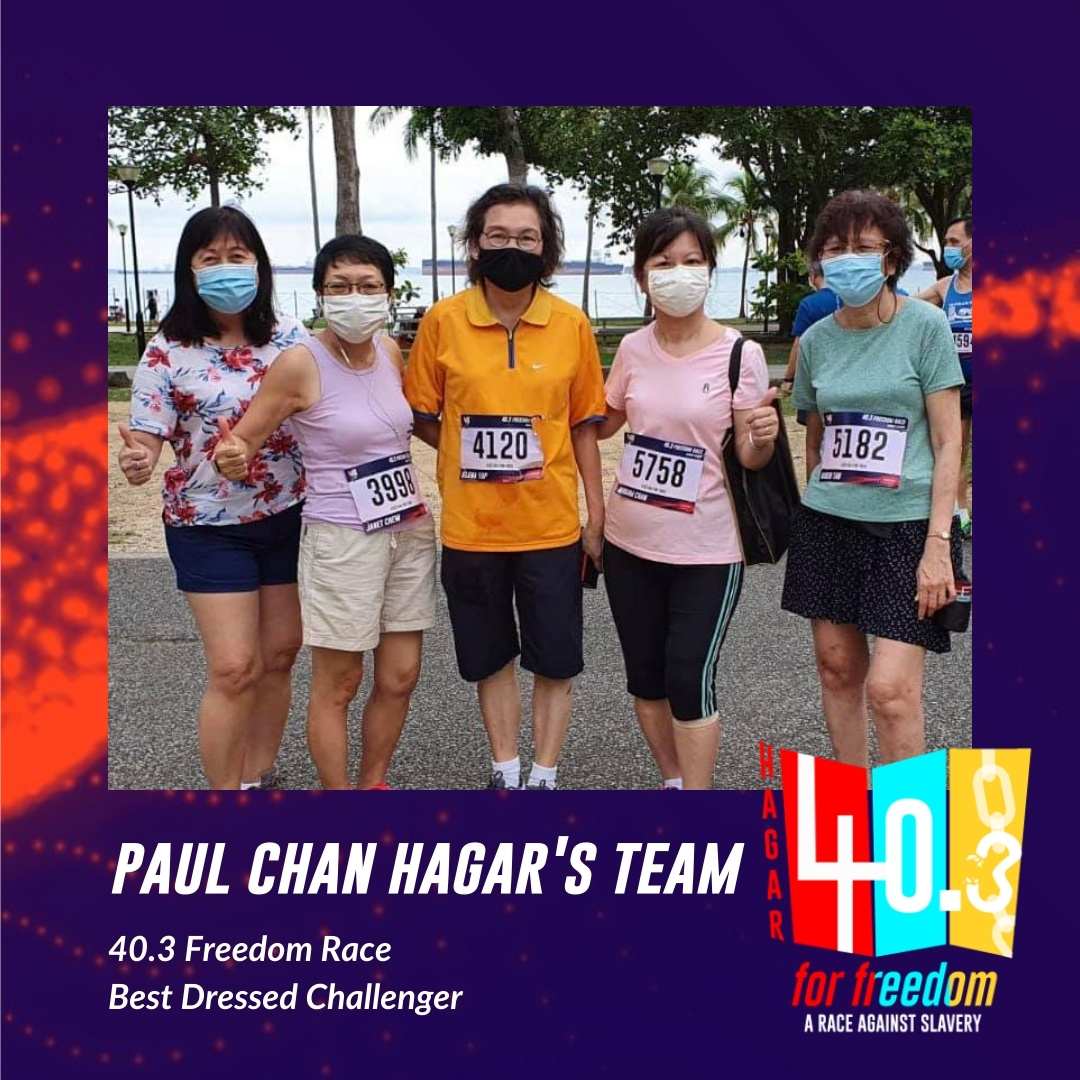 Thank you and see you in 2021!
The 40.3 Freedom Race would not have been possible without the dedication and support from all participants, donors and our volunteers! THANK YOU for giving us reasons to hope for a world without exploitation.
Stay tuned for the 2021 race dates and till then, stay safe and we wish you joy and hope in the new year!