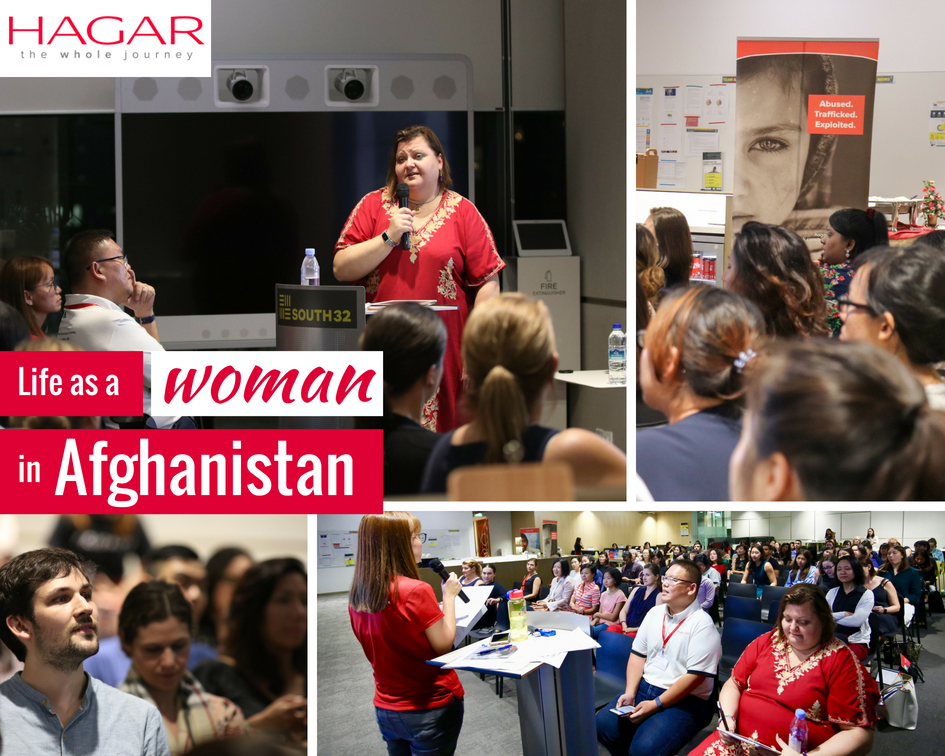 As people trickled into the venue, smiles and pleasantries were exchanged. Yet, an unmistakable air of apprehension, one which was hard to ignore, filled the room. Just fourteen hours ago, Saudi Arabian women were issued their first batch of driving licenses, a monumental step for women's rights and for the nation as a whole. Needless to say, attaining the right to drive has been a long drawn-out battle for women in Saudi Arabia, the last country in the world to lift the ban on women drivers. However, while we celebrate with the women in Saudi Arabia, we knew that the fight for women, and gender equality, was far from over.
So, what is it like to be a woman in Afghanistan?

To get it all going, everyone took part in a short and simple quiz, and clearly there was more to the country than what was typically portrayed by media.
While there are some cultural practices that are archaic such as women being jailed for the "moral crime" of fleeing an abusive husband, and the distressing lack of education with the country having one of the lowest global literacy rates at 17%, there was still a modern face such as the proportion of women in parliament where 27% of office holders are women – a rate higher than that of the US and the UK.
Under the Taliban regime, Afghan women were forbidden to work, leave the house without a male escort and were forced to cover themselves from head to toe. The price of disobedience was public execution under the Taliban law. While things on that front have seemingly simmered down, Afghan women are not yet out of the woods.
Last year, Afghanistan ranked top five as one most dangerous countries in the world. Between the Taliban and the multiple militant groups, bombings, violence, terror attacks, kidnappings and sexual abuse are all but a few of the things that happen, not just to the women, but, to the people of Afghanistan on a daily basis.
We sat completely still for an hour and a half as Anna Kryszylowciz, Hagar Afghanistan's Executive Director, shared stories of her experience in Afghanistan, an emotional rollercoaster that left us feeling both enthralled and heartbroken. Yet the one story that left me feeling especially uneasy was the one she told us about the Bachabaze, or the dancing boys of Afghanistan.
Brought to attention years ago, with a full exposé done by BBC News back in 2010, it was said to be a tradition that is "not just alive, but steadily growing". Often, these boys are stolen off the streets or lured by the promise of food and money. They are made to wear fake breasts and don women's clothes to dance for men because of the laws that prohibit women from dancing in public. Most of them become victims of sexual abuse. This year, the Guardian wrote an article to highlight the issue yet again. Fortunately, Anna spoke of the various initiatives by HAGAR that were taking place to protect the children from falling prey to the tradition. This is done via the various courses that teach children life skills such as fixing electronic devices so as to keep them off the streets where most of the kidnapping occurs. The team is also in the works of a foster care system for past victims to be able to heal, both emotionally as well as physically, and move on with their lives.
As HAGAR works to help the boys recover from the trauma of sexual abuse, and empower women with skills to be financially independent, this process takes time. But we have seen the resilience of our clients and how they are able to surmount their challenges. Would you join us to believe that there is hope for this country and her people; for just $50 a month you could make all the difference in their world, giving them courage to stand up again.
————
Written by: Ms Eunice Sng, volunteer with Hagar Singapore, and currently pursuing a Bachelor's Degree in Journalism and Marketing.
Empower a Survivor
Donate Now
Provide them with the necessary protection, literacy and skills to start a whole new life.
Empower a Survivor
Donate Now
Provide them with the necessary protection, literacy and skills to start a whole new life.