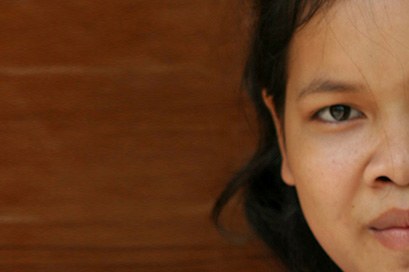 I am the girl you hear about. The one taken from home, caged inside and trafficked across borders. The one who heard the screams, had the nightmares and felt the loss. The one who ran away for fear of dying herself. I am that girl. I am 19 years old.
My name is Ratha*.
Despite working for two years, I was never paid. I was lost in a foreign country. I didn't speak the language, and I didn't know anyone.
I became pregnant and eventually returned home. My family rejected us. I had nowhere to go.
I was like a butterfly with cut wings—unable to fly from evil.
My son and I were taken in by Hagar. Because I grew up poor, I had little education and no vision for my future. I am learning how to sew and one day, I hope to open my own shop. I am so happy to have something belong to me.
I go to counseling and although I still have bad dreams, I also have peace inside.
I have found happiness. I have found hope. I have found value.
Now I am like a beautiful flower—rooted and blooming.
Ratha* was one of 14 domestic workers from Malaysia brought into Hagar's care last year. Those who have experienced international trafficking may be lured by promises of good wages abroad and, like Ratha, are often the financial providers for their families. For those who survive and escape, they may not be welcomed home for fear of bringing shame. Without Hagar, Ratha would literally have nowhere to turn and for now, Hagar is home. Today, she participates in the recovery programme by undergoing counseling, caring for her son and gaining the skills training she needs to one day fully reintegrate into the community.
Help us to help girls like Ratha today!
*Hagar pursues the highest degree of care and protection for each of its clients. To protect the identity of our clients, names have been changed and images do not necessarily represent the individual profiled.