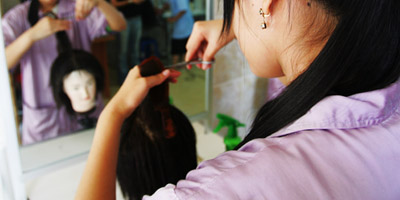 We were just supposed to be visiting China. That's what she said. That's what he said. But as soon as we crossed the border from Vietnam, I was given over to several men.

They made me their "wife" — or housemaid. I was forced to live with them for a year. Finally, with the help of a delivery woman and a student I was able to escape and return to Vietnam.
I reported the incident to the police and my trafficker was convicted and then sentenced. He'll be spending 20 years in prison in exchange for my one.
What happened to me that year in China is still very difficult for me to talk about or even to comprehend. There was so much pain, so much trauma. I try to share my story with my counsellor. She listens.
Today, I'm training to be a hairdresser — I eventually hope to open my own salon! But for now, I'm just focused on gaining work experience and preparing to return home.
---
Increasingly, Hagar Vietnam has received referrals of Vietnamese women who have been deceived and trafficked to China to work as prostitutes or to be married to Chinese men. This trend coincides with recent studies (ILO, 2009 and Le, Belanger and Khuat, 2005) that highlight cross-border migration, marriage and trafficking of Vietnamese women into China as a growing issue.
Several push and pull factors have created the perfect storm, so to speak, including Vietnam's long and porous border with China, migration for employment, China's gender imbalance (which results in a demand for foreign wives and commercial sex), and social pressure for Vietnamese women to marry at a young age.
Hagar Vietnam has observed that women like Duyen who return from China have often endured a long period of repeated abuse and trauma. They demonstrate symptoms of Post-Traumatic Stress Disorder (PTSD) and depression, and many experience guilt, shame, and low self-esteem. Due to the long period of exploitation, they require much longer and more intensive counselling and therapy to help in their recovery.
Restore their hope and dignity by supporting the trauma recovery programmes for trafficked women and children.